Founded in 2008 by Beastie Boy (and inveterate prankster) Adam "MCA" Yauch, Oscilloscope Labs has extended the legacy of the boisterous New York hip-hop crew into the world of independent filmmaking, as the company has championed scores of cinematic artists who have aimed to upset convention and change up the game. The hyper-eclectic array of releases is pushing 170 as the outfit celebrates its 15th anniversary this year, a primo selection of which you can watch right now on Fandor in their featured new O-Scope collection. This week, Keyframe sat down with Aaron Katz, Oscilloscope's head of acquisitions, to quiz him about some of his favorites—as well as some notable outliers in the distributor's robust catalog.
KEYFRAME: Let's start with one of those impossible ballpark questions. What is Oscilloscope's vision and how do these films reflect it?
AARON KATZ: It's interesting when people ask us what [an Oscilloscope] film is because it's undefinable to us. We like that, because it means that it's ever-changing and ever-growing, that we don't fit intoa box that people assume we might be in. I always bring it back to Adam because he was in a similar vein when he liked movies. He gave us his video collection at some point, and it had like "And1" mixtapes [streetball docs], kung fu movies, and the entire Criterion Collection on laserdisc. It was just an eclectic taste. He liked exploring things that were different and stood out: Filmmakers who were trying to express their art rather than necessarily falling into the tropes that Hollywood finds itself falling into. When you see the Oscilloscope logo, you know you're going to get into something unique and different. So we can have a movie like Meek's Cutoff—which is a feminist take on the Western—versus something like Bellflower [the 2011 DIY apocalyptic car psychodrama that shocked Sundance].
So let me toss out some categories as a way of exploring the Oscilloscope lineup… What's a film people might be surprised to know was released by the label?
We have a lot of surprising films. Again, it's hard to fit us into a box. We recently released a movie called Silo, kind of a thriller about middle America and farming. It's about a person who gets stuck in a corn silo and the process of trying to get out before they sink and die. It's a little more structured thanI think people would expect from us, but it fits in well because it's a unique look at a part of the world that doesn't always get big-screen attention. Oma and Bella [a 2012 German family drama about elderly Holocaust survivors] is an old one that stands out—it's a nice, heartwarming film. A Film Unfinished [a 2010 documentary about Holocaust propaganda] is something that we would totally gravitate towards, it's a unique film.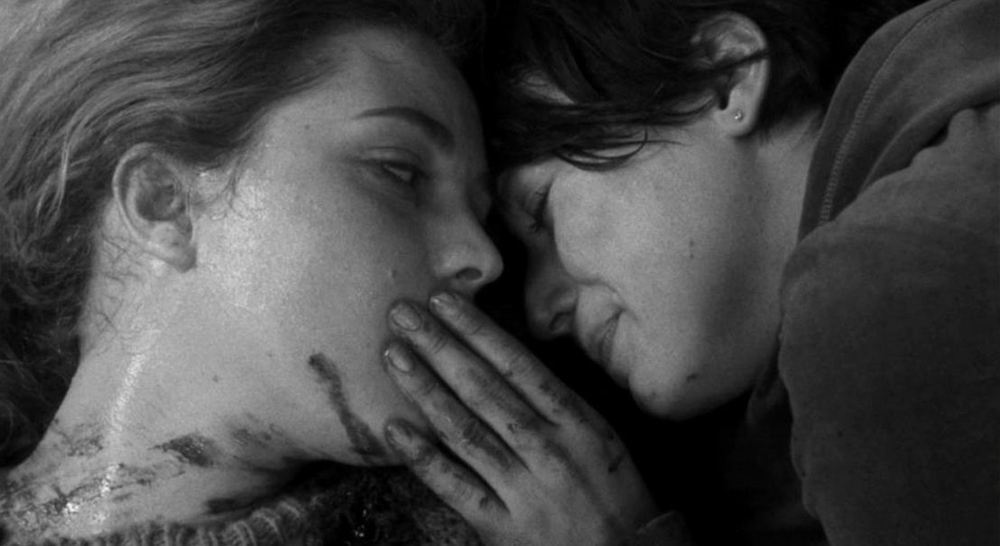 On the flipside, what's a title that most people would probably know about, the smash hit?
It'd be Meek's Cutoff. And [Oren Moverman's Iraq War aftermath drama] The Messenger for sure—it was nominated for a couple of Academy Awards [including best supporting actor for Woody Harrelson]. Meek's Cutoff was Kelly Reichardt's step into more commercial success and working with a bigger cast, more of an ensemble. Otherwise, from the rest of our catalog, it would be Kedi, which is the documentary about cats in Istanbul, which was a sleeper success. [Katz also notes We Need to Talk About Kevin, Embrace of the Serpent and Samsara].
What gets your vote for an overlooked gem that more people need to see?
Polytechnique, for sure. That's Denis Villeneuve's first film [a restaging of the 1989 shooting rampage at Montreal's École Polytechnique]. Our Day Will Come. It's a bonkers film, but it's Romain Gavras' first feature. He has a new one that Netflix is releasing [Athena]. Dark Days is on this list, too. That movie is a classic, maybe a little more people have seen it [Marc Singer's 2000 documentary about a community living in abandoned rail tunnels under Manhattan, later re-released by Oscilloscope].
With the company's roots in pop music, there are quite a few music docs on its roster. Which would you steer folks to?
Who Put the Bomp? is one that I really love, the Le Tigre film. It follows a performance of sorts, there's a lot more stage footage. Le Tigre is an interesting band and their music is fantastic. It's one of those films that makes you want to have a dance party in your living room. Scott Walker: 30th Century Man is a look back at [the late teen-pop crooner turned avant-garde composer] and his musical career. Jingle Bell Rocks! is a little more modern. It's about a vinyl collector who is always looking for Christmas music 24/7. He creates a mixtape for the audience of Christmas music you've never heard of and dives into it with the musicians themselves and record companies as well.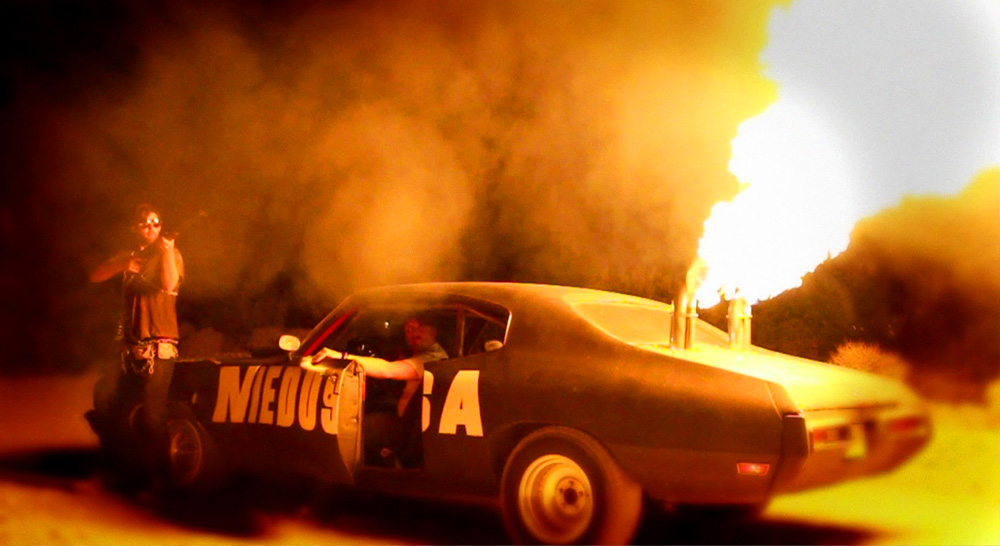 Oscilloscope notably got behind independent filmmakers early on that have gone on to bigger things. Do any favorites come to mind?
We have a lot of those, honestly. Evan Glodell from Bellflower is an interesting person and filmmaker, but he hasn't made anything since feature-wise. I mean, Bellflower took eight years to make, so it's only natural.
Is it true that Glodell was contractually obliged to make a flame thrower for Adam Yauch?
Yes. People take the business side of things too seriously. Adam wanted to play with that idea, so there was a deliverable included on the contract that Evan needed to make him a flamethrower. I do not believe that was ever made, but it wasn't necessarily ever meant to be. What are we going to do with a flamethrower?
That's the eternal question, isn't it? Who else you got?
We worked with Marshall Curry on If a Tree Falls. He won an Academy Award last year for Best Short Film [his first win after four nominations]. Kelly Reichardt. [Besides Meek's Cutoff, Fandor's catalog includes the filmmaker's debut River of Grass—a Florida-set, lovers-on-the-lam thriller that upsets noir expectations]. We released Wendy and Lucy as well. The reason I wanted to work at this company was Wendy and Lucy. It's one of my favorite films and put this company on the map for me. Oren Moverman obviously has gone on to do a ton. The Messenger was his first feature. Only the Young, I love that movie. Both Elizabeth [Mims] and Jason [Tippet] are incredible filmmakers and we worked with Jason on some other things. I'm excited for them to keep growing and make more happen.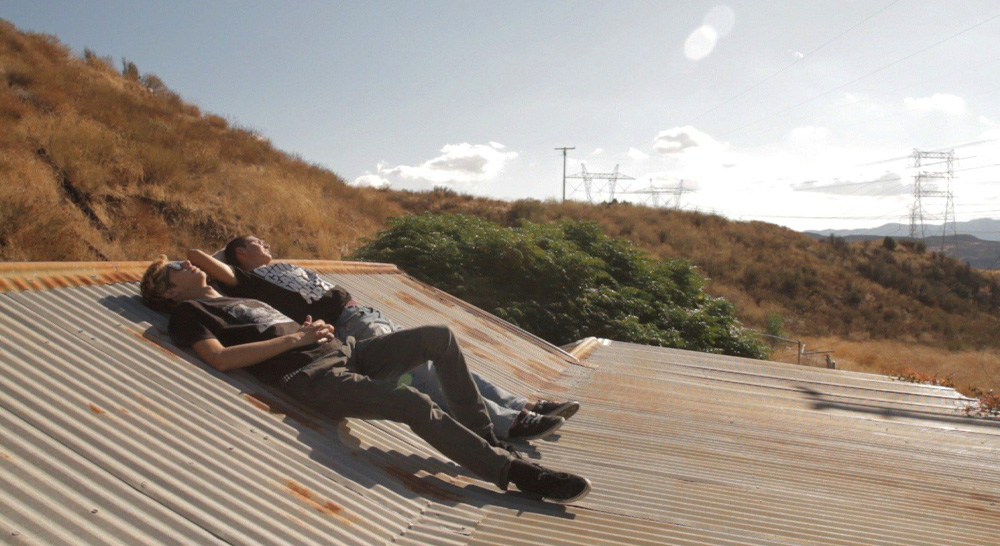 Only the Young is such a subtle, delicate film. There's something very poetic in the way it sculpts a nonfiction narrative about skateboard-loving SoCal teens with care and refinement.
People were questioning if it was a documentary because of how it's made and the intimacy of the relationships those kids have—even with the camera and filmmakers—and how their stories and friendships continually grow and deteriorate at the same capacity. It works out like a scripted film in some respects. We knew there was something unique here. It's also short, 70 or so minutes. A lot of [distributors] liked it and didn't know what to do with such a short running time. To us, it was like: Release it! Get it out for people to see. That's what you do.
You've got these skater kids hanging out, dealing with identity, love, religion, the end of childhood. Capitalism, everything. For me, it evokes a cultural and spiritual connection to the Beastie Boys.
It's the youthfulness and rebelling against the status quo. You wouldn't expect these skateboarding punks to be as religious as they are, and to talk about it. That's another thing that connects it as well. Not to say religion is part of the Beastie Boys in any way, but you don't always get what you expect. If you look at their career, it started off one way and went a completely different way. They grew and their audience grew in the same way. Oscilloscope is doing that as well, in terms of the films that we like to take on, how we support them, and what we want to say about the world and everything that's going on.