Conceptually, the "road trip" has been with the movies forever. Midcentury buddy-boys Bing Crosby and Bob Hope made an indelible (if perhaps unmemorable) franchise out of their "Road to…" adventures (Road to Zanzibar, Road to Rio, and so on) which ambulated between 1940 and 1962 and would later inspire the Dustin Hoffman and Warren Beatty of that polarizing '80s cult fave/critical flop Ishtar. Much of film noir is a road movie, albeit full of bad trips in getaway cars. Lionized auteurs like Wim Wenders have even specialized in them, describing the 1987 angelic fable Wings of Desire as a "vertical road movie" and titling a 1976 film Kings of the Road—itself part of the director's "Road Movie Trilogy." (Road Movies was also the name of Wenders' Berlin production company.)
The format is irresistible. It's a dream for screenwriters, who can latch onto the peripatetic arc for all manner of chance encounters and screwball detours. And surely most actors love nothing more than hanging out in close quarters riffing on character quirks. Given that, it's also ripe ground for comedy, especially the buddy comedy, which is why it's a recycled premise for three whole-ass The Hangover movies, as well as other masculinity-in-crisis romps, like the irreverent Danish cringe-fest Klown (a road movie on a canoe), and Bertrand Blier's anarchic Going Places, a fully cancelable account of two petty thugs (Gerard Depardieu, Patrick Dewaere) on an amoral spree across the French countryside.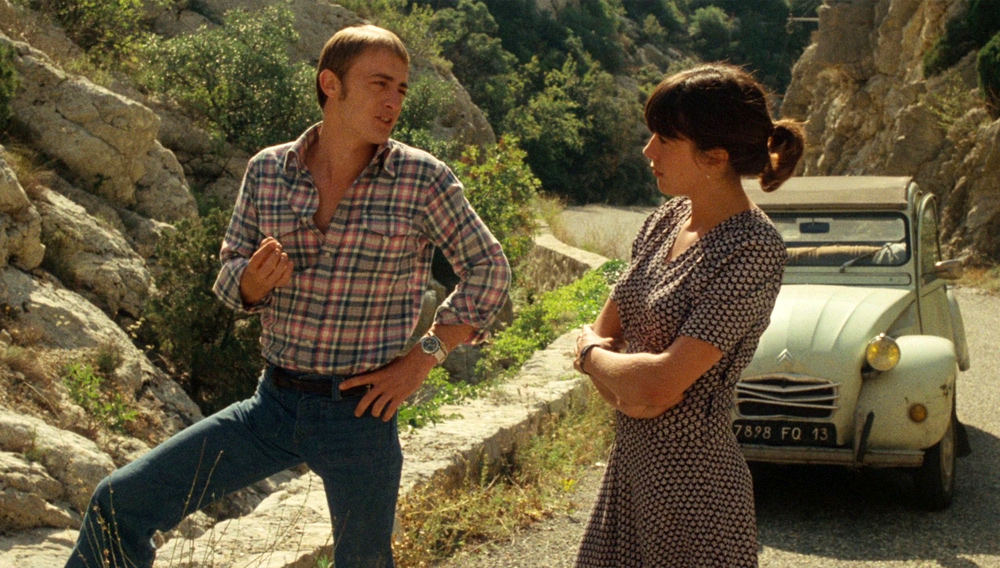 Some of the ideas afloat in that latter, dark-yet-ebullient 1974 comedy must have been contagious. Two years later, Blier's fellow Frenchman Alain Cavalier released Fill 'er Up with Super ("Le Plein de Super"). Cavalier (still quite active at 91, with six films in the past decade) doubles up, though, with four main actors in the cast. The film, newly streaming on Fandor as a "Curator's Pick," sets up two pairs of friends. Bernard Crombey is the lead as Klouk, who has been stuck with the unwanted task of delivering a Chevy station wagon to a customer of the car dealership where he works. It annoys Klouk and even more so his wife, as there were plans for a long-awaited holiday, but at least he won't be driving solo; his friend Phillipe (Xavier Saint-Macary) agrees to tag along.
Before long, the men accrue two new passengers when they collect a hitchhiker, Charles (Etienne Chicot), and his pal Daniel (Patrick Bouchitey). Not exactly the Four Musketeers, this goofy bunch reveals a surplus of issues, whether it's the girlfriends they want to get back together with, a need to pull annoying pranks, or completely empty pockets. For the longest time, I simply marveled at the lip garnish flaunted by Mssrs. Crombey and Saint-Macary, and I wasn't alone. The film, as one Letterboxd user enthused: "Beautifully captures what it was like to have a mustache in the 1970s."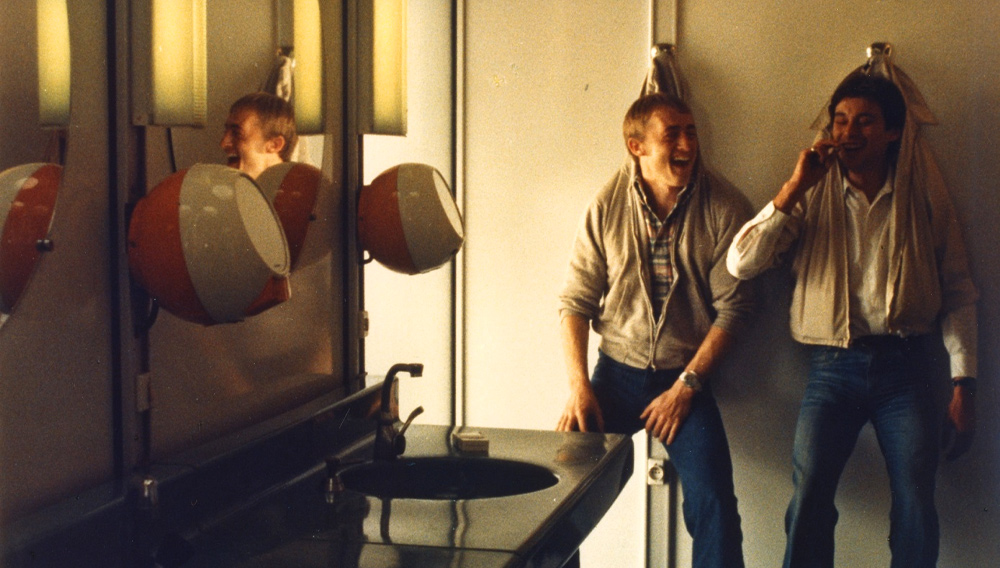 The dialogue, conceived in collaboration with Cavalier, has spring and looseness that derives from its improvisatory origins, and a candor about sex, the sexes and sexuality that is anything but "wholesome," to use the popular Gen Z term. Yet neither are these dudes strictly hetero nor entirely the sum of their posturing. In one of the best and least-expected scenes, Phillipe contrives to pay for the men's lavish hotel breakfast by joining another male guest in his room for a sexual favor. Charles, the asshole of the quartet, steers the journey off-course so he can see his little boy—and turns out to be a tender father.
In case you're wondering, the Chevy doesn't quite get there—a mansion on the Cote d'Azur—in one piece. Someone gets drugged without their knowledge and tells their boss to screw off, but far more surprisingly, a sweet gas-station encounter with a beautiful young woman and her aggressive cat remains only a sweet encounter. It's a display of authentic charm from a crew of would-be rogues, and a revelatory example of these French road warriors' mellow macho.