Ahhh, Portland. While Stumptown, which isn't exactly Hollywood-adjacent, is maybe most known for its hipster nonsense, strong coffee, beers, beards, and bikes, it's also the home of Gus Van Sant (which explains why there's so much Elliott Smith in Good Will Hunting) and Laika (the famed animation studio that birthed Coraline, The Boxtrolls, and the California Raisins). The secret might be out about Portland as a West Coast destination for aggressive quirkiness and on-tap kombucha, but you might be surprised at just how deep the movie fanaticism runs there. If you're planning a trip to this Pacific Northwest enclave, the following list will help you to squeeze every last drop of cinema goodness out of this weird and wonderful town. And if you weren't planning a trip, you'll probably want to after you find out just how much Portland has to offer a visiting movie lover! Here's what's waiting for you in Rose City:
The world's best video store

Nostalgia is practically a core value in Portland, so this one shouldn't be a huge surprise. Behold, the miracle that is Movie Madness! Founded in 1991, this Portland institution boasts "the world's most extensive video, DVD, and Blu-ray collection," which, for the record, is over 80,000 titles. They're also a low-key museum of motion picture memorabilia — we're talking tons of relics from favourites like Psycho, Blade Runner, and even Casablanca! Even if you don't find your next favourite film, just the act of browsing is worth the trip. Bring your kids or someone else who's never set foot in a video store before. You'll blow some minds.
The oldest operating movie house west of the Mississippi
Open since 1915, the single-screen, 200-seat Clinton Street Theater is where to go for weekly Rocky Horror Picture Show revivals (don't forget to dress up!), indie films you won't see anywhere else in the city, social justice documentaries with sliding-scale admission prices, family-friendly fare, and tons of events featuring Portland's local filmmaking community. Fiercely independent yet incredibly warm and welcoming, you'll come for the movie but fall in love with the vibes. Plus, its box office is located literally steps away from some of the best and most beloved bars and restaurants in town, perfect for a scintillating post-screening conversation.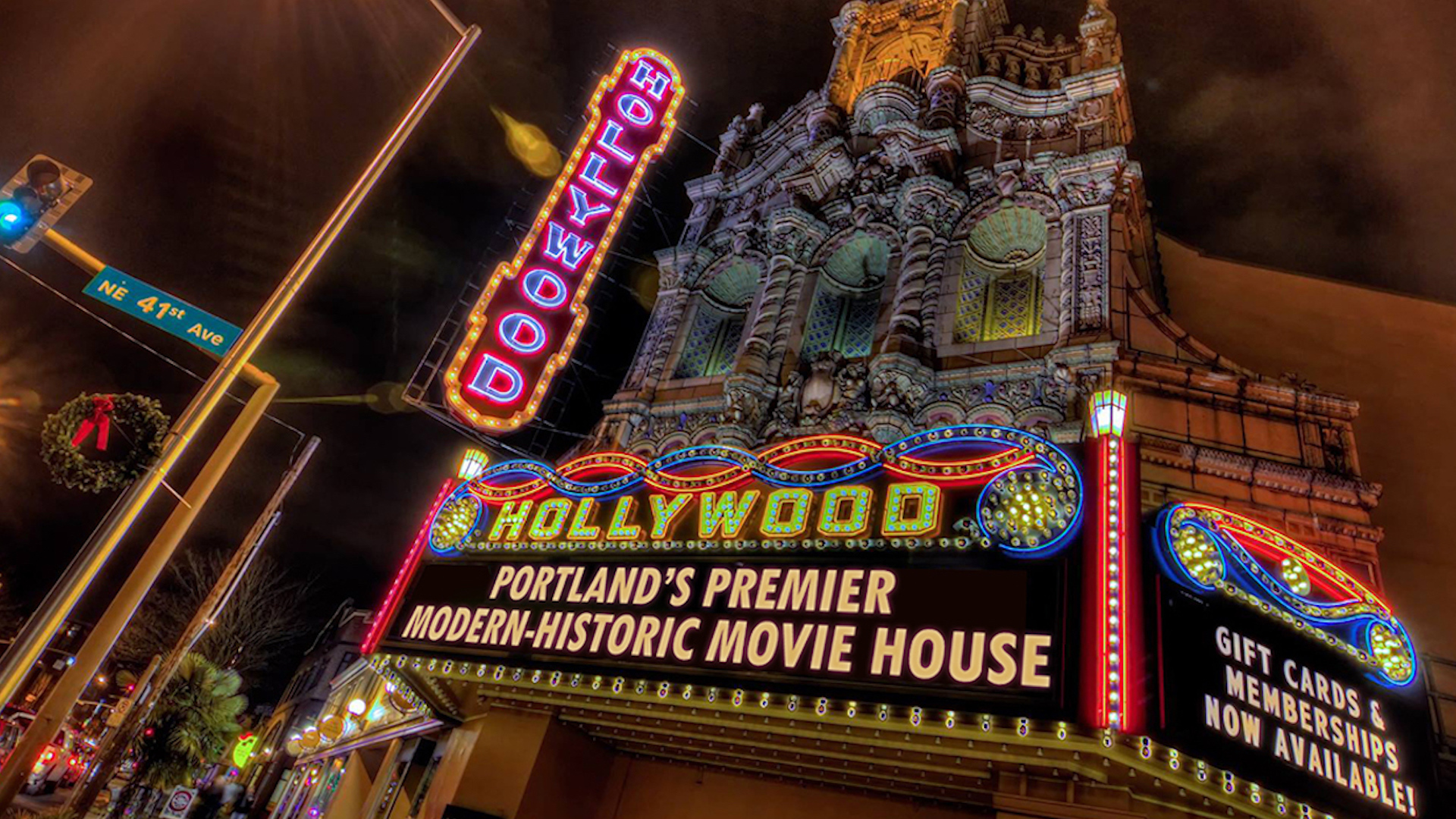 Gorgeous architecture, top-notch tech, and a cinematic send-off
The most aesthetically impressive cinema in town, the Hollywood Theatre's giant marquis ushers visitors into a newly-renovated multiplex with high-end projection capabilities that shows everything from new releases, to 70mm special engagements, to "B-Movie Bingo" and grindhouse classics. It was Hollywood that stepped up to buy Movie Madness when the founder retired, raising the money to turn it into a nonprofit, and now they've even opened a mini-theatre showing locally made shorts inside the Portland airport! That's right: with a fully functional cinema — complete with mini-marquis — on concourse C, you'll never be bored while waiting for a flight again.
The country's largest independent animation arts showcase
This is the land of Laika, after all! The Northwest Animation Festival has been operating for over a decade and offers over 150 shorts each year. Taking place each May and packed smart collaborations and partnerships, fabulous themed screenings, and plenty of cool workshops and afterparties, the NWAF truly has a little something for everyone on the rich and glorious animation spectrum from the mainstream to the avant-garde.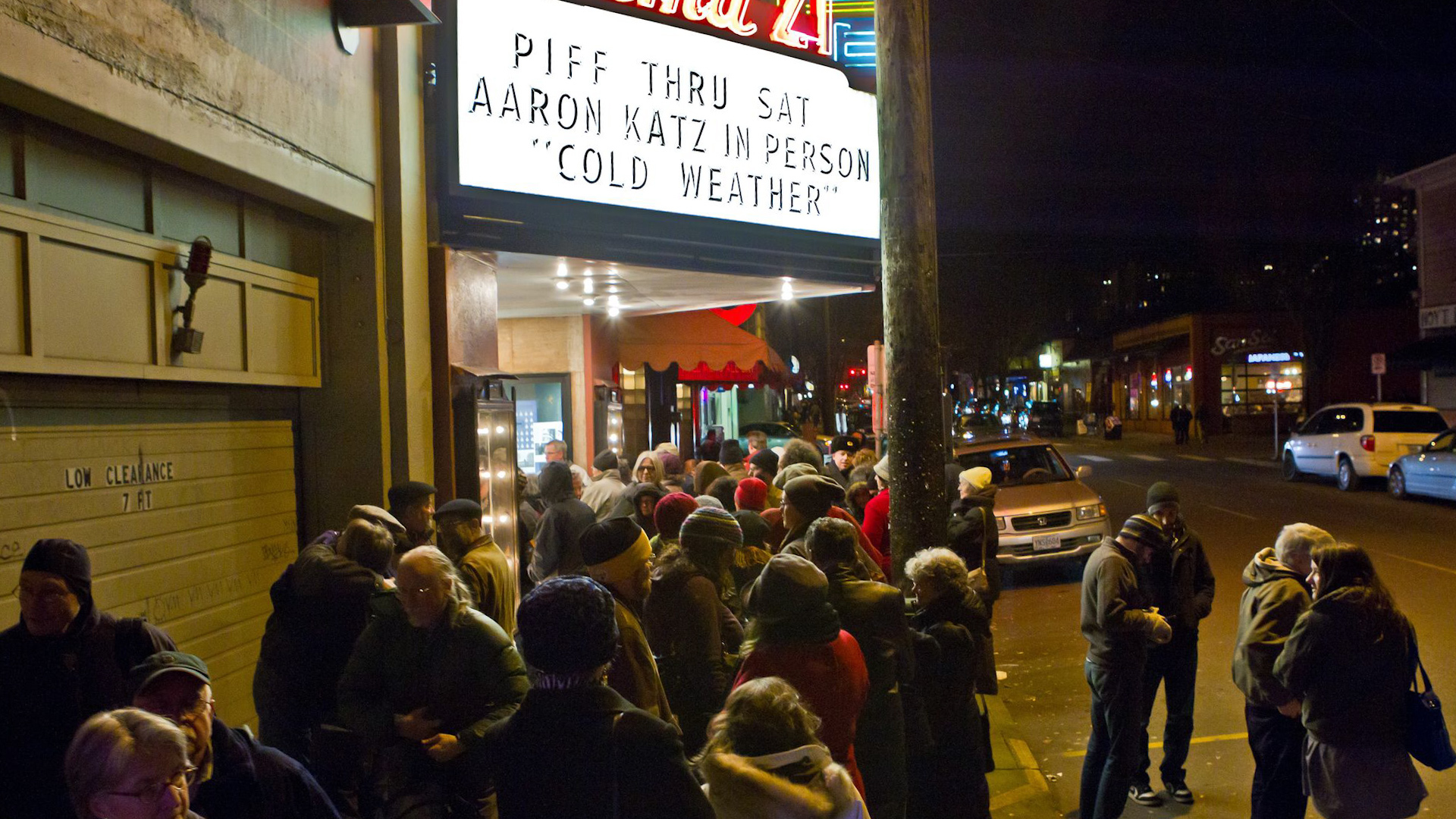 …And speaking of film festivals
The Northwest Film Center's Whitsell Auditorium, located on the South Park Blocks inside the Portland Art Museum, doesn't just program breathtaking retrospectives, fascinating series, and evenings with regional luminaries. They also run a whole bunch of film festivals, including the Portland International Film Festival, the Portland Jewish Film Festival, the Northwest Filmmakers Festival, and the Reel Music Festival. Add to that the more newly established, more mainstream-facing Portland Film Festival, and the chances are pretty decent that there will be some kind of fest happening no matter when you're in town!
Dinner and a movie — at the same time
Instead of popcorn and soda, why not upgrade to heartier fare and an adult beverage? After all, even the worst movies are great after knocking back a few. For an upscale experience in the heart of downtown, check out Living Room Theaters located right across the street from the iconic Powell's City of Books and showing first-run indie, international arthouse, and documentary features. If you'd rather pay less for a second-run engagement or a retro revival, almost every neighbourhood in Portland has a cheap theatre where the tickets are under five bucks and the pizza and beer are plentiful. The Mission Theater, the Laurelhurst Theater, the Bagdad Theater, and the Kennedy School are just a few that come to mind. And even if you're catching a film at one of the many single-screen venues In Portland without a full menu, like the Cinemagic Theatre or Cinema 21, no sales tax means you can really splurge on the snacks.
Watching like the locals
We'll wrap up our city tour with this hot tip: At Fandor, we appreciate lovingly obsessive curation more than most, so we can really get into the ethos of Church of Film. It's a weekly screening in different locations all over the city that attracts Portland's coolest denizens and features what can only be described as "deep cuts": often foreign, likely obscure, always incredible. Whatever's playing while you're in town, go. You will not be sorry.