Kiyoshi Kurosawa, some five decades after his debut feature Kandagawa Pervert Wars (1983), surely no longer needs the tag "no relation" appended to his name. He is, by now, one of the elder statesmen of contemporary Japanese cinema. The prolific director enjoyed a global breakthrough with his 1997 thriller Cure, often cited as a prototype of the J-Horror genre that at once seized upon and seeded all manner of pre-millennial jitters. Positioning Kurosawa as a genre kingpin, the film appropriated noir tropes for the psychologically warped saga of a police detective unraveling a string of mysterious, hyper-violent murders before melting into the metaphysical murk of it all. A few years later Pulse (2001) doubled down, forecasting in many ways the spiritual isolation of an online world as we now experience it, technology becoming a conduit for an apocalyptic assault from an ethernet crowded with literal poltergeists.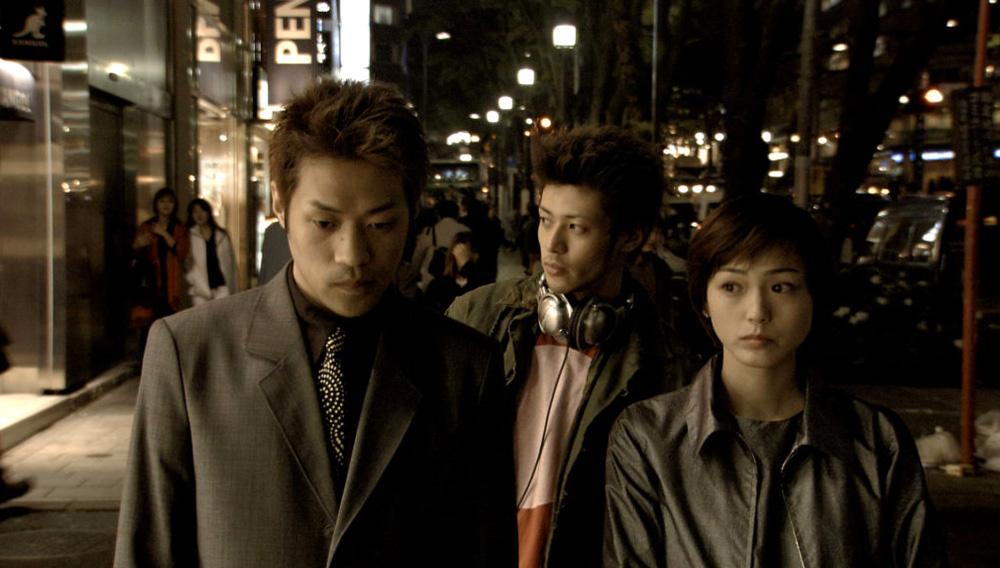 The longer view of his career is much more varied, stretching from early, made-for-video softcore "pink" films to family dramas such as Tokyo Sonata (2008), and the romantic ghost story Journey to the Shore (2015). Premiering at Cannes 20 years ago this month, at a time when Kurosawa was still hotly associated with horror, Bright Future (available to watch free this month on Fandor!) flirts with genre elements and an ambient, shadowy tone of vaguely defined anxiety, but with an often-deadpan vibe that aligns it with slacker comedies. The effect begins with the title, which feels like an ironic mockery of its characters' prospects. Low level workers Yuji Nimura (Joe Odagiri) and Mamoru Arita (Tadanobu Asano) chuff away through dull days at a hand-towel factory, overseen by an intrusive middle-aged manager who is, for whatever reason, drawn to their company. After work, Yuji hangs out for hours at Mamoru's small apartment, an unremarkably threadbare space brightened only by the occupant's pet red jellyfish—a poetic and visually alluring creature whose venom is lethal enough that Mamoru must repeatedly warn Yuji to keep his hand out of the tank.
The splash of color introduced by the jellyfish stands out more than it usually would, as Kurosawa's desaturated palette creates an off-silvery or metallic tone, a sensible creative choice for his first time working with a digital camera. The medusa-like organism, which Mamoru is attempting to adapt to freshwater, is famously bioluminescent, which—much as its formidable sting—becomes a plot device used to evoke beauty and terror.
The buddy dynamic between the cryptic, bemused Mamoru and the half-clueless Yuji isn't developed much beyond the film's opening segment, as the former is jailed for the horrific murder of their boss and his family (a sequence explicated purely by Yuji's discovery of the crime scene). The story shifts into a different mode as Mamoru's grieving father Shin-ichiro (Tatsuya Fuji, star of Nagisa Oshima's 1970s cinematic scandals In the Realm of the Senses and Empire of Passion) takes in the aimless Yuji as a second son and attempts to induct him as an apprentice in his junk shop/TV repair business. That relationship takes some unexpected turns, leading to a climactic encounter with the red jellyfish—now escaped into the wild, reproduced by the hundreds, and creating havoc across the city.
The film itself feels so in step with its characters' listlessness that it leaves an unusual amount of headspace for its audience to ponder, much like Shin-ichiro does in the evenings when he stands on a bridge overlooking a vast, cluttered cityscape of power lines, distant skyscrapers and warren-like apartments rolling into the horizon. Kurosawa's ability to meditate on the alienation of modern life in a hyper-consumptive society is elevated through his inflections of tone. Throughout Bright Future theimages onscreen oscillate between offbeat humor, abject dread, soul-aching melancholy, slapstick and something like symbolic transcendence: a nocturnal vision of an army of jellyfish lighting up the urban waterways in shining crimson—a bright future indeed.