A Midwestern mecca for nonfiction fans and filmmakers, Columbia, MO's essential True/False Film Fest has for 20 editions been more family affair than industry locus, inseparably bonded with its community in ways that springtime behemoth South by Southwest might once have been. With venues large and historic (the 1928 Missouri Theatre, once a vaudeville show palace) and funky-casual (the twin screening rooms of the Ragtag Cinema, which cleverly also packs in a full bar, bakery and record shop under its roof), the festival packed in capacity crowds not only for Sundance crowd pleasers like Going Varsity in Mariachi and Bad Press, but drew intensely thoughtful audiences for rarities like A Moment of Innocence, a 1996 classic of Iranian meta-nonfiction, which screened in 35mm. Keyframe took a road trip to Columbia last week, checking out a batch of new docs, many of them North American premieres. Here are four highlights:
To watch Hummingbirds is to consider the pantheon of great movies about dynamic duos of young female friends in all their love and anarchy, whether it's Daisies or Ghost World. The DNA of those subversive classics abides in this stirringly independent production, in which a pair of young Mexican women—Estefanía "Beba" Contrera and Silvia Del Carmen Castaños—capture their own misadventures together over the course of a few months in 2019, living in the Texas border town of Laredo under the shadow of American immigration bureaucracy during the Trump administration, then months away from the COVID-19 pandemic.
Inside this bubble in time—both in their own lives, and the life of this country—the two women reflect on the way that right-wing politics, in perhaps the most aggravated of red states, impacts their most urgent realities, not only in matters of citizenry or residency status but across a spectrum of issues including sexual identity. They maintain active engagement as what might be described as punk-feminists, devoted to art and activism as a life practice. Much of this, though, is a backdrop to the natural charisma that Contrera and Castaños (21 and 18, respectively) bring to the screen, documenting themselves simply existing in this most liminal of American landscapes—and doing so with an effervescent, fuck-you joy that feels contagious.
The film took the Grand Prix in its youthful Berlinale sidebar (Generation 14plus) and was aided by both the Sundance Institute and the collaborative guidance of producer Jillian Schlesinger (Maidentrip), but such institutional boosts serve the purpose of putting agency in the hands of those who can best tell their own stories. I don't know how many indie festival titles I've seen over the years that zoom in on teenagers navigating the cusp of adulthood in the complicated socio-economic wilds of "the real America," fiddling around to uncover some truth or another and ending up as clichéd as the one before it. But the emotions that arise here from various candid experiences (in one remarkable scene, the women's relationship is beautifully characterized in a love poem one has composed referencing their practically synchronized abortions) are the engine that drives this border-town buddy movie, full of hopes, dreams and resilience.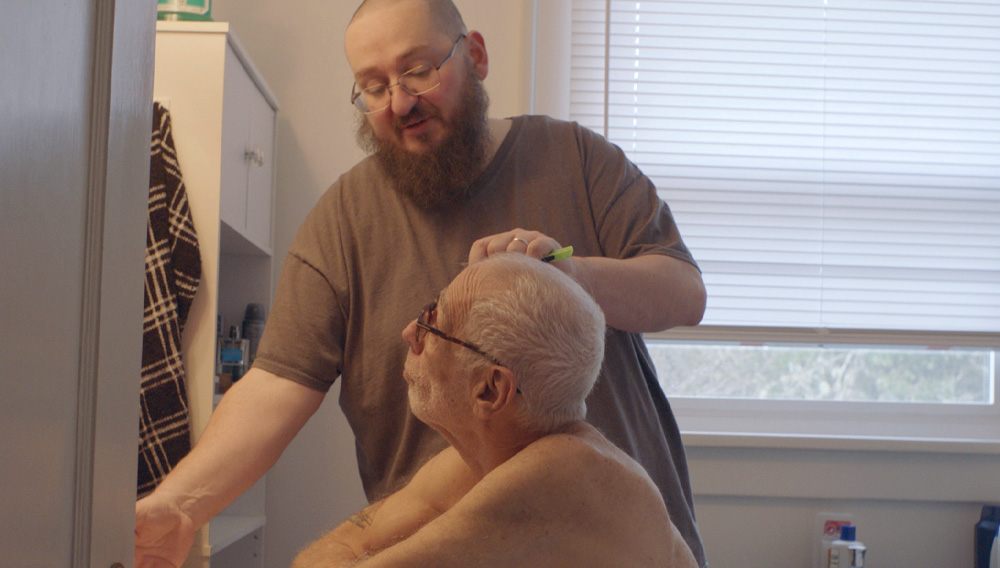 Another film that feels like an act of faith, Man on Earth begins at the other end of the biological arc: The last week in the life of its subject, Bob Rosenzweig, who has decided to end his suffering from Parkinson's disease through Washington state's new Death with Dignity law. Australian director Amiel Courtin-Wilson brings his small crew to Kurt Cobain's hometown of Aberdeen, where they pretty much camp out with Rosenzweig at the home of his son/caretaker Jessie, fulfilling a man's dying wish to share his experience on camera. As loquacious and cranky as a native New Yorker has the birthright to be, Bob bravely faces up to the inevitable by giving a summary judgment on his life's wins and losses, arranging for farewells both tender and tortured, feeling all the feels and recounting a few choice anecdotes (a jack-of-all-trades, he once was a designer of celebrity bathrooms, and somehow managed to be at Woodstock and CBGB's in its raucous heyday).
Courtin-Wilson gets it all with astonishing intimacy, absorbing not only Bob's fragility and candor as his illness eats away at him, but his restless drive to be fully (and unapologetically) himself. The story's arc takes audiences into what could be a deeply uncomfortable place, yet I think the unflinching honesty about Bob's decline and warts-and-all humanity (and humor) offers insight, catharsis and some unexpected poetry, even during two particular scenes in which the camera holds for an extended stretch, witness to moments that are at once deeply personal yet fully universal.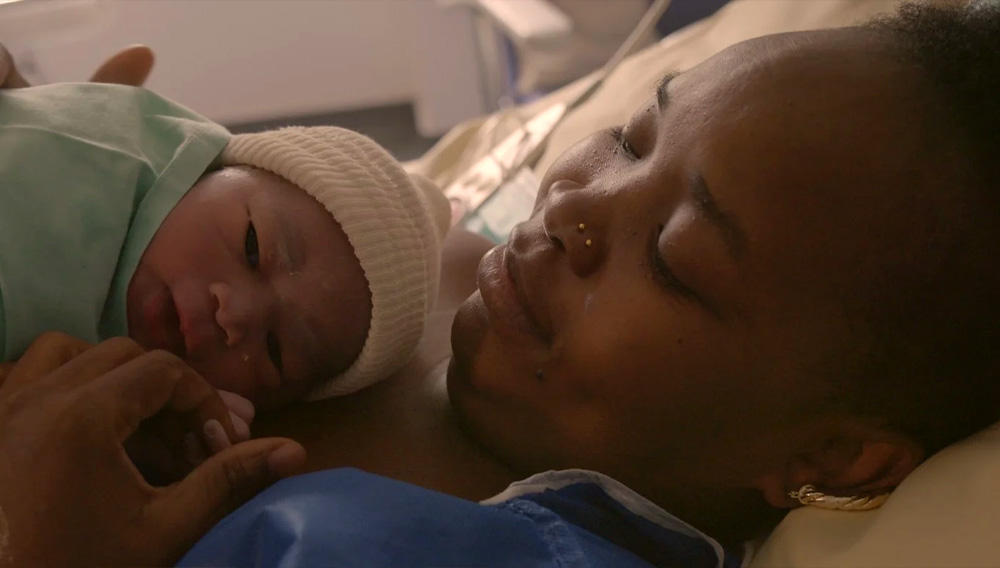 Claire Simon's Our Body, a nearly three-hour stay at the gynecology ward of a Parisian public hospital, might further sound like the limit of anyone's endurance for all-too-human pathos and occasionally graphic visualization of surgical procedures—but hey, it's not the macro-lens eyeball surgery of De Humani Corporis Fabrica, so chill. Simon mostly observes consultations between physicians and their patients (the latter almost always masked, indicative of the shoot's pandemic timeframe) across a range of women's healthcare situations, from pregnancy to menopause to cancer, as well as hormone therapies for trans women. That Simon herself becomes a patient only heightens the film's revelatory intent, which also applies to the extraordinary editing that keys in on the most germane/humane of interactions (in a lesser film, she'd be reminding the viewer of her long languishing in some mundane waiting room). Not unlike the great American documentarian Frederick Wiseman, Simon has the patience and clarity to capture the heartbeat of an institution by abiding with the souls inside it, showing us how everything ticks.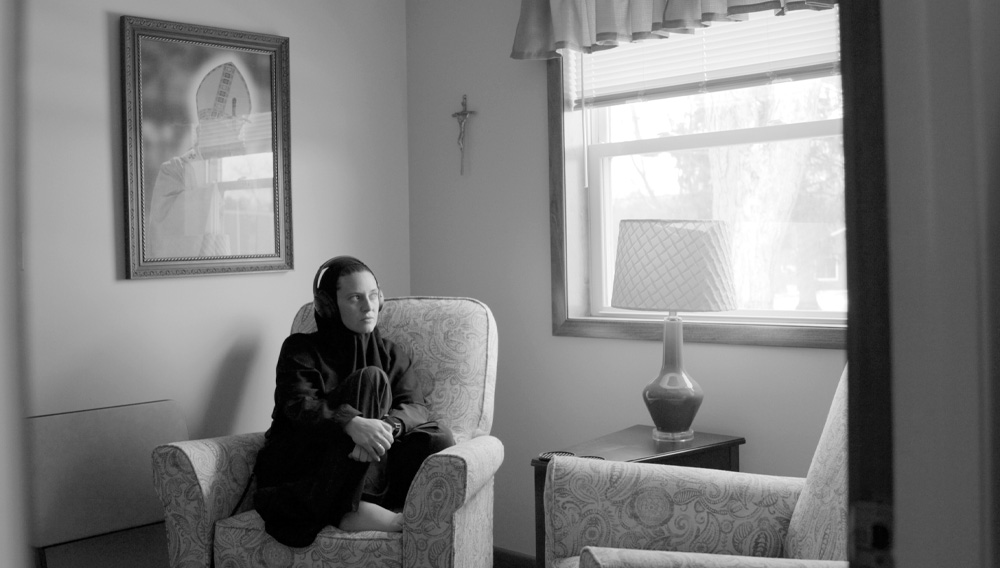 From the mortal to the eternal, then, comes Natalia. Directed by Elizabeth Mirzaei and produced by These Birds Walk's Omar Mullick, this brisk portrait of a spirited 29-year-old woman preparing to take her vows as a nun is a refreshingly light-hearted examination of faith, family, and a peculiar will to renounce the secular despite its nearly cellular hold over her life. "I really love men, and I really love babies," Natalia announces early in the film, which traces her earnest efforts to reconcile herself to the celibate rigors that await her should she proceed. Mirzaei, a 2022 Oscar nominee for her short Three Songs for Benzair, shoots in black-and-white and uses the squared Academy Ratio (1.33 to 1), often trailing her subject in motion within the confined frame and gorgeously austere palette—a visual metaphor for Natalia testing herself against the limits of her devotion. Her sunshine-y disposition motors through episodes of doubt and the anxieties of her extended family. Yet while she grapples with her soul's true longing, the film takes a cue from Natalia's inherent sense of humor. She may be giving up the world, but even her new monastic path has room for "Star Trek."