Ah, youth! In 1982, I was a budding film critic (and minimum-wage, part time news clerk) at my local paper when I convinced my bosses to "send" me (at my expense, of course) to the New York Film Festival. I was 24 and trying to launch myself out of my Panhandle Florida college town into a legit, paying gig somewhere, anywhere. My cinephilia had been nurtured over years of screenings at Moore Auditorium, on the Florida State University campus, where genius programmer Michael Ogden (who sadly died not long ago) created our very own Cinémathèque Française, with nightly screenings in 16mm from the catalogs of Janus and New Yorker Films. The arthouse canon was well represented (Bergman, Buñuel, Fellini, Truffaut and so on), along with diversions into midnight madness (I began attending the all-night sci-fi marathons while in high school) and cracking retrospectives, from film noir to German silent cinema—complete with live piano accompaniment, under a leaky ceiling.
So off I went to the 20th New York Film Festival. Although I'd lived in Italy, hitchhiked across Europe, spent a punk-rock summer in London, and tripped balls at a Swans/Sonic Youth twofer at the Mudd Club on a previous NYC trip, it was a brave new world. This week, I'm back in New York for the 60th edition, marking the 40th anniversary of my first festival (NYFF or otherwise). The fest opened this past weekend with Noah Baumbach's adaptation of Don DeLillo's White Noise, and runs through Oct. 16 primarily at Film at Lincoln Center's Walter Reade theater, Film Center and Alice Tully Hall. Outside of its 32-film main slate, the contemporary programming is more panoramic, with revivals, talks and other sidebars that reach underground, sideways and into the streaming mainstream whose media prominence has profoundly altered much of the festival's meaning.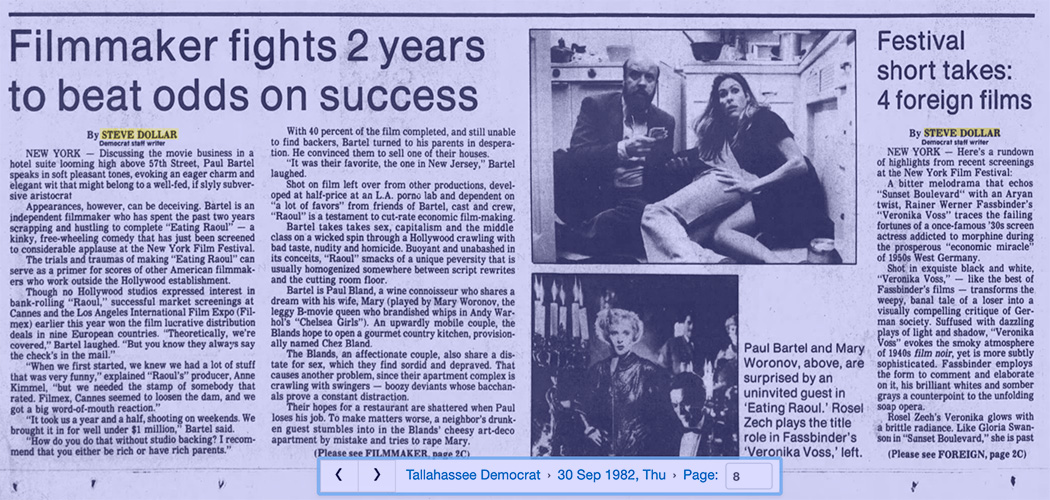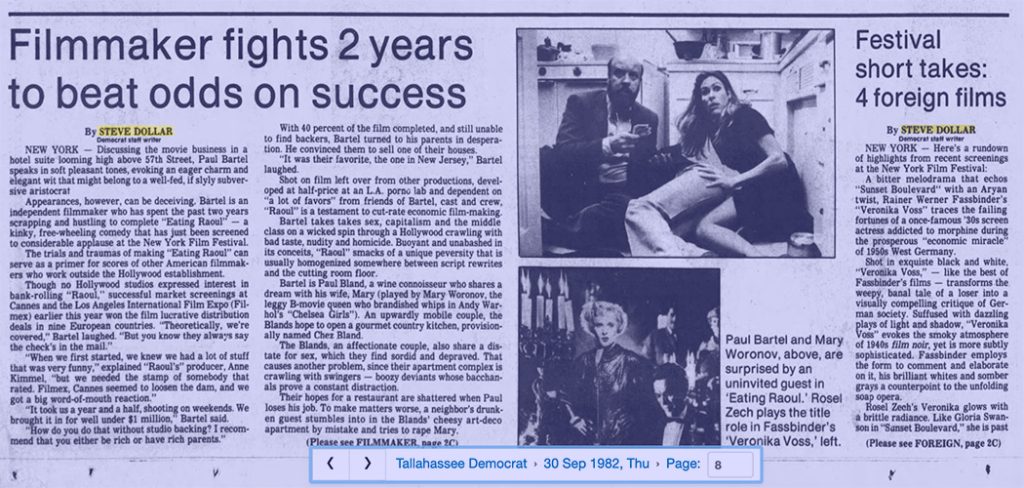 The vibe now, for me, is obviously different. I was wide-eyed at 24, and the festival floated in the clouds. It was run by Richard Roud, the film critic who co-founded NYFF with Amos Vogel and the author of my avidly consumed two-volume Cinema – A Critical Dictionary. The press screenings were held in the relatively opulent (compared to my campus venue) Tully Hall, and the lineup was studded with films by my German new wave heroes. Rainer Werner Fassbinder, who had just died, held down the opening night slot with Veronika Voss, his homage to Sunset Blvd., plus his made-for-TV gem The Stationmaster's Wife; Werner Herzog's already legendary and catastrophic Amazon epic Fitzcarraldo was the closer. Among other highlights, I recall a very warm and casual interview with writer-director Paul Bartel, former Andy Warhol whip-wielder Mary Woronov and other folks behind the fest's "bad taste" pick, Eating Raoul, and getting myself locked out on the roof deck of a loft party to celebrate Beth B.'s neo-noir feature Vortex, a nod to the city's then-burgeoning No Wave scene. At least, I got to talk with Richard Edson, who introduced himself as the drummer for Konk (and was yet to co-star in Jim Jarmusch's breakthrough Stranger Than Paradise). I snoozed fitfully through portions of the Philip Glass Ensemble's concert accompanying the screening of Godfrey Reggio's Koyaanisqatsi at Radio City Music Hall, which did nothing to make the occasion any less memorable.
Of the filmmakers feted at that year's festival, only one—the 84-year-old Polish director, actor and painter Jerzy Skolimoski—is back. In 1982, his London-made Solidarity drama Moonlighting, screened. This round, it's EO, a Cannes prizewinner about a circus donkey that nods to Robert Bresson's classic Au Hasard Balthazar. Instead of two Fassbinders there's a pair of new Hong Sangsoo films (because of course), and in place of a certain white European dial-an-auteur tendency, there's a more inclusive array of filmmakers, many of them making their Main Slate debuts, including Argentina's Laura Citaretta (with her four-hour Trenque Lauquen), France's Alice Diop (the masterly Saint Omer) and multiple Asian selections.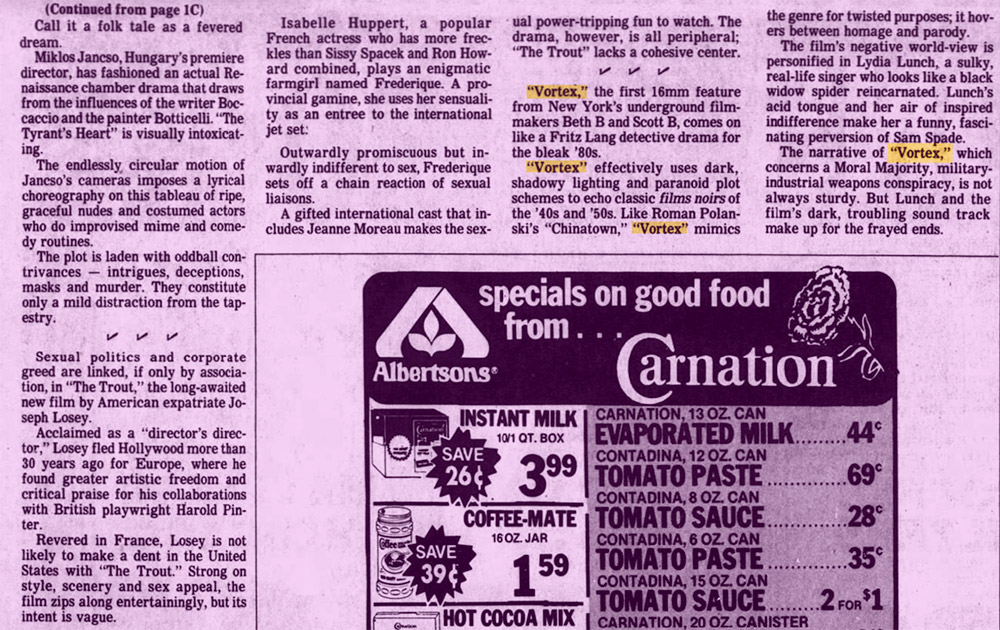 As screenings (for press and public) continue over the next week and change, I'm not sure anyone will give me the jolt I recall when I found myself standing next to Isabella Rossellini—breathing the same air!—after she translated for the Taviani Brothers at a press conference for Night of the Shooting Stars. Instead, I've felt a sense of pandemic-inspired kinship catching moderated appearances by Paul Schrader (whose latest, Master Gardener, took a post-Venice bow at NYFF60) and Isabel Sandoval, joining João Pedro Rodrigues (Will-o'-the-Wisp) and Ruth Beckermann (Mutzenbacher), to talk sensual cinema (and her role in Elizabeth Subrin's short Maria Schneider 1983). Both filmmakers were guests and participants in informal Zoom film sessions I frequented, and that flourished during lockdown, and suggested some of the very real distance we've all traveled since the digital domain, for better or worse, began to chomp at haptic reality.
Given that, the films I most anticipate this year are two that aim to get as close to the real as possible, either in terms of process (old-school film stock) or design (the interior landscape of the human body). Cornwall filmmaker Mark Jenkin (Bait, a previous New Directors/New Films selection) drops his new Neon-distributed feature Enys Men, billed as a spin on folk horror in the director's very personal and highly textural style, which employs 16-mm film stock. And "sensory ethnographers" Véréna Paravel and Lucien Castaing-Taylor's return with De Humani Corporis Fabrica, a next-level move for documentarians who continually push into human and technological frontiers, here using microscopic cameras to take a fantastic voyage inside the titular body human. These different formal approaches look backwards and forwards in cinema, which seems entirely on point for my own reflections four decades in.