Based on a true story, Clint Eastwood's new film, The 15:17 to Paris, depicts the real-life heroism of three-American soldiers who thwarted a terrorist attack on a train to Paris in 2015. Rather than cast actors in the role of the soldiers, Eastwood decided to cast the three men involved in the incident to play themselves. In so doing, The 15:17 to Paris joins a small rank of films where people play themselves in films based on true stories. Historically this has not resulted in affective cinema, and rather than achieving a greater sense of realism, these films often feel deceptive and uncomfortable. This feeling is called "The Uncanny Valley," a term used to describe the eeriness one feels as an object's appearance approaches a human likeness.
In 1977 Muhammad Ali starred in The Greatest, a movie based on an autobiography that the boxer co-wrote with Richard Durham. The film portrays Ali's life from his childhood to his climactic face-off against George Foreman in "The Rumble in the Jungle." While young Ali is played by Chip McAllister, the majority of the film features Ali as himself. He enters the film as a young twenty year old boxer at the onset of his professional career. Ali, who was in his mid-30s by the time the film was shot, had, by then, been through countless fights and looked way too old and weathered to play the prettiest 20-year-old boxer the world had ever seen. This might have been forgivable if Ali gave a great performance, but, frankly, he doesn't. Each line Ali delivers feel stilted, uncertain. And the boxer, notorious for his flair and poetics, feels peculiarly sedate.
As uneasy as Ali's performance is though, the film's biggest problem lies in its sanitized representation of his life. The film frames Ali's politics as the most contentious part of his identity. In some ways it was, but he, like all of us, was flawed and multi-dimensional, impulsive and human. The film tries to iron out his flaws and hold him as an untouchable hero. This leads to uneasy sequences, such as a party scene where Ali is unhappy with his girlfriend's dress and rips it off rather than let her wear it. The film tries to present this scene as a means of revealing Ali's strong moral character as he adheres to his new Muslim faith. But the scene is intensely disturbing, in part because the tone does not match the horror of his actions.
On the other side of the coin is Michael Mann's Ali, which stars Will Smith in the title role. Ali follows most of the same beats as The Greatest but reveals Ali as a man of contradictions. In a moment similar to the dress-ripping scene in The Greatest, Ali also becomes concerned over his girlfriend's racy dress. However, Mann's film frames the exchange as about Ali's fear rather than his devotion. He seems insecure and jealous rather than self-assured. Ironically, this scene feel like a more revealing and truthful scene than the one Ali himself portrayed in The Greatest. Maybe, to tell a story "truthfully," what we need is distance, not a simulacra.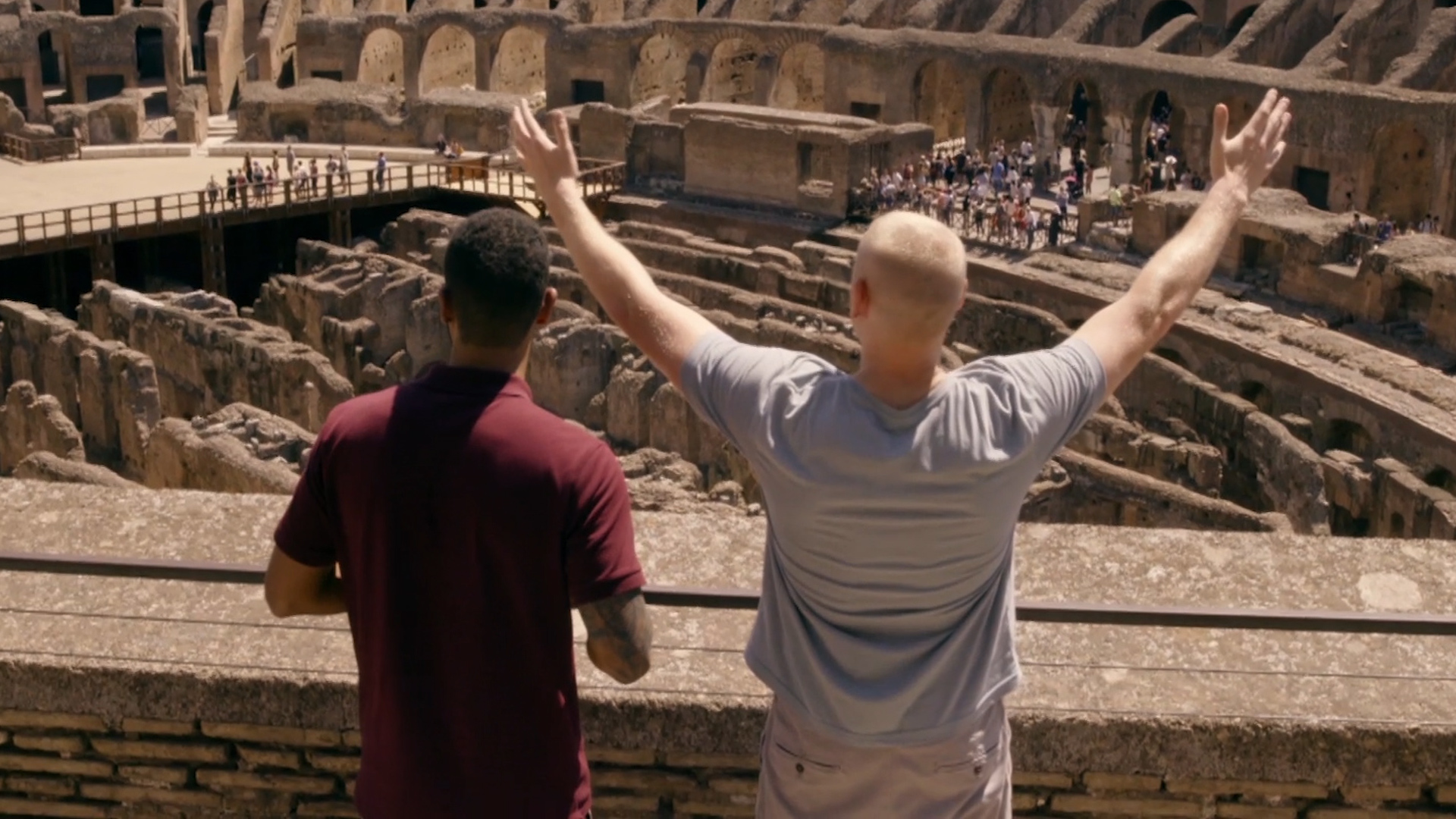 And this brings us to the 1955 film To Hell and Back, based on the novel of the same name, and starring Audie Murphy, one of the most decorated American soldiers in history, as himself. Ali might have been a natural showman, but Murphy was an actual actor. After his military service ended, at the invitation of James Cagney, Murphy travelled to Hollywood, took acting lessons, and went on to have a successful career, appearing in over forty movies (mostly westerns) before his death in 1971. You would think this might make To Hell and Back a more interesting film than The Greatest. The fact that Murphy was a trained and experienced actor by 1955 should have made for a more nuanced performance, but Hollywood (and America as a whole) had a less, let's say, understanding perspective on war than now. In the film, Murphy consistently demonstrates endurance, respect, and restraint. But directed without nuance, the "character" of Audie Murphy paints the American military as a machine that turns children into men. To Hell and Back flattens the complexity of reality, robbing it of its power.
These films try to approach reality by casting the people involved in the stories as themselves, but, strangely, these people are not truly themselves in the movies. They have landed squarely in the uncanny valley; they are not totally unreal, but they are not quite real either. And the affect is strange and disconcerting. How will Eastwood fare faced with directing three non-actors in the position of playing themselves in The 15:17 to Paris? Cynically, it seems that these casting choices are often gimmicks to sell tickets, but who's to say that with the right script and director, these casting decisions can't elicit brilliance?
Want more Clint Eastwood? Check out this farcical short on Fandor.
Interested in more films featuring Muhammad Ali? Try this.