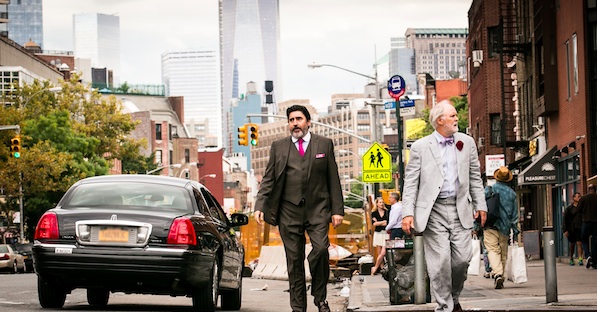 [Editors' note: This article appears as part of 'Fifty Days, Fifty Lists.' For the complete collection, see 'Why Lists?' here on Keyframe.]
"It used to be 'The Love That Dare Not Speak Its Name.' Now it won't shut up." So quipped Mike Nichols several decades back when films and plays dealing with gay and lesbian life were few and far between and—even when far from sexually explicit—considered "daring." Now that's all changed thanks to the overwhelming success of the gay rights movement and the true daring and honesty of writers like Tony Kushner whose epic Angels in America was successfully brought from the stage to the screen by . . . Mike Nichols.
Meanwhile, in the real world, progress is a mixed bag. On the one hand "Marriage Equality" is on the verge of becoming a done deal nationwide. On the other, few states offer basic civil rights protection for LGBT people. Queer teenagers still face bullying at school. Some have been thrown out of their own homes by hostile parents. And then there are gay-bashing incidents terrorizing LGBT folks of all ages and social strata. But while "It Gets Better" on select "real life" fronts, in show business the news is all good. Ellen (no last name needed) is the American housewife's best lesbian pal, with her daytime chat show spreading low-key good cheer. At night Modern Family entertains as well with its gay couple who aren't urban sophisticates of the Will & Grace sort, but rather relaxed suburbanites who live not in "The Gay World" but rather are fully integrated into large and lively ménage of relatives where sexual orientation doesn't raise a ripple of opposition. What we're looking at here is the prospect of a social order known as "Post-Gay." To say that this mode of integration is fast becoming the rule rather than the exception isn't exactly wishful thinking. But it's certainly true culturally that such integration has taken place, to the point where specifically labeling a film as "gay" is neither as useful nor accurate as it was in the past. And in 2014 there are several fascinating examples of this new cultural phenomenon.
1.  Ira Sachs' romantic comedy-drama Love is Strange centers on a couple (played with great sensitivity and wit by John Lithgow and Alfred Molina) who, having shared their lives for close to forty years, take advantage of the legal alteration and get married. Because of this one of the husbands is fired from his job as a choir director at a Catholic school, the loss of income forcing them to sell their apartment and live apart until new digs are secured. Their large network of friends and relatives pitch in to help, underscoring not only that the pair are respected but also embody the changes that have come to the same-sex oriented over the past few decades. More important is the fact that our heroes are not "outsiders" in any way. In fact they're held up as "role models" for couples of any orientation. Which is unimaginable in the past they knew.
2. This awareness of the past, albeit of a more recent one, figures in the HBO film of Larry Kramer's AIDS epidemic drama The Normal Heart. Bringing this play to any sort of screen has been a long-in-process prospect. When the property was optioned by Barbra Streisand over a decade ago it was considered such a "risk" it was never brought to cinematic fruition—despite her seemingly powerful auspices. Producer-director Ryan Murphy was able to execute it in such a way that the project was presented on a mass venue not "gay-specific" in its outlook—consequently informing a new generation for whom AIDS is less an actuality than a memory.
3. History figures quite prominently in a much different way in The Imitation Game, the story of World War II British "code-breaker" Alan Turing, who led a team that in the process of divining the secrets of the Nazi "Enigma Code" apparatus invented what is now known as the computer. Directed by Morten Tyldum from a script by Andrew Hodges and featuring a powerhouse performance by Benedict Cumberbatch as Turing, the film is a sympathetic but never fawning exploration of an eccentric genius whose skill as a mathematician only makes his difficulties with ordinary human contact seem more severe. Keira Knightly co-stars as Joan Clarke, the code-breaking team's only female member whose skills were first recognized by Turing. They form a friendship–even to the point of his proposing marriage to her. But knowing he's gay, and that marriage would be unfair to her, Turing rescinds the offer in a way that audiences today will find more understandable than the public of his time, had they known about it. Indeed because of the secrecy of the code-breaking project nothing has been known about Turing until rather recently when, in addition to the brilliance of his wartime work, the tragedy of his postwar life and death has been revealed. Charged in 1952 with "indecency" (i.e., having sexual relations with another man), Turing was given the choice or either prison or chemical castration. He chose the latter, leading to his suicide two years later. Contemporary viewers straight as well as gay will be horrified. But one wonders if the same reaction would have arisen from the public at the time of Turing's death.
4. Because of the wide spectrum of historical interest involved in the Turing story, The Imitation Game is an ideal offering for Oscar consideration. Also up for Oscar scrutiny is the Swiss "based on a true story" romantic drama The Circle, which deals with a gay social cub of the 1950s and the love story of two of its members who are still with us today. But as well-made as Stefan Haupt's film may be, it's doubtful it can break out of the celluloid ghetto of the "art houses" to reach a wider public unperturbed by films with subtitles—unless it manages to cop the Oscar. If it does so, the wider public it will win will surely find this love story delightful, be they gay or straight.
5. and 6. Also on the arthouse front one finds Dear White People, Justin Simian's hilarious satirical comedy about African American college students—one of whom is matter-of-factly gay—and The Skeleton Twins, Craig Johnson's deliciously off-kilter comedy about a brother and sister (he, played by Bill Hader, is gay; she, played by Kristen Wiig, is straight) semi-happily reunited after many years apart. What stands out from the overall quirkiness of these postmodern enfants terribles is a scene where the gay brother meets the man who molested him as a teenager (played by Modern Family's Ty Burrell) who is terrified to learn that the object of his illegal attention wasn't scarred by the incident at all. In fact, he recalls it quite lovingly.
7. Considerably less loving are two films I doubt the makers of consider gay at all—though their stories say otherwise. Damien Chazelle's Whiplash concerns the relationship between a jazz music teacher (J.K. Simmons) and his standout drummer student (Miles Teller). Abusing him with nearly non-stop homophobic slurs (supposedly to force him to do his best as a drummer) the teacher is clearly obsessed with his student/victim to the point one expects a formal "pass" at any moment. This we're spared, most likely because it takes the form of a sadomasochistic scenario that Chazelle enjoys setting up but seems disinclined to play through. Why he chokes can only be guessed at. Loss of nerve, or fear that he's "dropped a hairpin?" You decide—provided that you care to.
8. Bennett Miller's Foxcatcher concerns an even more destructive edge-of-gay relationship. Based on a true story, it recounts how John du Pont (Steve Carrell), heir to the du Pont family fortune and wrestling enthusiast in the extreme, came to know the Schultz brothers Dave (Mark Ruffalo) and Mark (Channing Tatum). Wrestling adepts with nothing in their future save teaching the sport to high school and college kids, the Schultz brothers are spirited away by du Pont to his personal enclave "Foxcatcher," where he's training wrestlers for Olympic competition. This seeing "dream come true" quickly descends into a nightmare with the eccentric and deeply sinister Dupont. Equipped with an imposing false nose that gives not a hint of his past comedy work, Carrell delivers a chilling performance as a power-mad control-freak who clearly has designs on Mark that he never fully acts upon because of Dave—leading to a murder that's as shocking as it is oddly logical. Never has the destructive power of "the closet" been dramatized so intensely. Whether audiences will warm to this darkness is open to question. But it's doubtful the "gay film" label will be applied to this most eccentric of gay films. It's simply part of where the subject of same-sexuality has come to in the cinema in 2014 when "the love that dare not speak its name" is speaking more loudly than ever. Except in scenarios that in the words of gay great Cole Porter are "too hot not to cool down." Where this will go from here is anybody's guess. But it is to be hoped less directorial "choking" will be involved.