From the way they're written to the way they're shot, to the actor's performance and the costume designer's visuals, creating an iconic character is a team effort. "Costumes are the first impression that you have of the character before they open their mouth—it really does establish who they are," says Colleen Atwood, costume designer for Manhunter, Ed Wood, and That Thing You Do! These choices can be something as simple as Snake Plissken's eye patch or Tony Montana's scar. Similarly, jackets and coats are a staple of everyday outerwear, and while they are usually thought of as simply utilitarian, in the movies, they can bring an intangible, ineffable coolness to some of our favorite characters. To prove that point, here are ten of the coolest jackets of the 1980s in the film:
Harrison Ford, The Empire Strikes Back
Be it blue or charcoal—there is some debate, thanks to a blue-ish tint on the film itself—Han Solo's "Bespin Jacket" is arguably even more iconic than his black spacer vest from the original film. Taking its cues from the original vest by featuring two pockets on each side, the Bespin jacket recalls the classic Harrington style made popular by Steve McQueen and James Dean, who epitomized cool in the '50s, '60s, and '70s, and to whom Empire costume designer John Mollo looked for inspiration. Filmmaker George Lucas had one simple instruction for Mollo: "The audience mustn't consciously notice the costumes," he said. "If they do, you have gone wrong." Bringing in a style that felt familiar to audiences did just that.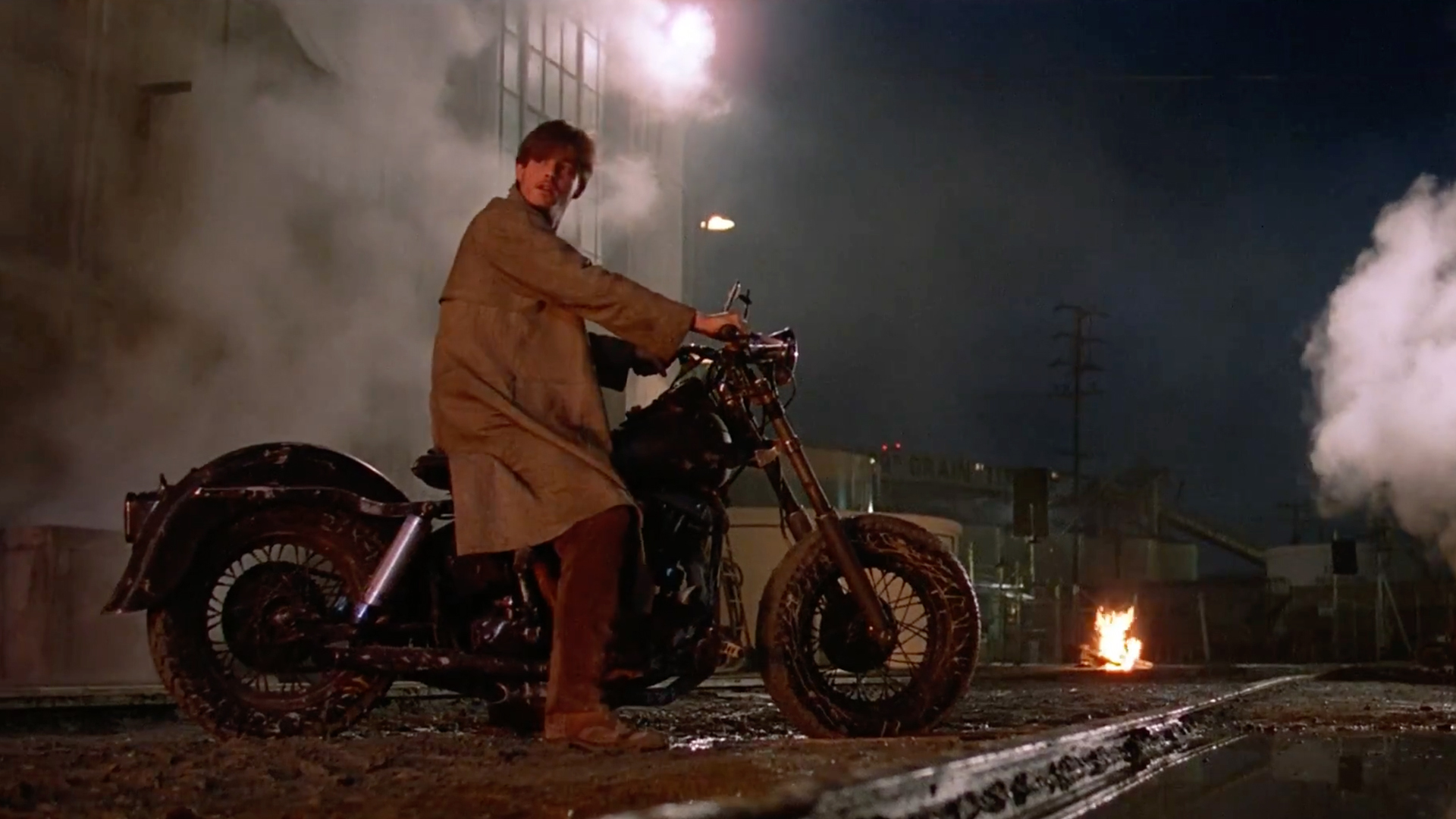 Tom Cody, Streets of Fire
Even with its neon-noir aesthetics and New Wave flourishes, Walter Hill's 1984 film Streets Of Fire is very much a modern-day Western. Costume designer Marilyn Vance looked back to classic Westerns as well as the fashion designers of the 80s to create a look for the film that was true, "another time, and another place," accessible and just a little bit weird at the same time. Tom Cody, with his cowboy boots, denim, and vest, recalls American heroes of the past from John Wayne to Clint Eastwood, but it's his long, duster-style coat that completes the silhouette of the gunslinger. Michael Pare has a very simple style of delivery in the film, but his outfit tells the audience everything they need to know about the character with cues from film history. He's the white hat to Willem Dafoe's black vinyl waders.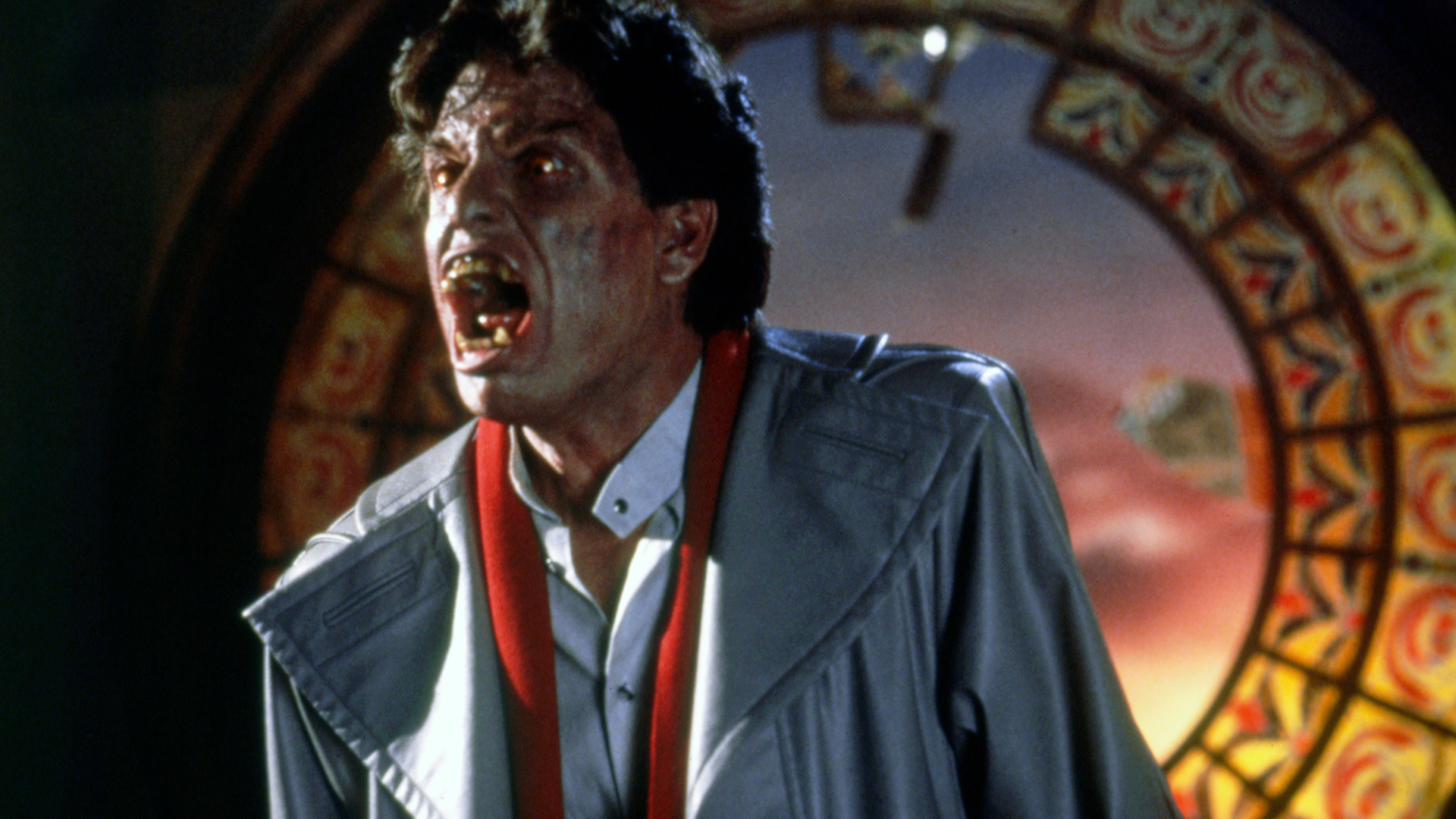 Chris Sarandon, Fright Night
The goth-tinged The Hunger, the colorful, comic-book influenced Vamp, the grimy southwestern vamps of Near Dark, and the rock 'n' roll bloodsuckers of The Lost Boys: The vampire films of the 1980s gave "fangs" to a diverse pack of children of the night. And while Catherine Deneuve's black leather coat and Bill Paxton's classic biker jacket are certainly worth mentioning, it's Chris Sarandon's grey leather trench in Fright Night that really stands out. A direct line can be drawn from the Bela Lugosi's tux-and-cape combo to Sarandon's Jerry Dandridge, who pairs his coat with a striking blood-red scarf and a closet full of sharp, Armani-influenced outfits that render him the epitome of slick '80s cool (and downright sexy).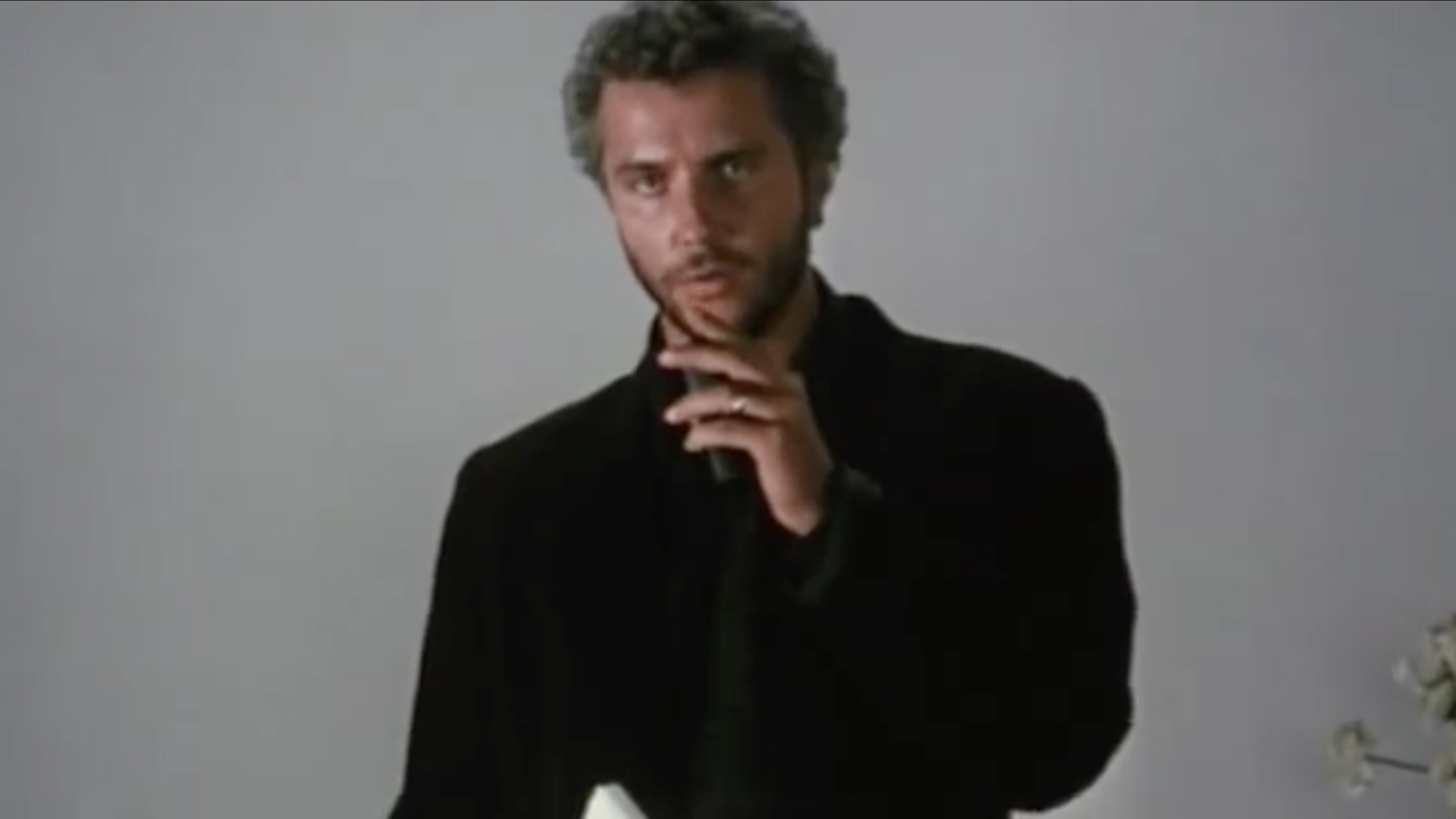 William Petersen, Manhunter
The heroes in a Michael Mann film are always stylish, complicated men, and William Petersen's Will Graham is no exception. Several times throughout the film, Petersen is seen in a slightly oversized blazer made out of what appears to be black wool with white "flecks:" A style known as "atomic fleck." Atomic fleck was a popular look in the 1940s and 1950s that made a comeback in the 1980s along with slick ultra-modern design (think glass blocks and neon lights) and colors like teal and salmon. This aesthetic permeates Mann's Thomas Harris adaptation (Manhunter is probably the film that comes closest visually to Miami Vice in Mann's catalog, with an emphasis on pastels and neon). Paired with Peterson's wardrobe, the jacket lends an ultra-slick, modern sensibility to his tortured profiler role.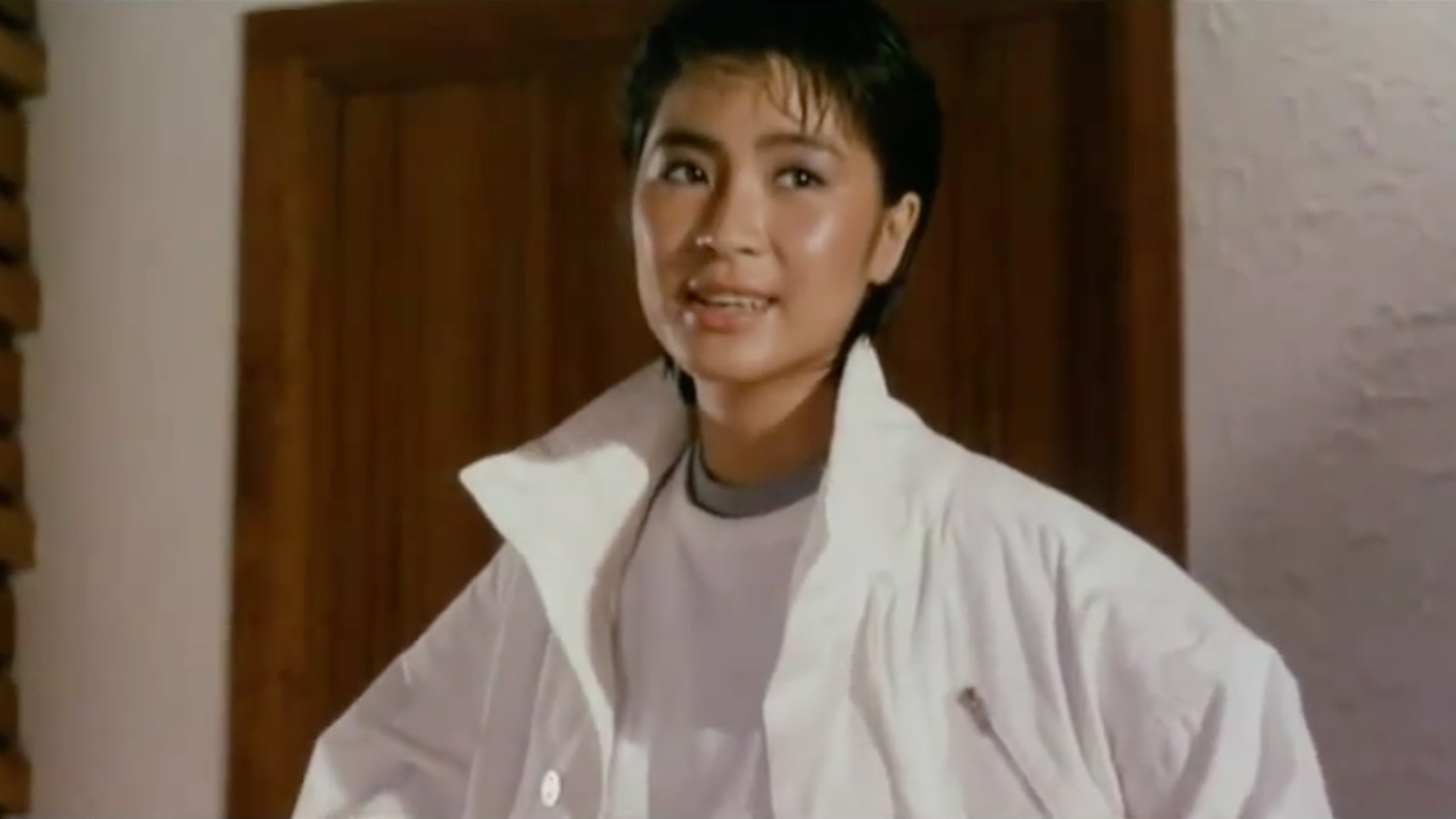 Michelle Yeoh, Yes, Madam
Sometimes it's not simply what you wear, but how you wear it. Yes, Madam was released in Hong Kong in the fall of 1985, starring martial artists Cynthia Rothrock and Michelle Yeoh as a pair of international investigators tracking down stolen microfilm, and kicking everyone's butt in the process. Taking a cue from Miami Vice (and perhaps her action counterpart Chow Yun Fat), Yeoh's Inspector Ng oozes cool in a men's style blazer— subverting a traditionally masculine style with artful sex appeal—with the sleeves rolled up just right.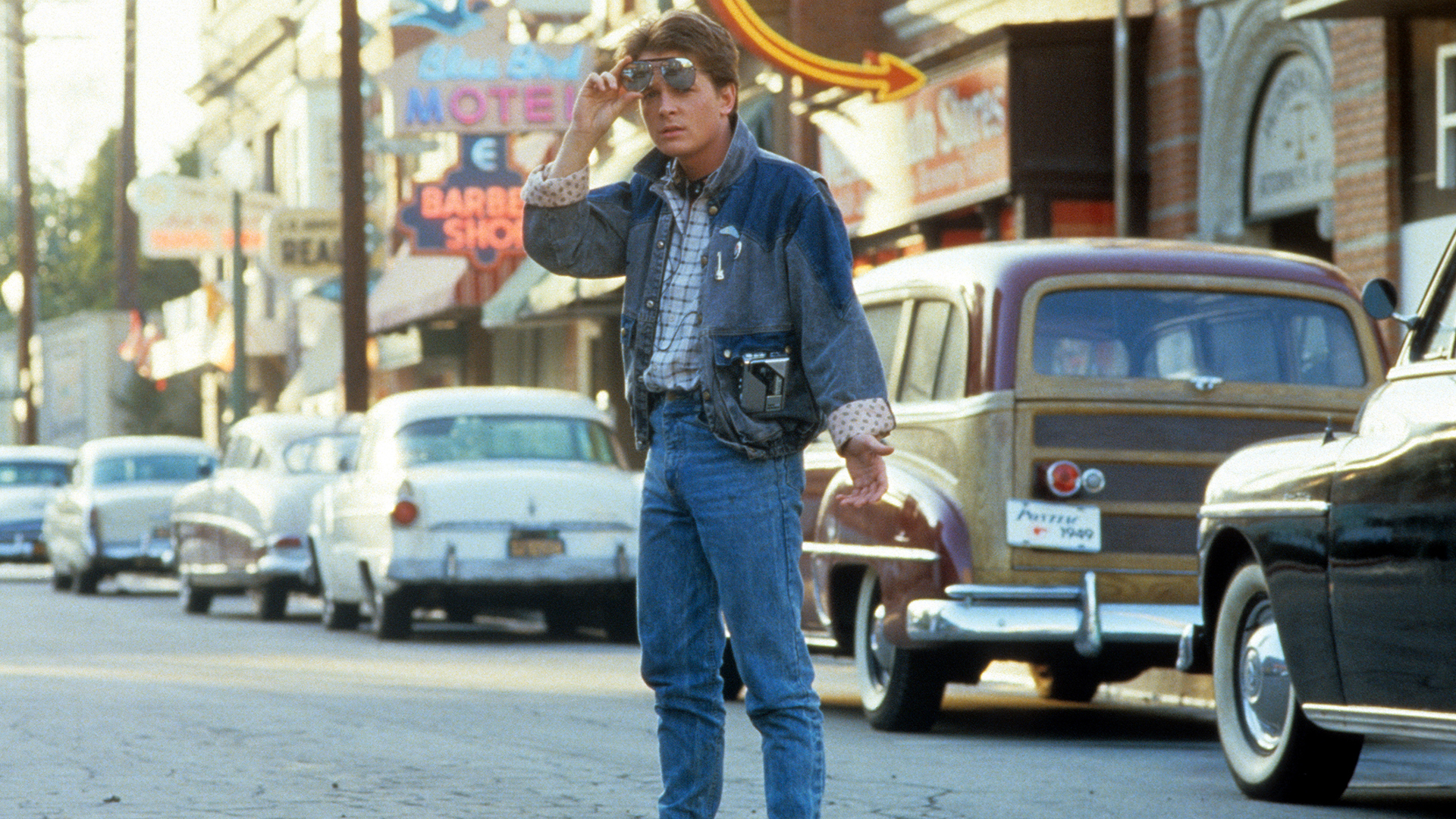 Michael J. Fox, Back to The Future
Although the character is best remembered (and made fun of) for his puffer vest, Marty McFly's denim jacket is as iconic as the time-traveling DeLorean he took back in 1955. While denim jackets have been a staple of American workwear since 1880, McFly's wasn't the classic Levi Trucker jacket that denizens of 1955 (think Martin Sheen in Badlands) would be accustomed to wearing. Manufactured by Guess with specifications from Back To The Future costume designers, McFly's jacket is a little more 80s stylish, with a two-tone design and sharp lining visible with his stylishly rolled-up sleeves. The exact jacket designed for the film was never made commercially available, but similar styles still pop up on eBay from time to time.

Chow Yun-Fat, A Better Tomorrow
Both stylish and perfect for concealing a Thompson machine gun, the trench coat has been synonymous with organized crime in film since the era of James Cagney. And in John Woo's A Better Tomorrow Chow Yun-Fat models an update on the classic trench. As counterfeiter Mark Lee, Yun-Fat is all ultra-cool swagger, perpetually clad in sunglasses and with a toothpick hanging ever so slightly from his lips. His long teal trench coat adds a sweeping style that looks even cooler during John Woo's slow-motion shootouts. Despite meeting his maker at the end of the film, Yun-Fat's "Brother Mark" character was so popular that he returned for A Better Tomorrow II as Mark Lee's brother and reprised his original role in a prequel. A Better Tomorrow was a big hit in Hong Kong, inspiring countless teenage boys to incorporate long trench coats into their wardrobes. In fact, in colloquial Cantonese, trench coats are still referred to as "Mark Gor Lau," which literally translates to "Brother Mark's coat."
Kelly McGillis, Top Gun
It would be hard for anybody to compete with the star power of Tom Cruise circa 1986, but Kelly McGillis did just that as astrophysicist "Charlie" Blackwood in Tony Scott's Top Gun. The flight jacket has been a staple of pilots since World War I; flying in planes without an enclosed cockpit, the jacket would keep pilots warm while in the air. And while the flight jacket has gone through various upgrades and designs, classic dark leather is arguably the most recognizable style. The jacket McGillis dons in Top Gun has buckle sleeves (not expandable, but the less common elastic) and patches of the classic design, but features a more flattering cut that's shorter around the waist, bringing a more stylish, feminine quality to the classic bomber.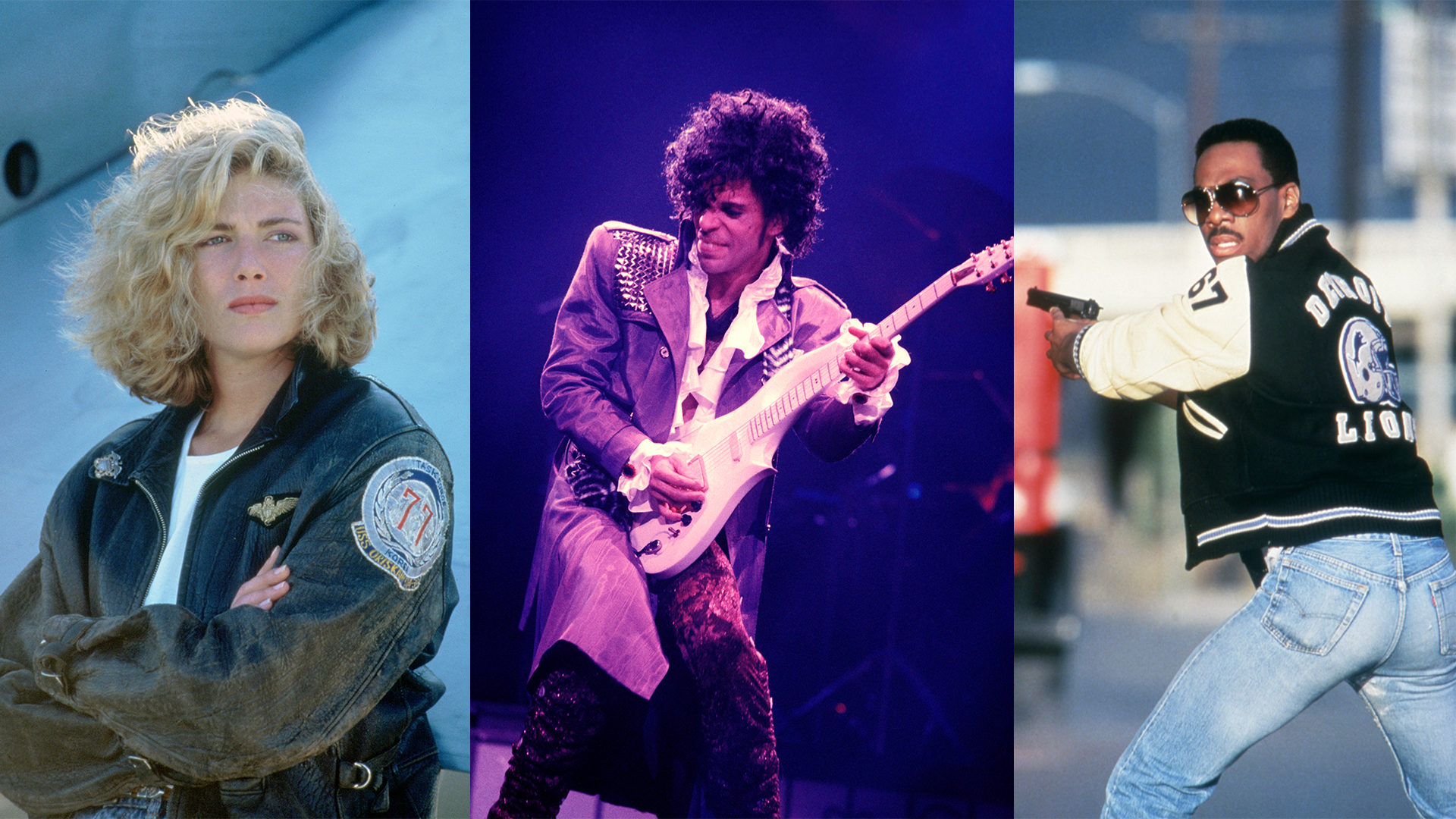 Eddie Murphy, Beverly Hills Cop II

While the success of the original Beverly Hills Cop led to demand T-shirts from the Mumford Phys Ed Dept. (a real Detroit high school), it's Axel Foley's Detroit Lions varsity jacket from the sequel that fans will forever associate with Eddie Murphy's cowboy cop. Foley's cutoff hoodie and T-shirt combo from Martin Breast's original film certainly added to Foley's street-smart cop persona, but the varsity jacket puts Foley's hometown squarely on display, even featuring pins from other hometowns teams like the Red Wings and Tigers on the breast. And don't forget to roll up those sleeves!
Prince, Purple Rain
Although he was notorious for wearing "assless" chaps and thigh-high stockings on stage, even Prince needed some serious outerwear to survive those deadly Minneapolis winters. Prince worked closely with costume designers Louis Wells and Marie France to curate the style of his 1984 film debut, Purple Rain – his cropped leather moto jacket was chosen to show off the singer's rear – but it's that iconic trench coat that will forever be associated with His Royal Purpleness. Prince loved the drama and fit of the long coat, and "you never knew what it would reveal when it blew open," as Wells told Billboard in 2016. Much like Prince's music, the coat is a blend of styles –British Invasion-meets-Paisley-Underground shoulders and epaulets, New Romantic foppishness, and punk-rock spikes – that, when blended together, is undeniably Prince.