The 2023 Sundance Film Festival officially continues through Sunday, but for most intents and purposes it's a wrap. Post-lockdown, the world's leading festival for (mostly) American independent and indie-adjacent film no longer requires an expensive trek to snowbound Park City, Utah—where you can party with celebrities and struggle for oxygen in the high altitude—but is available for living room (or even cellphone) viewing to press, industry and paying customers. That's honestly a huge convenience, even though you forgo the electrifying buzz of catching a world-beating premiere, the collegial crosstalk and elbow rubbing, and the rarefied vibe of so many bold-faced names in low-key mode, all bumbling through the melting slush, hungover and yearning for a nap like everyone else.
This year's fest expectedly boasted some much-anticipated titles, although those didn't always deliver. Cat Person, adapted from Kristen Roupenian's 2017 viral sensation of a New Yorker short story, proved a cat-astrophe, a clunking misfire that mostly ignored the witty source material—although the centerpiece sex scene is deliberate "peak cringe"—as Emilia Clarke (Sundance '21 mega-success CODA) and Nicolas Braun (Cousin Greg from "Succession") play out a rom-com from Hell. Brandon Cronenberg's Infinity Pool, however, offered even more than expected: an uncut version of the hallucinatory psychodrama that Neon releases into theaters today. Supposedly, this means an actual handjob and ejaculation, some excess gore and a few other tidbits, none of which really add anything much to a swirling descent into decadence and madness, set at a discomforting resort in some obscure Third World-ish country (really, the Dalmatian Coast) where tourist crimes are expiated through executions of their cloned doubles (at a premium price). Alexander Skarsgård, always game for shenanigans, and Mia Goth, who has already proven her skills at this with X and Pearl, take it to the limit in profoundly disturbing power games that, despite the sci-fi chill, feel more aligned with the recent spate of eat-the-rich satires (Glass Onion, Triangle of Sadness, The Menu). I'm gonna tell my kids this was "White Lotus".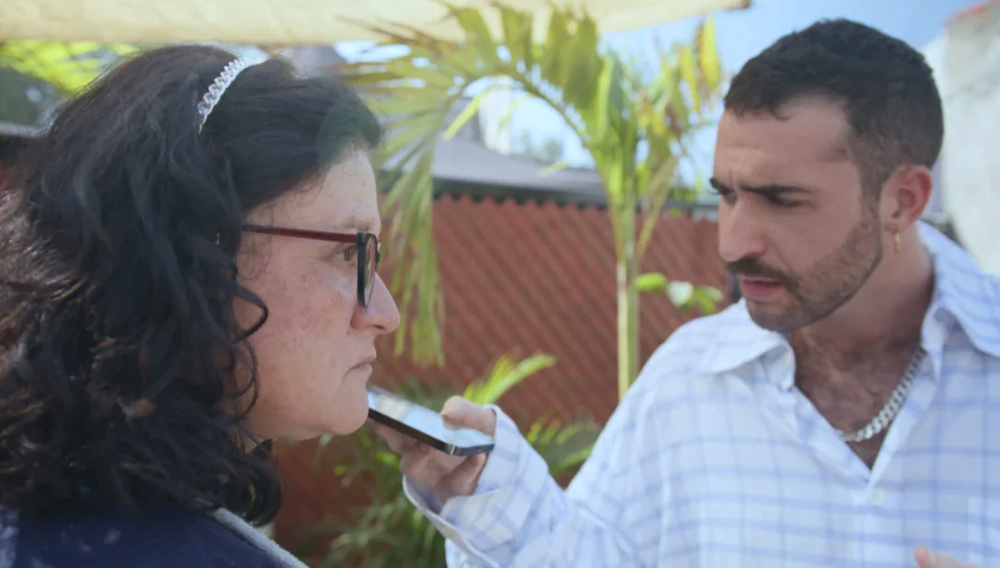 The transgressive romp of Sebastián Silva's black comedy Rotting in the Sun makes the gloopy clone wars of Infinity Pool look like a Sunday picnic. You want NC-17, baby? Suck on this. This suicidal satire, which throws shade at influencer culture, show business, the Mexican class system and the director's own creative process, also revels in the gay party scene, with a spree of naked male bodies, unsimulated sex and boners galore. The filmmaker, a Sundance favorite (The Maid; Magic, Magic; Crystal Fairy and the Magical Cactus; Nasty Baby; Tyrel) plays himself, in retreat at his chaotic Mexico City apartment, researching ways to off himself while repeatedly vacuuming large doses of ketamine up his nose. Things get crazier when he goes to the beach and accidentally saves comedian and real-life Instagram celebrity Jordan Firstman from drowning. An obsessed fan, the relentlessly effervescent Firstman insists they collaborate on a new project, a premise the disaffected Silva resists until he realizes it could jumpstart his career, triggering a sequence of absurd events that bring The Maid star Catalina Saavedra (as Silva's haphazard yet critically observant maid) into the foreground and ramp up the manically deadpan comic tension. Gleefully unhinged and pretty much out of its mind, the plot whirls around a comedy of errors and misdirection, holding social-media tropes and other contemporary contrivances up to delicious mockery.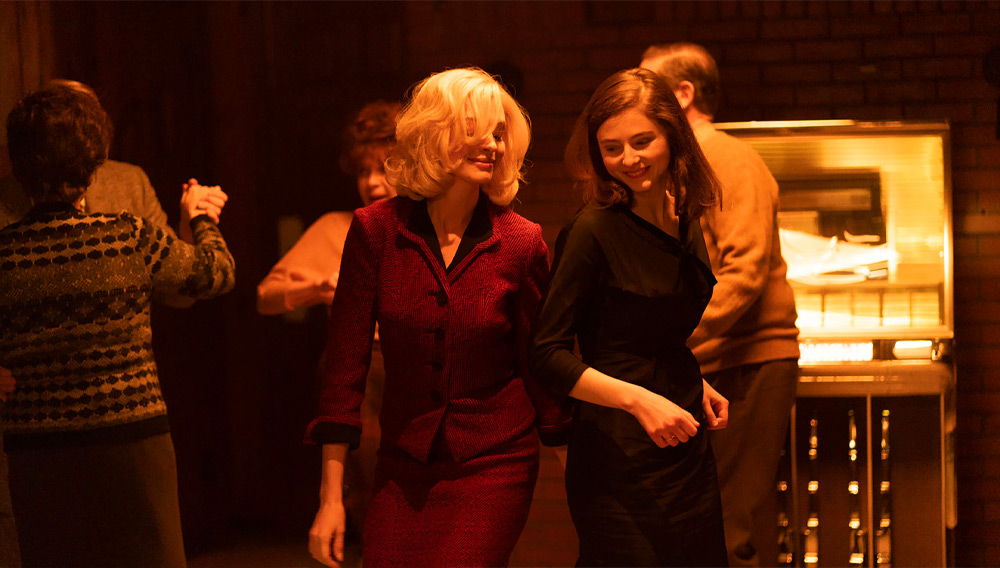 Silva's self-negating turn was my favorite Sundance performance, but more conventionally let's give it up for Anne Hathaway, vamping it up in William Oldroyd's Eileen, an adaptation of Otessa Moshfegh's novel, that unspools like a satellite in orbit through the Carol cinematic universe. Hathaway's a ray of liberating light for the eponymous character (Thomasin Mackenzie), a lonely, dowdy receptionist at a small-town Massachusetts prison where Hathaway's Rebecca St. John has arrived as the new psychologist. The virginal Eileen thrives on her fantasy life, as her real one is brutally dismal: caring for her father, a drunk ex-police chief prone to gunplay and screaming at their neighbors. The grim, oppressive environment is grinding Eileen to desperation, so when she meets Rebecca, a dazzling blonde with sass and agency, it allures her—and Hathaway pours on the sexual charisma. The case of a young man charged with the brutal murder of his father captures the shrink's fascination, supplying a startling plot turn just when those who haven't read the book might have expected an escalation into a predictable love affair, but let's not spoil things other than to say Hathaway is a hoot.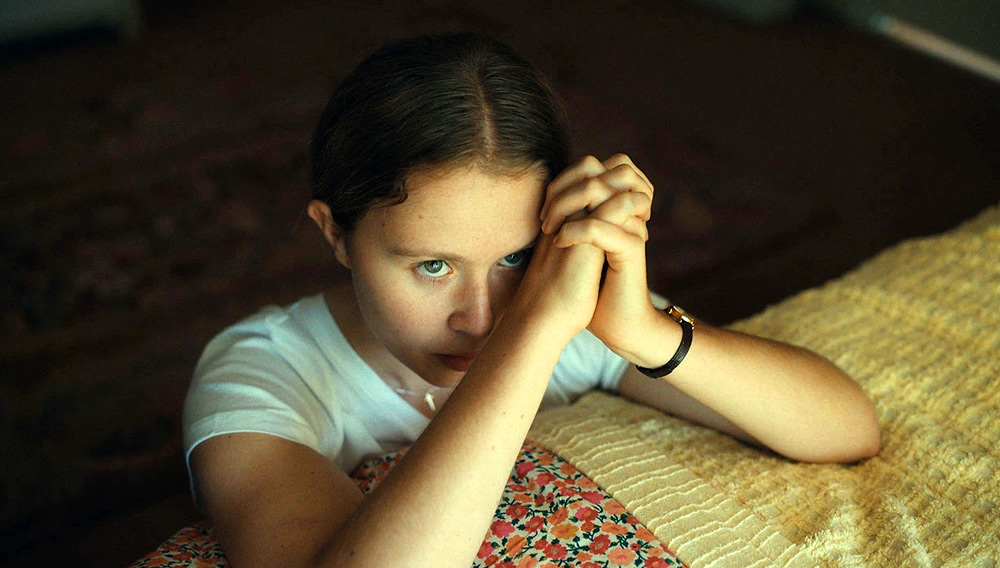 An informal Small-Town Girl trilogy continues with The Starling Girl, a formidably observant debut by writer-director Laura Parmet, which stars Australian actress Eliza Scanlen (HBO's "Sharp Objects," Greta Gerwig's Little Women) as Jem, a 17-year-old living in an evangelical Christian community in Kentucky. She has dreams and ambitions that strain against the patriarchal rigidity of her church, and a family life complicated by both her responsibilities as the eldest of many siblings and the emotional stress of a loving but alcoholic father (Jimmi Simpson), who once aspired to honkytonk stardom in a country band. Scanlen's sensitive performance is fine-tuned to the nuances of her character's situation, which reaches a boiling point with the introduction of a new youth pastor Owen (Lewis Pullman), son of the church's leader. Sparks ignite into passion between the two, as what feels subversive for Jem is, in fact, predatory for the married Owen, who seems to have her on his sexual radar from his earliest glimpse. Parmet thoughtfully calibrates the scenario, leaving space to witness behaviors within a system of religious orthodoxy that, in reinforcing traditional male dominance, seems only to produce weak and flawed men here. The achievement is the ability of Parmet and Scanlen to get inside Jem's perspective, conveying rich and tangible degrees of feeling that make her situation and choices all too painfully real.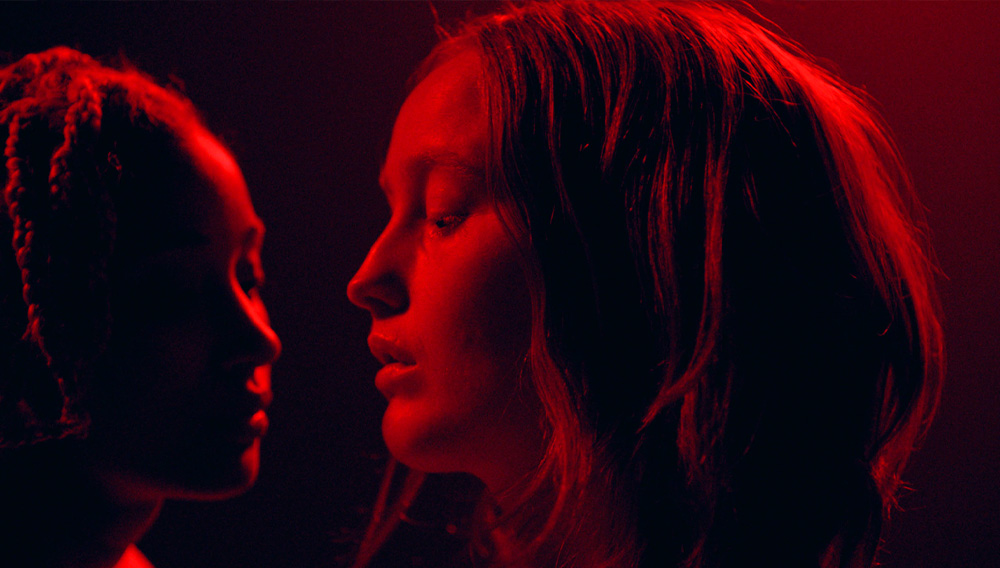 Adolescent desire erupts more viscerally in My Animal, a brooding Canadian horror-ish film that largely only alludes to the grisly business of werewolf lore, and instead revolves around the hot vibes between the ostracized Heather (Bobbi Salvör Menuez of "I Love Dick" and Under the Silver Lake), frustrated in her efforts to join the local hockey team, and Amandla Sternberg's new-girl-in-town Jonny, a flashy figure skater who is quickly drawn to a kindred spirit. Little matter that Heather's father (Canadian national treasure Stephen McHattie) keeps her shackled during nights with a full moon, Heather takes the risks to pursue Jonny wherever it leads her, which is—somewhat predictably yet dramatically purposeful in its tension-filled leisure—into trouble. Director Jacqueline Castel does a terrific job creating the sense of snowbound rural existence, full of familiar comforts (the community skating rink, the wood-panel walls of Heather's modest home) as well as terrors (her mom's a drunk, her would-be hockey teammates think she's a freak), night drives in junker cars along solitary icy roads, illicit sips of Fireball Cinnamon Whisky—and, if you're a certain kind of teen, unwelcome transformation into a bloodthirsty wolf. Menuez, an actor who is trans non-binary, multiply conveys the emotional difficulties of someone outside the conventions surrounding them (whether its their red hair, androgyny, weird family, or acting on sexual desire, let alone the lycanthropy), well-matched to a story so grounded in realism it almost doesn't need the mythological element.
Australian filmmaker twins Danny and Michael Philippou benefit from a touch of that in Talk to Me, a supernatural thriller drawing a lot of punch from its realistic characterization of teenage family trauma and a network of kids who bond in mutual support. Unfortunately, they also bond over the latest party craze, boosted by video clips gone viral of insane spirit possessions: temporary encounters with the dead, aided by a disembodied hand (it's ceramic, but said to be the plastered-over appendance of a deceased medium). The teens gather in living rooms and strap a volunteer to a chair, who then clasps the hand and invokes phantoms with the phrases "talk to me" and "I let you in." The séance can only last 90 seconds before the possession becomes permanent. Already, the fad has triggered an incident of psychosis, assault and suicide, which obviously makes it more popular as the cursed part is palmed off to others. Into this scenario wanders Mia (Sophia Wilde), grieving the suicide death of her mother and initially drawn to the ritual as a lark, perhaps to jolt her out of a funk. What happens next is terrifying but ultimately thrilling for Mia, who becomes fascinated as the sessions accelerate into raucous affairs, dutifully recorded and posted online as the kids bug out of their minds (the real-life parallels are endless, from chewing Tide pods to stuffing phone booths). Like they say, it's all fun and games until someone gets their eye poked out, which… let's cut off the synopsizing there, except to say it's a whole lot worse than that. Nonetheless, it's not FX-driven ickiness or spectral tomfoolery that makes the film compelling so much as the way the Philippous' phantasmagoria resonates in Mia's need to process her grief, lending felt emotional stakes to the teenage Ouija out-of-bounds hijinks. Given the youthful cast and all those bodies, bodies, bodies, A24 snapped this one up in a high seven-figure deal.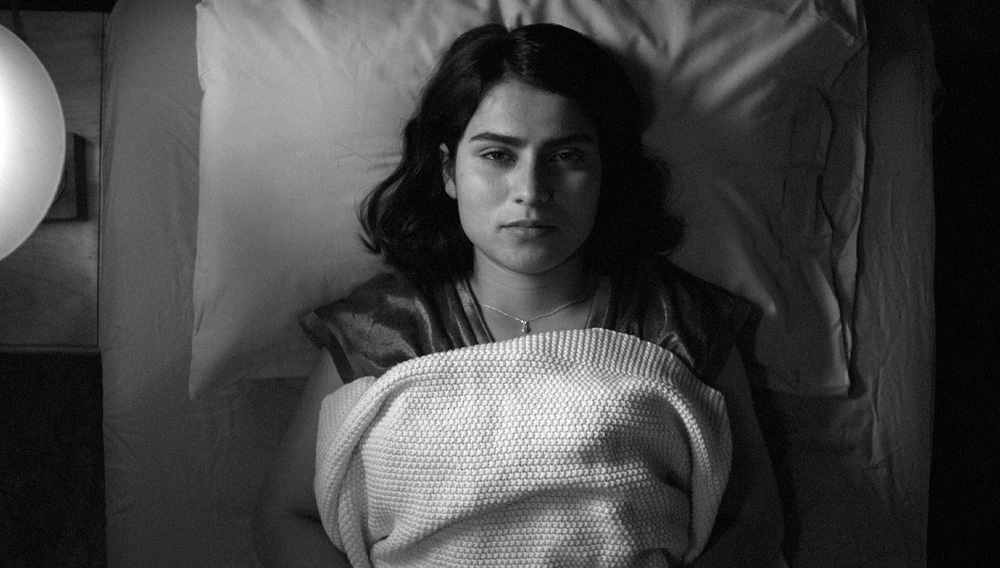 Outsiders and misfits often make for solid Sundance heroines, and this year's most charming is Donya, the solitary Afghani refugee played by real-life Afghani refugee Anaita Wali Zada in Fremont, from London-based Iranian filmmaker Babak Jalali. Donya, a former translator for American forces battling the Taliban, has resettled in the titular Bay Area town, living in an apartment complex full of fellow exiles. By day, she works at a fortune cookie factory, where she is promoted to the job of composing those paper wisdoms. The pokerfaced tone, complemented by the square Academy ratio frame, black-and-white palette and stationary camera, is unabashed in its distillation of the early Jim Jarmusch style of Stranger Than Paradise, itself a film about immigrant souls adrift in a new land, perplexed and enticed by its seeming wonders, laced with linguistic and other quirks. Those she struggles to gain traction in her life, Donya connects with a few oddballs, including her solicitous Chinese American boss (who may have a crush on her) and the free psychologist she convinces to take her as a client despite false pretenses (comedian Gregg Turkington, of Rick Alverson's Entertainment), who insists on reading her passages of Jack London's White Fang. There's real adventure and a pivotal cameo from "The Bear" star Jeremy Allen White waiting in the third act—but long before then, Fremont wins with its unexpected heart and wholly left-field rhythms.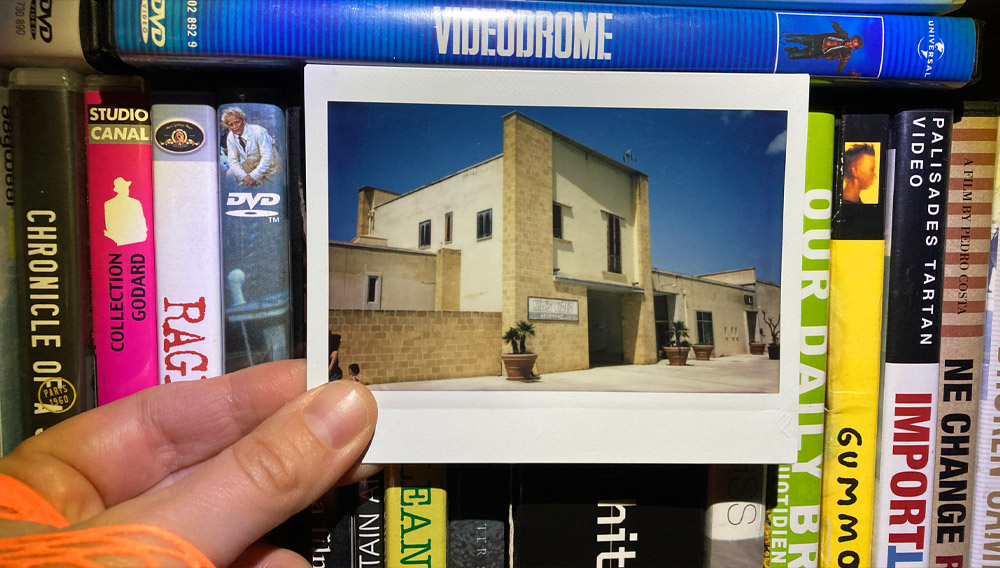 Finally, David Redmon and Ashley Sabin's stirring paean to Kim's Video celebrates the (truly) iconic New York video-rental institution, which closed in 2008 as owner Youngman Kim donated his mindboggling archive of 55,000 titles to the citizenry of Salemi, an obscure Sicilian village which had promised to open a museum-like cultural center devoted to the VHS tapes and DVDs that nurtured generations of cineastes. Former Kim's employees, many of whom are interviewed briefly in this documentary, included filmmakers like Alex Ross Perry, Sean Price Williams, Robert Greene and Redmon himself, who takes a first-person role in this peripatetic account of his efforts to discover what the hell happened after Kim shipped his videotapes overseas. The ensuing mystery takes on a Roger & Me structure, as Redmon flies back and forth to Italy and Korea, stalking various reluctant players, bizarrely over-friendly (cagily tourism-mindful?) public officials and the enigmatic Kim himself. Taking the story's thrust into his own hands, Redmon appears to commit serious breaches of the law for the greater glory of saving the legendary Kim's stash, seen rotting away in the sealed off "Centro Kim" on a Sicilian hillside. New York cinema fans know already what happened in the end, but this kooky, quixotic epic deserves to be left unspoiled for everyone else, who can relish the real-life absurdities and cherish the filmmakers' earnest tribute to cinema and the nearly defunct medium that only meant everything.