All so aptly named, Fandor's themed compendium "I Need Space" offers up 27 movies that unreel across the great outdoors—and, occasionally, outer space itself—in unforgettable locations all around the globe. The collection spotlights the work of such celebrated auteurs as Werner Herzog (The Wild Blue Yonder, Lessons of Darkness), Victor Kossakovsky (¡Vivan las Antipodas!), Hsiao-Hsien Hou (The Assassin), Pedro Costa (Casa De Lava), Gus Van Sant (Gerry) and Vittorio di Sica (It Happened in the Park), in addition to a strong batch of indie gems. To get your viewing started, Keyframe offers a thumbnail guide to six wildly distinct features.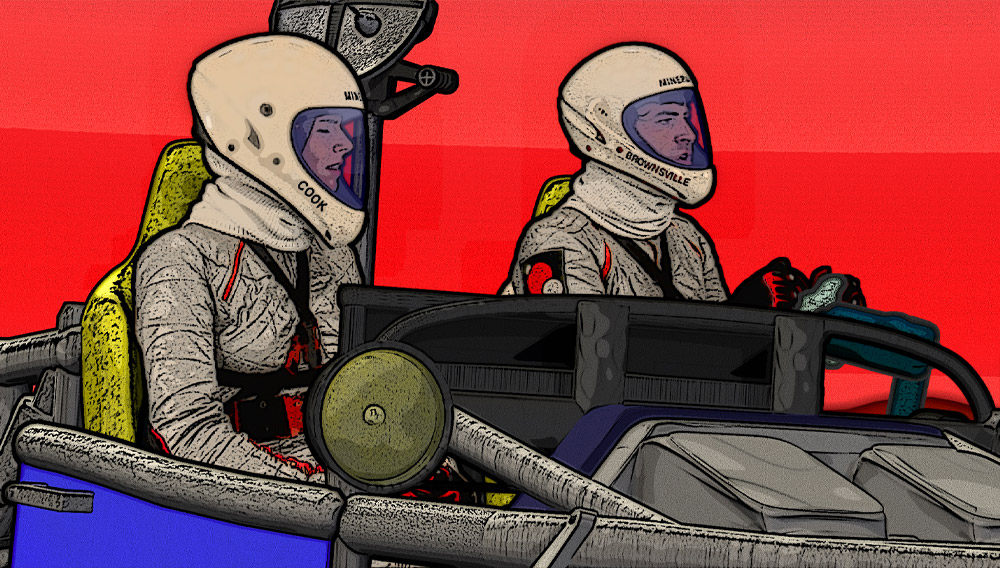 Mars (2010): A pure product of Austin, Texas when it was still "cool," this laidback mix of corporeal actors and graphic-novelistic animation (the rotoscoping that Richard Linklater's Waking Life made famous, but other techniques as well) stars Mark Duplass as one of three astronauts on the first manned mission to the red planet. Trigger warning: Romantic comedy ensues. The rocketeers explore not just outer space but the most urgent of human frontiers—amour. So near, and yet so far. "The moment of falling in love is always a tiny bit out of reach, but at the same time, you're so close to it," writer-director Geoff Marslett told Filmmaker Magazine. "So I actually wanted the visuals to reflect that idea."
The Hills Have Eyes (1977): One of the great '70s drive-in shockers, Wes Craven's second cinematic nightmare (after Last House on the Left, a slasher ode to Bergman's Virgin Spring) is no more jarring than the uneasy times that it reflected. The film's release came two years after the fall of Saigon, and it's not hard to see Vietnam War parallels in the clash between a vacationing family of suburban Midwesterners stuck on a desert highway and a cave-dwelling clan of grunting cannibals guarding their craggy turf, which happens to be adjacent to a nuclear test site (in actuality, the Mojave Desert environs of Victorville, CA). At once a brutal descent into naked savagery and a critique of arrogance, the film makes a fantastic argument in favor of agoraphobia.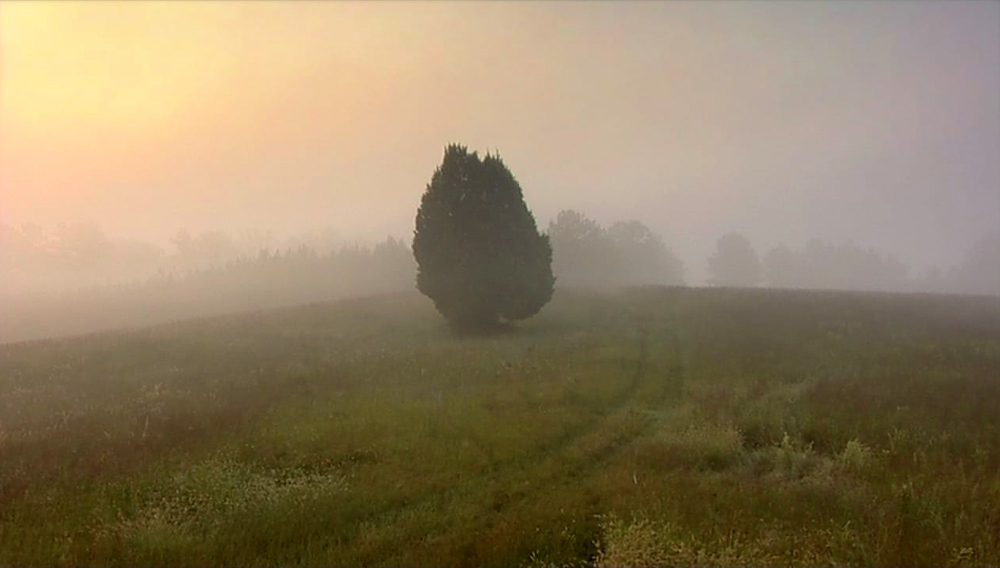 General Orders No. 9 (2011): A Slamdance prize-winner for its haunting cinematography, this evocation of a now-mythic Southern terrain references Confederate general Robert E. Lee's farewell address to the Army of Northern Virginia in 1865, but it's not concerned with the Civil War. Instead, it's a meditation on landscape and memory itself, and a lament for the paving over of the region's natural wonder. "Deer trail becomes Indian trail becomes county road becomes interstate," narrator William Davidson intones, from director Robert Persons' script, a poetic cine-essay that ought to resonate with fans of Chris Marker and Godfrey Reggio (Visitors, also on Fandor).
Turbo Kid (2015): George Miller's legendary Mad Max films have inspired some awfully fun homages to their post-apocalyptic thrillscape. Whether it's Hype (Belly) Williams' video for Dr. Dre and Tupac's summer hip-hop anthem "California Love" or Evan Glodell's scorched-earth breakup drama Bellflower (2011, now on Fandor)—with its flamethrowing Mother Medusa muscle car and macho visions of Lord Humongous—there's clearly something more than cartoonish fantasy at play. But what the hell's wrong with cartoonish fantasy? The French-Canadian trio RKSS (Anouk Whissell, François Simard and Yoann-Karl Whissell) celebrate the adolescent zeal for junkyard misadventure in this charm-loaded throwback to '80s pop culture, dirt bikes, synths, practical effects, and all the tropes that made Stranger Things a hit—a good full year before the Netflix juvenile sci-fi hit premiered. All this, plus fantastic cinema icon Michael Ironside as "Zeus," overlord of the Wasteland.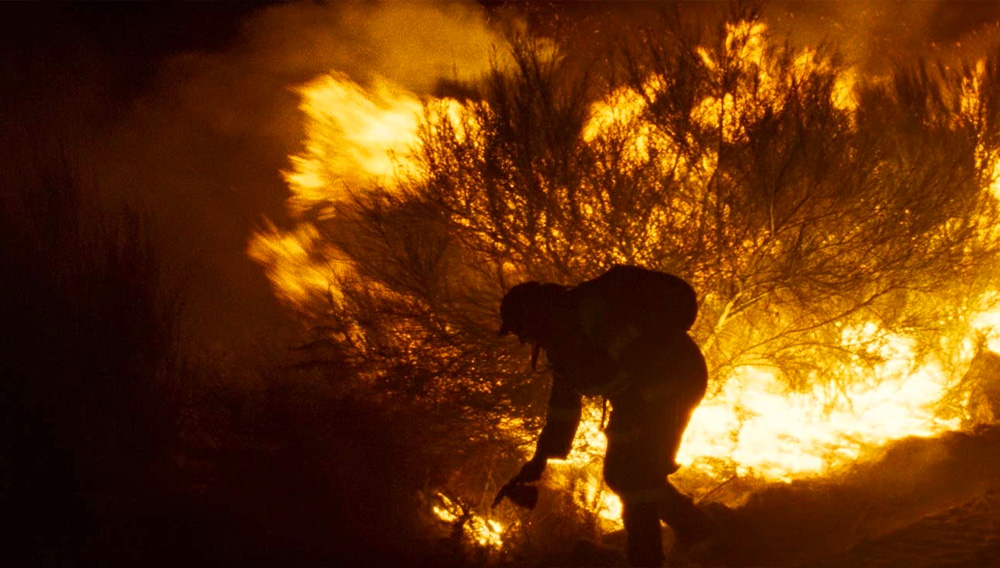 Fire Will Come (2019): Fire, indeed, comes to blaze across the screen in this otherwise profoundly subdued character study. Although I'm not so sure that character is the dour protagonist Amador (Amador Arias, a non-professional actor), an inscrutable middle-aged man who has returned home to his native Galicia after a prison stint for pyromania. Co-writer/director Oliver Laxe takes a cue from the prolific cases of real-life arson that have plagued the region since the mid-1990s. Yet, while this scenario is a template for a brooding examination of crime, punishment and staggered renewal, the camera's immersion into the flora of Laxe's northwestern Spanish homeland mesmerizes with arboreal wonder. Cinematographer Mauro Herce's rhapsodic 16mm images of deep lush forests and hills convey a grand and primal spirit that his characters struggle to articulate. (Laxe's earlier Mimosas, set in Morocco's Atlas Mountains, also streams as part of this package).
Tideland (2005): Everyone can name their favorite Terry Gilliam film, whether it's Brazil, Time Bandits or 12 Monkeys. It's a safe bet most have no idea this one exists, and that's too bad. The biggest sleeper in the often-outlandish fantasist's catalog, Tideland exists mostly in the imagination of its orphaned heroine, Jeliza-Rose (Jodelle Ferland), left entirely to her own devices (and array of disembodied Barbie doll heads) in a ramshackle wonderland amid the remote Canadian prairie. There's lots of potentially disturbing content, or it wouldn't be former Monty Python trickster Gilliam, along with potent imagery and the fleeting presence of Jeff Bridges as a junkie rocker dad. Overdue for rediscovery.