[This is the fourth entry in "Video Evidence," a series of video essays championing the most deserving Oscar nominees. For the full list of video essays, see the 2014 Oscars Video Evidence main page.]
When figuring out which performance truly deserves to win the Oscar, you can't just say that one is better than another. Each performance could be working in fundamentally different ways, so you have to start looking at how each actor defines "performance:" what their acting is supposed to do in a film and what more they might do to go beyond those expectations; therein lies the artistry.
Judi Dench, Philomena
Total screen time: 50 minutes (55% of total)
For example, look at Dench in Philomena.  As a middle-aged grandmother seeking to find her lost son, she has a meaty role to work with, and it even gives Dench a chance to show her lighter side. But I can't help detecting a fundamental mismatch between actress and character. Dench is one of the most refined actresses of her generation, and she's always a compelling presence. Here she plays a simple, working class woman and tries to portray her with dignity and grace. But it comes off feeling like Judi Dench is playing down to her role. The result feels stiff and conservative, a bit too safe for its own good.
Meryl Streep, August: Osage County
Total screen time: 52 minutes (46% of total)
A big part of a Meryl Streep performance is simply to watch Meryl Streep. In every movie she transforms herself if only to show off how good she is at transforming herself. In August: Osage County, her transformation into an old, wretched Midwest matriarch has revelatory moments, where we see the naked beauty of her aging face. Personally I wish she'd let more of that subtlety carry her performance. Instead, she chews massive heaps of scenery in the dinner scene that's the film's centerpiece. I dunno if it's the best acting, but it's almost certainly the most acting.
Amy Adams, American Hustle
Total screen time: 46 minuTes (35% of total)
There's showiness to Amy Adams in American Hustle, and by that I don't just mean her revealing tops, but also the fake British accent she puts on as con artist Lady Edith Greensly. But if you get past those surface elements, you'll find a surprisingly quiet performance, characterized by her eyes, which are always intensely watching. Stuck between two men, Adams's character true feelings are mostly held inside. But in each scene, her reactions show her continually evaluating her options and searching for the best way forward. She combines smarts and sexiness into an irresistible mystery.
Cate Blanchett, Blue Jasmine
Total screen time: 65 minutes (69% of total)
But the supreme mystery is found in Cate Blanchett's performance in Blue Jasmine. As a high society woman who's lost everything, she doesn't so much play a blue blood type as deconstruct it into a stream of schizophrenic fragments. You look into her eyes and can see a woman who's both unglued from reality and trapped in the rubble of her old dream life. You see this most clearly when she doesn't speak but just tries to make sense of what's being said, even when it's good news, she's disoriented. Credit has to go to the director and the editor for giving her performance space to breathe like this; this masterful performance isn't just built by Blanchett, though she obviously has a major part in it.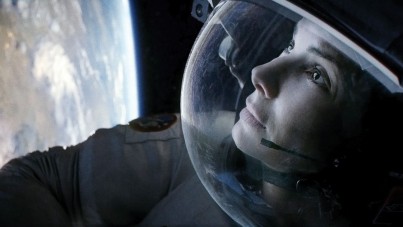 Sandra Bullock, Gravity
Total screen time:
Face: 49 min.
Likeness: 61 min. (73%)
Breathing: 62 min. (75%)
Dialogue: 17 min.
Total screen presence: 72 min. (87% of total)
This question of how a performance is put together reaches an apex with Sandra Bullock's role in Gravity. Gravity is a movie full of contradictions: on the one hand it's a groundbreaking achievement in technical filmmaking, on the other hand, it's intensely actor-based, a one-woman show. That contradiction comes through in Bullock's performance, one that is literally pieced together through image, sound and special effects.
This timeline [in the video] shows the entire movie Gravity from start to finish. This first row shows the parts where we can see Sandra Bullock, sixty-one minutes or seventy-three percent of the movie. The second row shows the parts where we can hear her, not just her dialogue, but her breathing. We actually hear Bullock more than we see her. And the sound of her breathing takes up more than half of the movie. Bullock's performance isn't one you just see, but one you hear and perhaps even breathe. It's a totally new kind of performance that serves a new purpose for the viewer, grounding them in a bodily experience while drifting among images of outer space. I won't go so far as to say that it's the best performance by an actress, but it's the one that most redefines acting as we know it.
Kevin B. Lee is a filmmaker, critic, video essayist and founding editor of Keyframe. He tweets as @alsolikelife.