[Casting Blossoms in the Sky, Seven Weeks and Hanagatami begin their overdue NYC theatrical releases with a weeklong run at the Brooklyn Academy of Music (BAM), today through September 1. For those who can't attend, all three films are now available on Fandor.]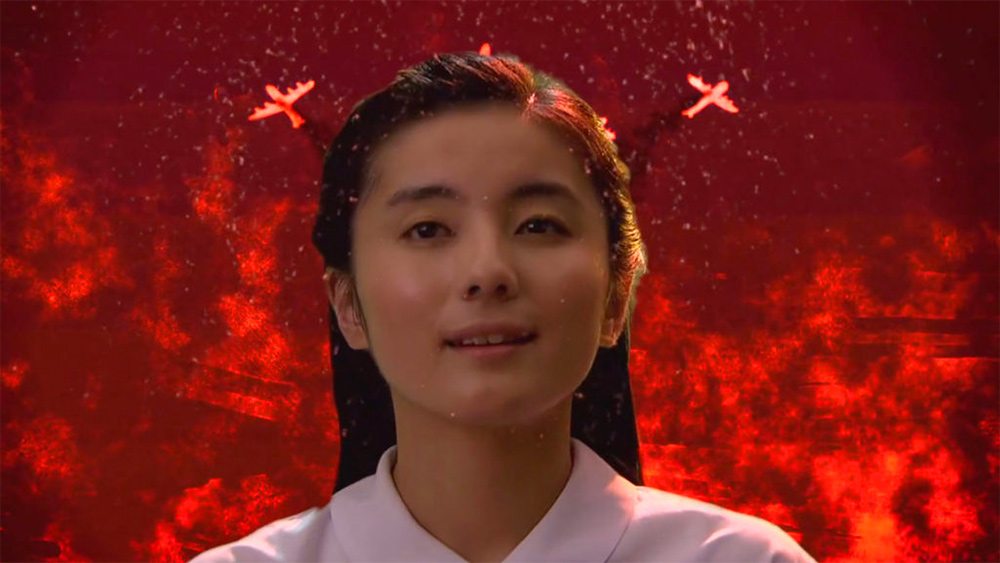 American cult-cinema obsessives know the Japanese filmmaker Nobohiku Obayashi almost entirely for a single movie: 1977's House (also known by its original title, Hausu). This vertiginous acid trip of a fairy tale takes a familiar gothic premise—seven schoolgirls swept up into demonic madness in an old dark house—beyond all imagined limits, via a playfully phantasmagoric kitchen sink's worth of animation, mattes and other art-department effects, whose sheer ingenuity and unpredictability knocked viewers flat on their asses. With a hybrid absurdity Westerners might also recognize in "Monty Python's Flying Circus" or "Pee-wee's Playhouse" (plus a distinct kinship with the Brothers Quay and Jan Švankmajer), the film conjured its own strange aesthetic vision that includes a possessed and weaponized piano, a fearsome shrieking white cat, and a particularly unappetizing watermelon. Rarely has any film so fully captured the unheimlich. Yet, as the film was inspired by Obayashi's own 11-year-old daughter (who receives a story credit), even its most outrageous scenes are rooted in childhood dread and awe, while revealing Obayashi's creative origins in Japan's 1960s experimental film scene.
By the time the Criterion Collection released House in 2010, after its first legit American theatrical run, it had long been an illegally torrented favorite. But it was only the first of 41 features Obayashi made between the late 1970s and his death in April 2020. Thanks to the belated success of House, the director's valedictory Labyrinth of Cinema (2019) won due respect with a festival tour beyond Japan. However, the three films that immediately preceded it only now arrive in New York, with a weeklong run that kicks off today at the Brooklyn Academy of Music's (BAM) cinema. New Yorkers can see "Obayashi's Anti-War Trilogy" in person, and everyone else can take a deep dive into the work on Fandor, where they are currently streaming.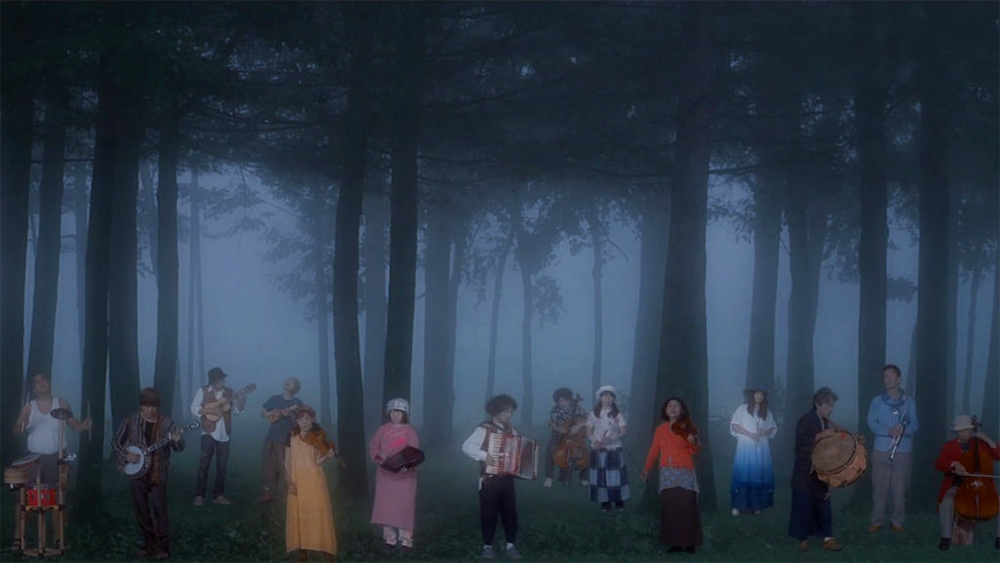 Casting Blossoms in the Sky (2012) lays the groundwork for the trilogy, introducing its themes of pacifism, the ghosts of war, collective recovery and the historical arc that ties together the nuclear catastrophes of World War II and the 3/11 earthquake and tsunami that precipitated the Fukushima Daiichi nuclear power plant's apocalyptic accident. The latter event, in which more than 20,000 people died, motivated Obayashi to begin his trilogy, releasing its first installment into theaters just a year later. The film is a history lesson wrapped up in the journey of a reporter (Yasuko Matsuyuki) to Nagaoka, where a fireworks festival is staged to honor the war dead, and where her former lover, a theater director, is preparing a drama about the conflict. As with the other films, the presentation of time is a fluid concept, one in which past and present, memory and emotion, historical fact and poetic interpretation are indivisible, and flowers bloom even from the darkest abyss.
In Seven Weeks (2014), the death of 92-year-old patriarch Mitsuo Suzuki (Toru Shinagawa) sets up a three-hour extended family saga played out by a large ensemble cast, that also tracks the story of his hometown Ashibetsu, flashing back to the 1930s and leading into the wartime experiences that caused the director to dub his project "Guernica in moving images." The city, on the border of Japan and Russia, crowdfunded the film in fact, which may contribute to the desire to pack so many ideas into its epic runtime. What's fascinating is how Obayashi keeps his frames restless even amid long-winded exposition scenes, cutting quickly between characters shot by a gliding camera that endlessly indulges slow zooms towards and away from faces. It's such a personal choice, almost quixotic, but after a while you adjust and realize how quirks such as this would never fly on Netflix, whose "originals" are insistently genericized. Other trademarks are in full effect as well, notably a kind of artificiality to settings (such as skies rendered in unnatural-seeming colors) and character eccentricities, including an entire schtick around nose-picking. Keeping it weird and wrestling with history: Find yourself a filmmaker who can do both.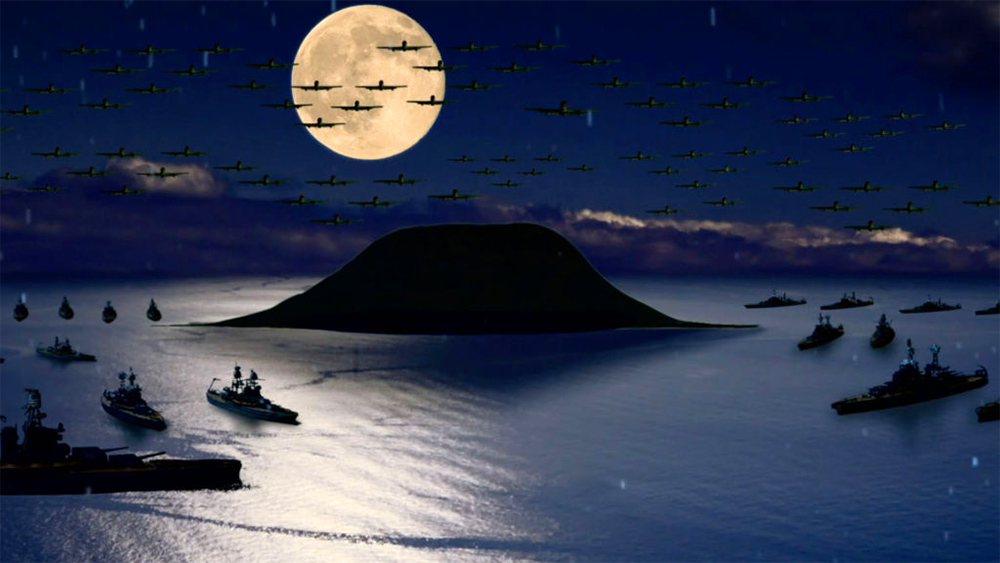 Made while Obayashi was fighting the cancer that later killed him, Hanagatami (2017) could have been his final work, something that lends the film its sense of gravity and summing-up. In fact, this adaptation of Kazuo Dan's autobiographical 1937 novel (The Flower Basket, in English) was meant to follow in the wake of House… four decades earlier. Perhaps its reflection on time and loss became more meaningful as the potential final testimony of a cinematic master. The story is suffused with the tragedy of premature mortality, the struggles of life during wartime (as relevant now as ever). (molnupiravir) It follows the adventures of a group of teenagers in the seaside town of Karatsu in 1941, a few months before Japan attacked Pearl Harbor and plunged the country into World War II. There's no mistaking Obayashi's unique touch as he pulls out all the stops, with lots of green-screen, CGI, luminously elevated theatricality, and casting ideas both bold and unusual—such as hiring actors far too old for their characters (and not merely "Euphoria"-old). These visions of excess are worth indulging, not only as unfettered personal expression but for the wisdom and understanding to which they lead. The film opens with a prelude, whose closing words set the frame: "Seen through the wrong end of a telescope, an ordinary scene becomes an ancient story. No, it's not nostalgia! It's a heartache for all that's lost."