Some have called Mickey Reece "the Fassbinder of Oklahoma City," a Cowtown indie phenom with some 37 films to his IMDb credit since 2008, generated at a pace of two or three (or four!) a year with family, friends, and whatever resources lay at hand. He won wider attention when his vampiric chamber drama Climate of the Hunter (2019) enjoyed success at Montreal's Fantasia and Austin's Fantastic Fest, followed by Agnes (2021), his riff on the demonic possession thriller. Making its exclusive streaming premiere on Fandor, the new Country Gold gives us Reece at his purest, taking on the film's lead role as a parallel-universe Garth Brooks (known here as "Troyal Brux") who accepts a once-in-a-lifetime offer to spend an evening in 1994 with his hero, legendary singer George Jones. The mega-selling Brux is at a spiritual and creative impasse, questioning the star-making machinery and himself, while Jones stands at a crossroads of his own. Thus, the ensuing fantasy encounter comes with a twist, as Jones (Ben Hall) reveals it's one last rager before he goes into a clinic to be cryogenically frozen.
Shot in noirish black-and-white, the freewheeling comedy insists on its own surreal terms. Troyal's journey to the end of the night tests his personal values and admiration for Jones, whose decadent habits conjure the dark side of stardom (and its accompanying surplus of booze, cocaine, very friendly women, gunplay and detours along lost highways). Keyframe recently spoke with Reece, via Zoom at his Oklahoma City office, during a day off from the film's multi-city theatrical roadshow. He reflected on his casual origins as a creative artist, how used DVDs became his film school, and the joys of working with hometown actors.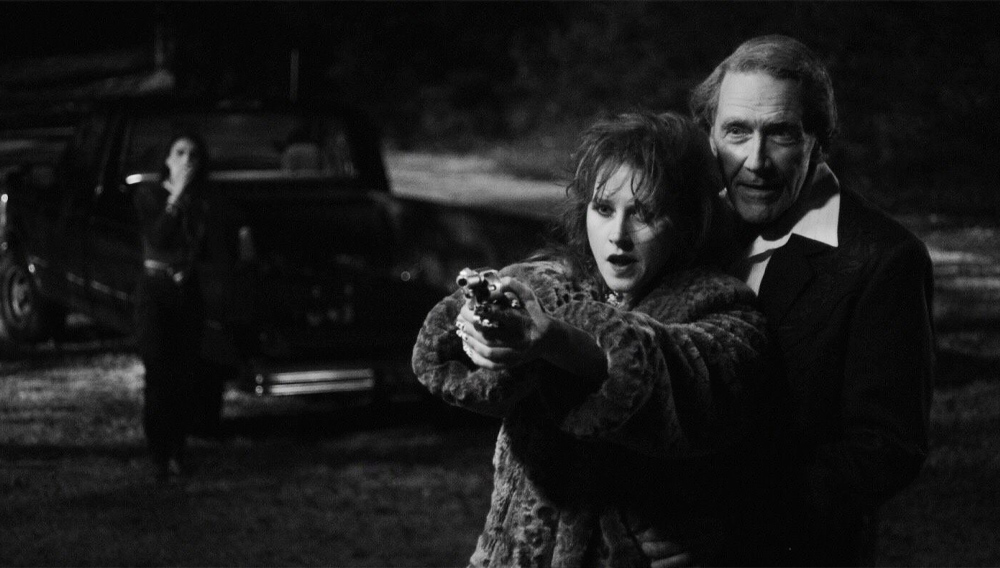 KEYFRAME: I loved Country Gold, but I'm equally fascinated by the whole world you've created there in Oklahoma City. How does someone create a prolific career in a place not known as an indie hotspot?
MICKEY REECE: I made a bunch of movies, but they're movies that I made with friends. Coming up, we just had fun. It was like hanging out. We did it for so long and were showing them locally, and the audience kept growing. So, we've got people coming to see these things, now we've got to make them better. It was all happenstance. Eventually we started playing festivals and getting bigger budgets, and then it's like, "Oh, we kind of make real movies now."
What got you started?
We were doing it in high school, and I remember watching Trainspotting. I had my parents' camcorder and made my own version. That was just me "shooting up" heroin, dressing like a punk and talking in a British accent. Whoever would come over, they would also be in the movie. Then I met some guys in school that wanted to make a movie, too. Our group was like, "We're all filmmakers. We're all making movies here."
Did they continue?
They did, both lived in L.A.—Dustin Sanchez and Rich Bartlett. We actually saw [Rich] a few weeks ago, he works on big stuff. Dustin did for a while, but he got tired of it. He's back here now. He is the gentleman that played the bartender.
I stayed here. I had a kid really young, got into music for a long time and then eventually got sick of music and needed another outlet. So, we started making movies and that's when we started showing them.
Besides your pals, were there filmmakers that inspired you to want to make movies?
We met this lady named Suzanne Tucker. She's very sweet. She gave me $5,000 to make a movie. Now, at the time, $5,000 made my head swim. Honestly, I couldn't figure out what I'd spend the money on. But I did take a good chunk of that—and this is at the time when you couldn't just stream things—and went on Amazon and bought used DVDs: a whole bunch of stuff from the '70s, Terrence Malick, Scorsese, Brando, all the De Niro and Pacino stuff, that was what sparked my interest in getting back into filmmaking. And, of course, what I grew up with in the '90s: PTA and Michael Mann, Oliver Stone and Tarantino.
Was your music career helpful in preparing Country Gold?
The music I was playing, the shows I was doing, were nowhere near the level of Elvis or Garth Brooks. This is like a spiritual sequel to [Mickey Reece's Alien, his Elvis quasi-biopic], less about music and more defining these central American figures that both happened to be in music—putting them through a lens that's iconic, treating them as characters.
Right, it's like magic realism. I love the free flow way your scenes melt into fantasy moments and anecdotal digressions.
We capitalize so much on that. These are original characters. We're just there under the guise of George Jones. Once you have the characters, the story writes itself. That's why all these are kind of hangout movies that are essentially plotless. Let's spend some time with them. Any time I write a script, if it doesn't just write itself, I'll put that on the back burner.
Tell me about Ben Hall, who plays George Jones.
[He was] a theater actor around town. For a while, he was getting all the roles that would come through but nothing wildly challenging film-wise. The first time we worked together was on a movie called Arrows of Outrageous Fortune. Then we did Climate of the Hunter. He's just part of the ensemble, we're growing together. Recently, he's gotten some good roles, like in [Martin Scorsese's upcoming] Killers of the Flower Moon. Big things are coming for Ben Hall because he's great.
On a side note, so many country musicians are named Trent or Travis or Trey. How did you want to inhabit this lead persona?
Troyal is Garth Brooks' real name, it worked out well for us. I originally wrote the script for this guy named Mason Giles. He has this vibe about him in some of our movies, this cocky asshole you still kind of like. It wasn't going to work out, timing-wise. So alright, I'm going to play the part like Mason would have played it, but it's me doing it. It's detrimental to the film but it was a blast.
It's very entertaining how Troyal asserts, then deviates from, his Boy Scout qualities.
He can't deviate too far. That Boy Scout persona gets the best of him a lot of times.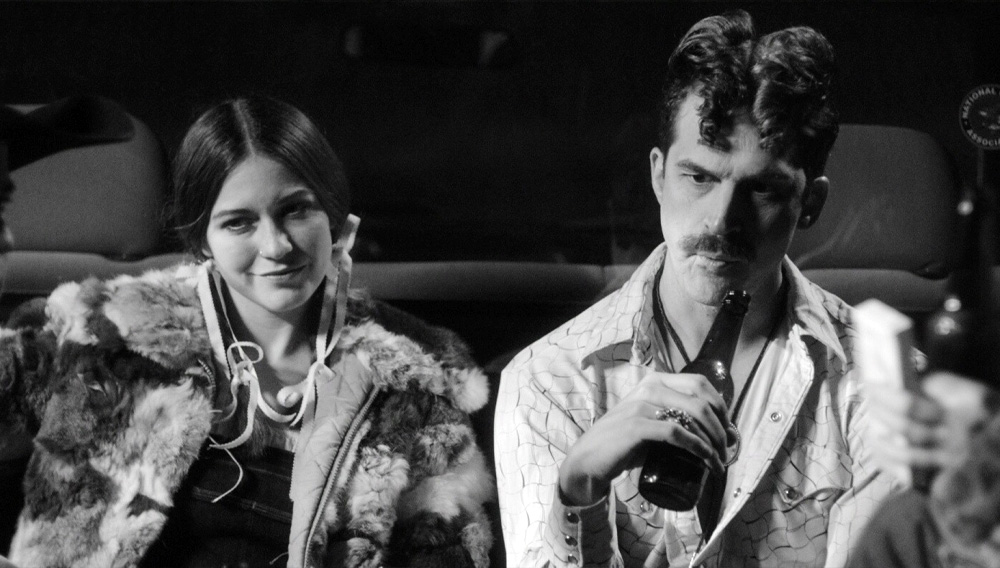 How did the cryogenics twist come to be?
Me and Jake, the guy who played my manager, came up with that in the car coming from Nashville. We were spitballing and came up with the synopsis: "George Jones invites Garth Brooks out on the town in Nashville… the night before he goes to be cryogenically frozen." That was the logline we came up with, then you've got to fill in all the blanks.
Do they all start that spontaneously?
They all come differently. Sometimes you think about a scene you want to shoot, sometimes you think about a poster. The title. It depends on the movie.
Were you a big George Jones fan?
I don't know much about George or Garth, you know? When we did the Elvis movie, I did learn a lot, but Elvis was such a character that there was so much real material to work with. There's a story about George's wife taking his keys away and him driving a tractor to the liquor store, something like that. But that's lore everybody knows. I didn't want to do anything that was like, "Ha, that's old George!" I wanted it to be the person, but not the person. Ben started talking about "I've got to research." No, you don't, just do the script. His name is George Jones. Don't worry about being George Jones.
The extended, surreal barroom sequence reminded me of Stranded in Canton, one of the ultimate bar movies. It's the photographer William Eggleston hanging out at this grungy Memphis lounge in 1973 with a Sony Portapak, capturing all the dreamlike B&W weirdness.
What we were originally trying to do was have a big 'one-er around the whole bar. It was going to be more along the lines of Robert Altman's Nashville. If you're making a movie in Nashville, you've got to pay homage to the great Nashville.
Another film I thought about was Payday, one of Rip Torn's greatest performances as a doomed country singer who has a lot in common with George Jones.
My friend Tipper [Newton] told me about Payday and this guy in New York was just telling me about Payday. I haven't seen it, but man, it sounds good and that poster looks awesome.
What's next for you?
We're making a movie called The Cool Tenor. It'll be the biggest budget I've worked with yet. It's got a little bit of a revenge thriller, a little bit of drama, there's some action. It's a dark comedy, of course—everything I make is comedy to me.
What are your ambitions now?
Ideally, I would make a movie a year. Just keep them coming. We'll see how that goes.