Like some punk-rock answer to Crimes of the Future, the sex, drug and body horror revels of a back-alley cabal of hallucinogenic worm-eaters in All Jacked Up and Full of Worms conjure a bizarre underground culture literally exploding with transgressive hijinks. Now streaming exclusively on Fandor (with an appropriately jacked-up Blu-ray forthcoming), the 2022 feature debut of Chicago writer-director Alex Phillips is at once a grungy freakout and a soft-hearted saga about the need to belong. Its lead characters are Benny (Trevor Dawkins), a slovenly loser obsessed with parenting an infantile sex doll, and Roscoe (Phillip Andre Botello), the janitor at a creepy love motel, who bond over their ingestion of a mysterious stash of psychedelic wigglers. As these lost souls commit to their perverse destinies, the film wrings maximum cringe from a succession of nightmare interludes and provocations of disgust that would impress John Waters. And yet, with such genuine sympathy for the characters, and the nematodes for which they so cravenly lust. A true community collaboration, the film recruited from Chicago's robust indie film and theater circles, and looped in friends of friends, such as Betsey Brown (The Scary of Sixty-First and Fandor's Hannah Ha Ha, in NYC/LA theaters today).
Keyframe recently met Phillips for a brief Zoom chat, where the onetime theater kid talked about the excitingly divisive response of the film, how its concept wriggled to life, and the challenges of wrangling hundreds, if not thousands, of the film's crawly co-stars.
KEYFRAME: You seem like such a nice guy.
ALEX PHILLIPS: People have said that to me before. "Oh, you're normal-seeming."
This movie has all the crazy packed into it, so it's an interesting contrast. You really pushed all the buttons.
I enjoy films that push boundaries of form and storytelling but in terms of content, too. The stuff that's most effective or upsetting is what has an emotional resonance with me. I always get confused with people saying "shock for the sake of shocks" because if it's just a fireworks show, it wouldn't have the same visceral feeling. The seed of this whole movie is a story I wrote about a guy who wants a regular life but feels too fucked up to deserve that. We see that explored in two different characters, Roscoe and Bennie, as they go through the world and get involved with worms, drugs and bad stuff, and have a party but also chase incoherent poetic dreams.
Where did the worms come from?
I wanted it to be a thing that you can ingest. And I wanted it to be a living thing, a biological entity that can grow inside you, or you imagine crawling around in you and it manipulates you. It has a life of its own, it isn't an identifiable drug.
I assume you were a fan of "body horror" movies?
I'm all over the place in terms of genre. When I saw Naked Lunch and Brain Damage, it felt very true and something I want to try to speak to.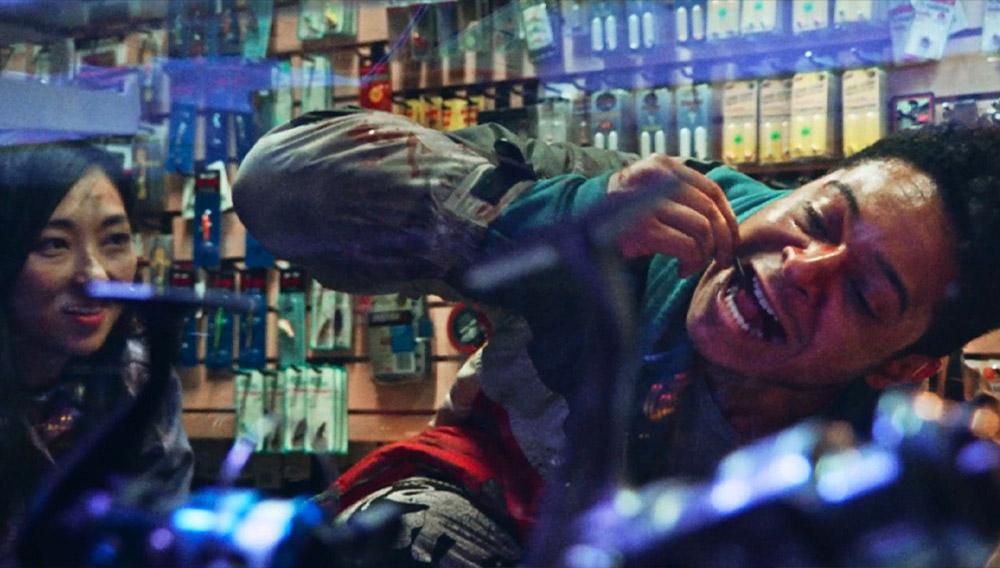 The concept of things invading your body cavities is a primal horror, but to willfully invite them is another level of terror. It must have presented itself as an awful lot of fun.
The movies had so many different iterations. We started shooting in March 2020 and that was a completely different script. I was going to bring in a bunch of different people and the idea was that they had all been influenced by these worms and doing these coordinated movements in parking spots, and I'd put a camera above them—like now, seeing the ending of White Noise…After the characters had been expelled from all the worms, they were going to be empty husks of skin, sort of blowing as the worms are really coming out of their juice, shriveled up. I didn't think we could achieve it on our budget.
Was there a worm wrangler? Did you sign a pledge with the PETA folks? You know, People for the Betterment of Worms?
There weren't a bunch of worm sacrifices. I met the director of Squirm. He was saying how metric tons of worms were sacrificed to make that. We were extremely careful. We checked in on our worms… We were shooting in Chicago, but it was freezing cold. We had cut them to get them to start acting, you know? I wanted to mention [Chicago graphic novelist] Daniel Clowes, too, as a bug influence. There's that "Eightball" comic called "Bug-Fucker"…
"Needledick the Bug-Fucker."
Yeah, that one. It's so dark. It affected me. Like the dad, he comes home and Dad's like, "What have you been doing all day?"— full of judgment. And he's just fucking bugs. Feels right.
What were the big challenges as far as effects?
For the final scene, that was where we loaded all the big effects and shot in a storefront theater called the Jackalope Frontier, an empty black box theater. They weren't using it because of COVID. We got to camp out in there, set up a dolly track, and make a huge mess. The big problem was Ben [Gojer, producer/ puppeteer] had this set up where the worms would shoot out of this hundred-foot PVC hose. It was great because that's how you would make the worms land on the people. The hose was so crazy expensive that we only had a few takes, and it took forever to load 100 feet with worms. We stayed up all night wetting worms down and throwing it in the hose, loading up all these hoses with worms in goop. That was the toughest day. It was so desperate.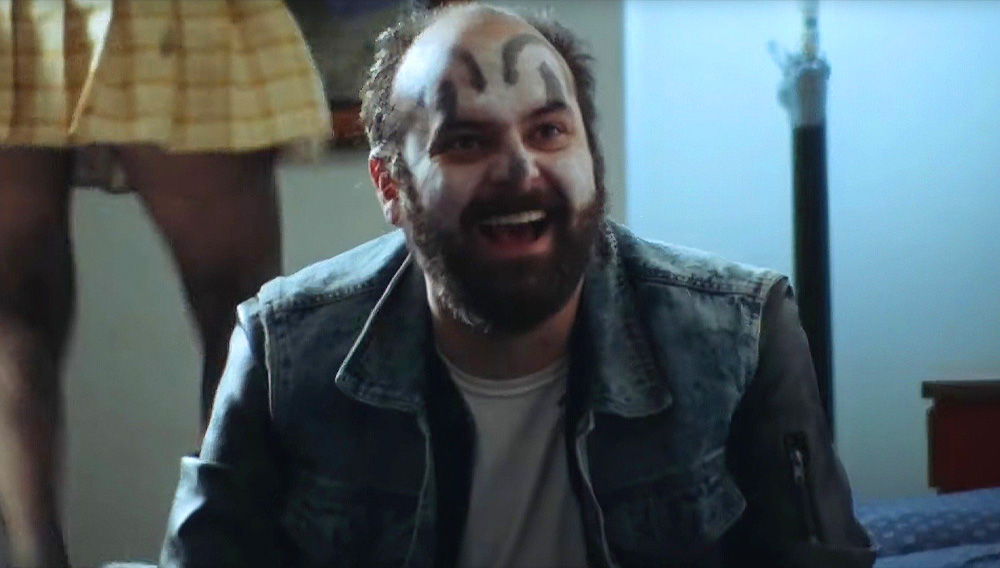 Worms premiered last summer at Fantasia in Montreal and went on to take Fantastic Fest by storm. But this isn't the sort of film that's destined to be met with universal enthusiasm. How polarized has the reception been?
Once in a while I check on Letterboxd, and it's either half a star or someone who "hearts" it with four. The people who hate it are extreme and the lovers are totally reasonable. There was one that said I should be publicly executed. Last week, I got my first call for my execution.
A landmark in any young filmmaker's career.
Then there was the Variety thing that said it was one of the worst movies of the year, which was pretty cool to be in a trade mag. You know, Bones and All and Worms and All. Timothée Chalamet, he loves the film!
As long as the state sheriff hasn't come knocking, I'd say you're all good.
There were some cops that showed up to a shoot one time. They called us a bunch of gays. They were like, "What is this pink moped? What are you, gay?" It was truly scary for a second. We had to explain we were using the moped for a stunt. "What are you up to, some weird gay stuff?" They were throwing slurs around. It was really strange.