By Jake Rubenstein 
Now that awards season is quickly approaching, the end of the year has yet again turned into a fiery race with one contender for best picture premiering after another. With so many great features to choose from including the likes of Sean Baker's Red Rocket, Paul Thomas Anderson's Licorice Pizza, Edgar Wright's Last Night in Soho, Kenneth Branagh's Belfast, Denis Villeneuve's Dune, Steven Spielberg's West Side Story, and Ridley Scott's House of Gucci and The Last Duel, one film that has been met with eager anticipation amongst film fanatics alike is none other than Guillermo Del Toro's Nightmare Alley.  
Coming off the success of his Academy Award winning The Shape of Water (2017), Guillermo's next film, which opens in theaters this weekend, focuses on the story of a carny (Bradley Cooper) with a talent for manipulation who ultimately hooks up with a female psychiatrist (Cate Blanchett) who proves to be even more dangerous than he is. Sitting down to discuss his new film with Collider, Guillermo in his usual fashion had also taken the time to mention some previous works that he sourced as inspiration for Nightmare Alley, that happens to include two of our absolute favorite entries in film noir. 
Too Late for Tears (1949). Considered to be a masterwork in film noir, Byron Haskin's Too Late for Tears has served as not only a timeless piece of cinema, but also as a primary source of inspiration for many of our favorite filmmakers including Guillermo Del Toro. Citing the work as a direct influence on Nightmare Alley in a recent discussion with Turner Classic Movies, Guillermo notes that one aspect of Too Late for Tears that draws him into the work is that the narrative follows characters who are on the way to a downfall, while also featuring a female protagonist (Lizabeth Scott) that understands "the game is rigged for males." From the start of the movie, Guillermo points out that she uses this dissatisfaction and anger towards the male characters as a means to channel through the MacGuffin of the picture.  
Sourcing the work as inspiration for Cate Blanchett's character in his upcoming work, Guillermo simply states "To me, it's the best movie of Lizabeth Scott, the best role she ever got. [She plays] a woman that is so tired of her role in society as the obedient wife and homemaker that when she's faced with an exit in the form of a bag full of money, she unleashes a tougher character than any other men in the picture. Any other men cannot stop her, cannot outwit her, cannot out game her. She's a fascinating character, incredibly powerful." With a perfectly refined femme fatale performance and all this classic noir has going for it, this quote perfectly highlights why the film will continue to be a source of inspiration for generations of films to come, and truly must be seen to be appreciated. Now streaming on Fandor, Too Late for Tears serves as the perfect pre-game opportunity before heading to theaters this weekend to catch Guillermo's Nightmare Alley.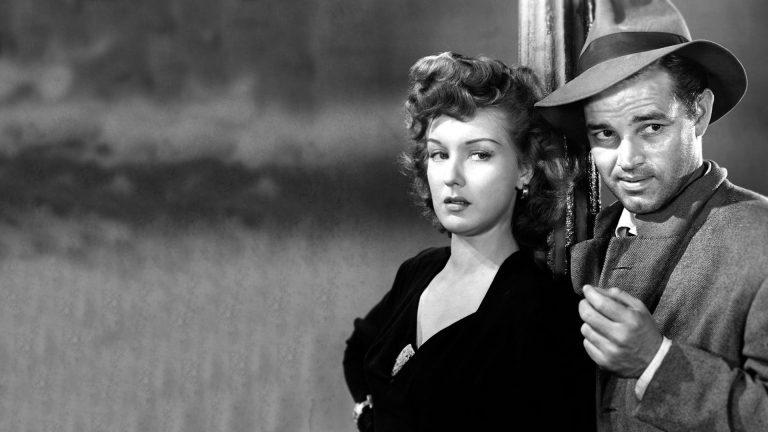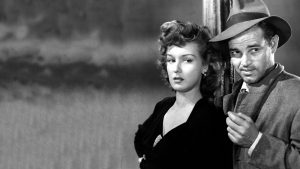 Detour (1945). To wrap up our short list of recommendations, one work of film noir that has also been sourced as a direct influence for GDT himself, is Edgar G. Ulmer's masterpiece, Detour. Starring Tom Neal, Ann Savage, Claudia Drake, and Edmund MacDonald, Detour tells the story of a nightclub pianist named Al Roberts (Tom Neal) as he becomes tangled in a web of death, deception, and blackmail. Pulling directly from his discussion with Collider, Guillermo plugs his affinity for B-style pictures and the work of Edgar G. Ulmer by stating "Edgar G. Ulmer was basically a really speedy, economical B-picture type of director. There is a scene with Tom Neal where he unwittingly uses a phone cord as a manslaughter weapon." 
Guillermo's inspiration goes even further as this scene echoes in a moment with Bradley Cooper and Cate Blanchett in the upcoming Nightmare Alley. In turn, Detour has become a clear representation of an exemplary femme fatale performance, with Ann Savage surpassing the role of her predecessors as she grinds down her co-conspirator throughout the narrow 68-minute runtime. With twists and turns at every corner, don't miss your chance to catch the riveting classic Detour, now streaming on Fandor, before stepping in theaters this weekend to celebrate another masterwork from the likes of Guillermo Del Toro.