Welcome to another installment of Fandor's favorite movie posters! Here, we take a look at the poster designs that dropped over the last month and attempt to wax professorial about design decisions that are way above our pay grade. July has been a bit of a down month for movie posters, but we're still here to inform you on everything that you didn't know—or that you didn't care to know—about poster design. This month we dig deep to come up with something (read: anything) interesting to say about a B-movie with a fun premise (and your favorite mustachioed cowboy), Robert Redford's final bow, and the new movie by that guy who made that one where Colin Farrell's brother was turned into a dog. We promise there are some gems in there!
Glass
Here at Fandor, we've got hot takes like M. Night Shyamalan has third-act twists, and we have a doozy for you: Glass is our most anticipated superhero movie of 2019 (sorry, Marvel). Shyamalan's latest will be a showdown that's been brewing for the better part of twenty years—2016's Split was a secret sequel to 2000's Unbreakable, both of which featured heroes and villains in a universe that's as grounded as Christopher Nolan's envisioning of Gotham City. This poster finally unites those characters, casting them in their respective color schemes and emphasizing their superpowered alter egos. By the looks of it, the invulnerable David Dunn (Bruce Willis), the scheming Mr. Glass (Samuel L. Jackson), and the beastly Kevin Wendell Crumb (James McAvoy) will finally collide in a mental institution—and while we hope that Glass will address Split's problematic depiction of mental illness, we're still excited to see the completion of Shyamalan's sleeper superhero trilogy. This poster might be simple in its design, but it only needed to tease the battle to come.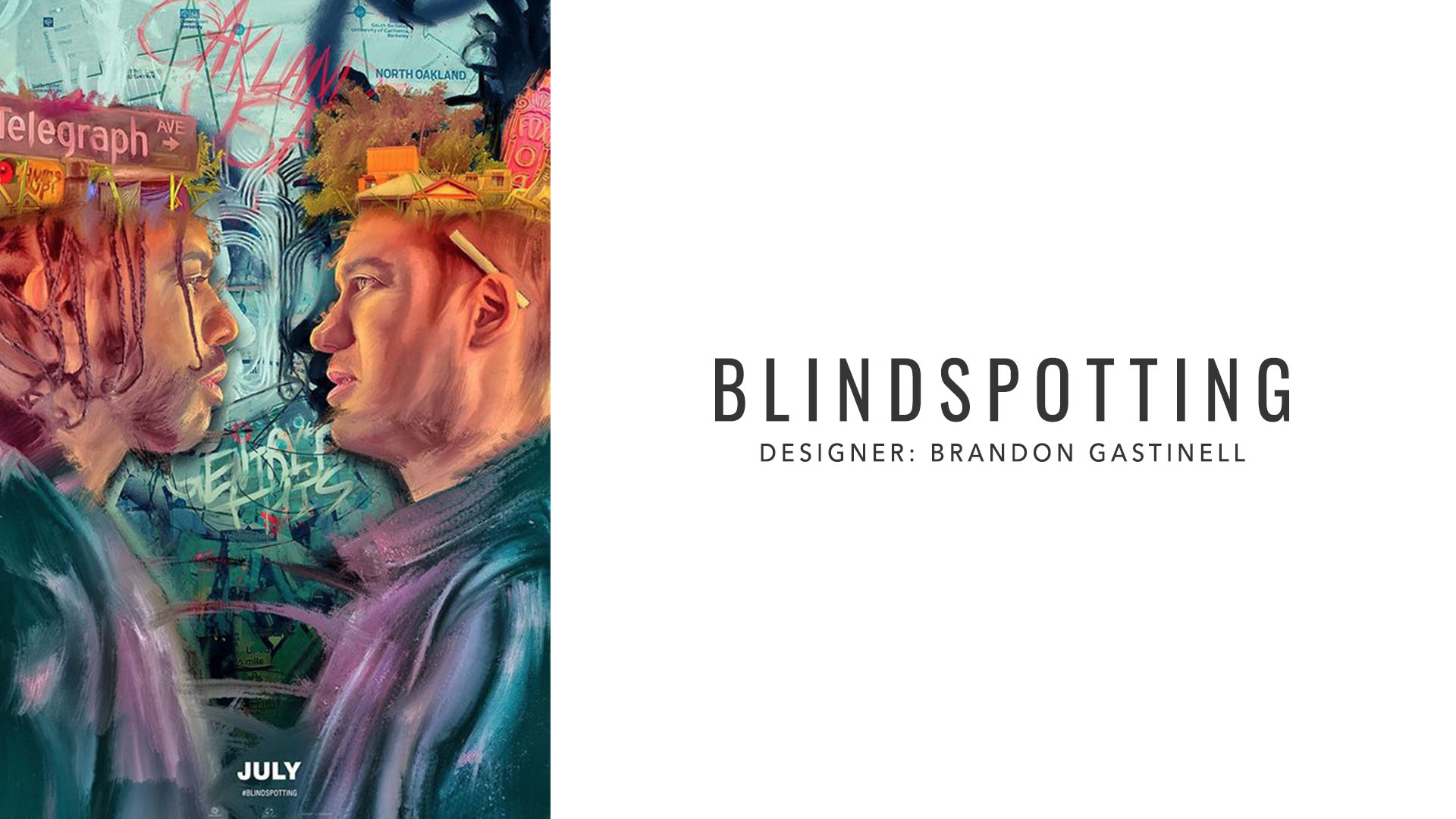 Blindspotting
Between Black Panther and Sorry To Bother You, Oakland's been having a good year at the movies, and this poster for Blindspotting keys into the film's Bay Area pride. The poster makes overt references to North Oakland, Telegraph Avenue, and the Fox Theater, all of which appear to grow from the heads of the film's writer-stars Daveed Diggs (who's an Oakland native) and Rafael Casal. This imagery suggests that the film's locale is baked into its characters' very identities. More significantly, this poster, with its distinctive colors and design, looks like it could appear, like a mural on the side of any Oakland building. And like a mural that's emblematic of a particular person or place, Blindspotting is poised to become emblematic of Oakland itself—perhaps in the same way that Moonlight is distinctly Floridian, and The Graduate is inextricable from Berkeley.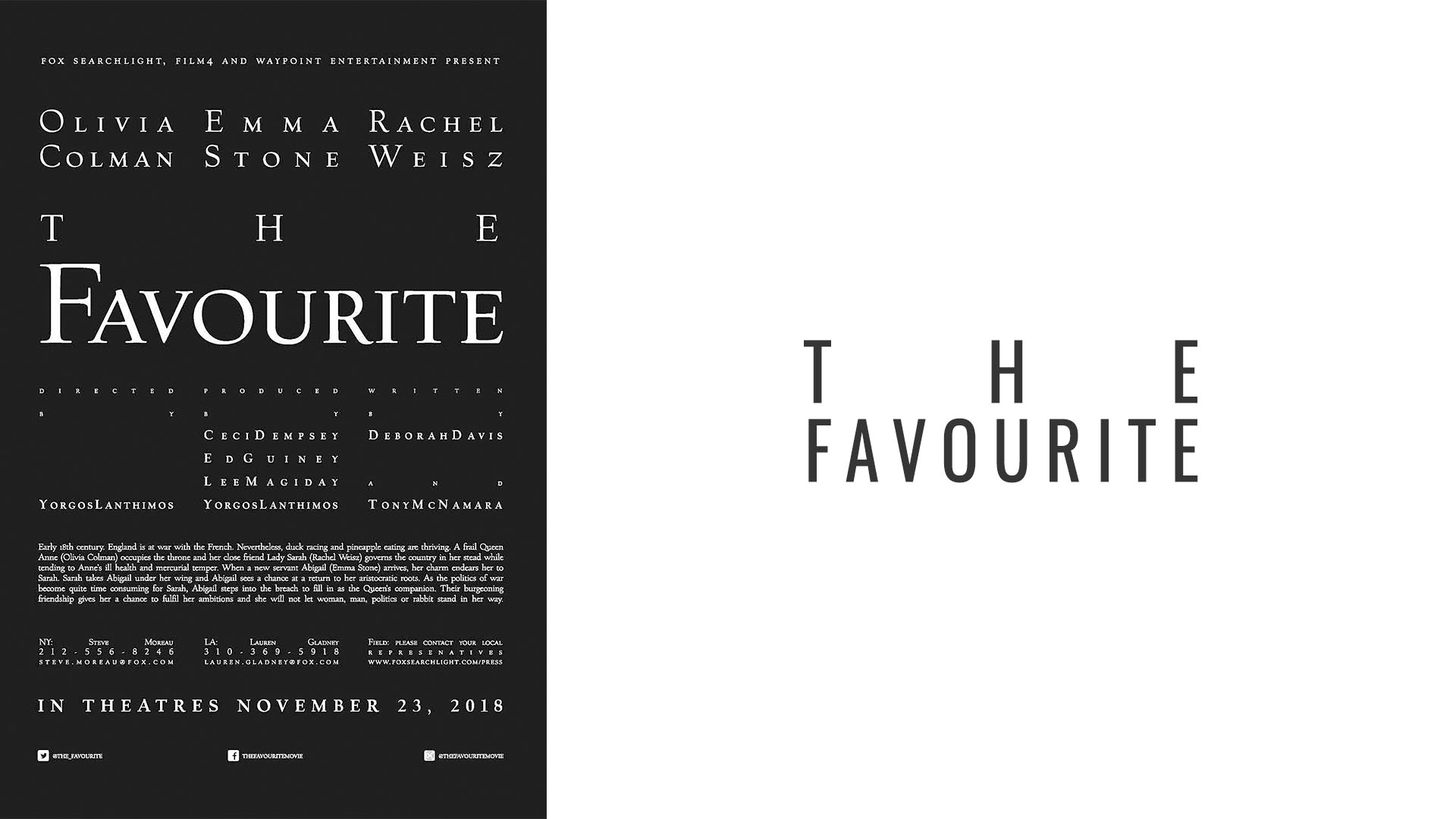 The Favourite
Yorgos Lanthimos is known for his off-the-wall movies, and apparently, that predilection for the bizarre, or at least the unique, is present in this poster for his new movie The Favourite. The first thing you might notice is the complete absence of images. That absence, combined with the dense block of text summarizing the film, the large type announcing the title, and the antiquated way that the poster advertises the people and companies presenting the production, remind us of a Victorian playbill for a stage performance, which, while not the most striking of designs, is in keeping with the period and theme of the film. That alone might not be enough to set this poster apart, but the strange justification of the text, which leaves large gaps of black between the stark white letters (usually a no-no in typesetting) gives the poster an odd, lopsided, and even eerie feeling. You know there's something wrong with it, even if, at first glance, you can't articulate why. It could be a signal that Queen Anne (Olivia Colman) may have erred in the choice of her new, and eponymous, "favorite," Abigail Masham (Emma Stone). Or it might just be Lanthimos and his design team having a little fun with us.
Watch Now: Dogtooth and Alps, directed by Yorgos Lanthimos.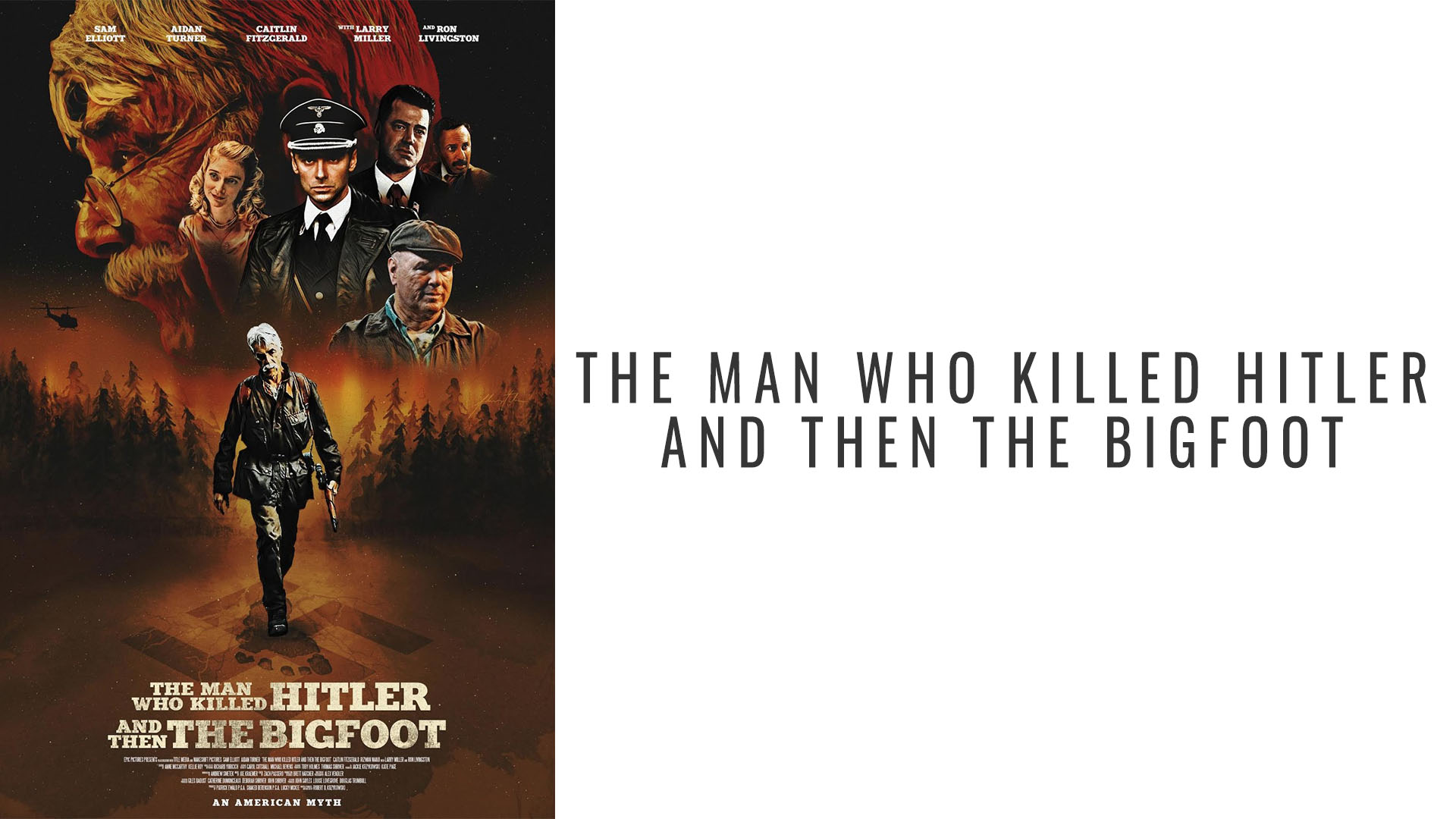 The Man Who Killed Hitler and Then the Bigfoot
Sam Elliott. Nazis. Bigfoot. Oh my! If The Man Who Killed Hitler and Then the Bigfoot didn't sound gloriously ridiculous, the first poster ensures that it will be. The poster is a conglomeration of intriguing images—a looming Nazi officer, a Vietnam-era helicopter making its way into an eerie treeline, Elliott brandishing a sniper rifle whilst following the Bigfoot's footprint within a swastika, and Caitlin FitzGerald's character looking oddly similar to Shosanna Dreyfus from Inglourious Basterds. When examined as one, all of these seemingly incoherent pieces raise more questions than they answer and promise a genre-bending adventure—similar to movies like Iron Sky before it—which will redefine what we think we know about history. However, the one thing we do know is that there is no way Bigfoot has a deeper baritone than Elliott. Not a chance.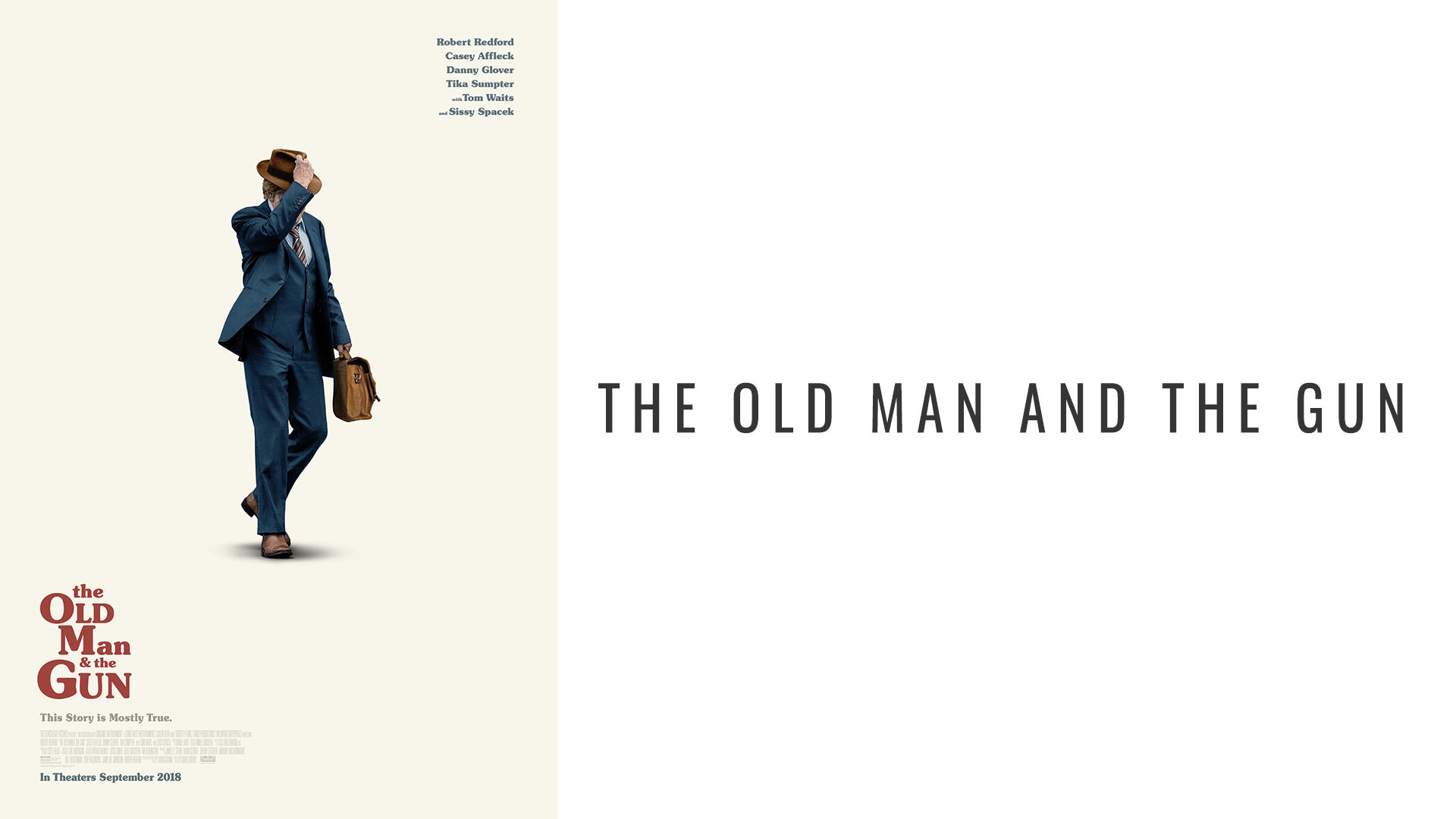 The Old Man and the Gun
Similar to director David Lowery's most recent film, A Ghost Story, the first poster for The Old Man and the Gun reminds us of a vintage, bygone time in film history. In fact, the poster even employs the exact same font color that was used on the poster for Butch Cassidy and the Sundance Kid—arguably Robert Redford's most famous film. While his face may be covered, this poster presents Redford as the only focal point, even though the rest of the cast includes heavyweights like Sissy Spacek and Danny Glover, among others. Given that this will be Redford's last turn in front of the camera, it only seems right for him to occupy the spotlight. The pose Redford strikes can be taken to represent both the pleasant nature of his character, highlighted in the film's trailer, as well as him literally tipping his hat to the audience one last time. While it saddens us that The Old Man and the Gun will be his last, this poster, with its throwback sensibility and subtle beauty, has us feeling nothing but excited for Lowery's latest.
Watch Now: St. Nick, directed by David Lowery.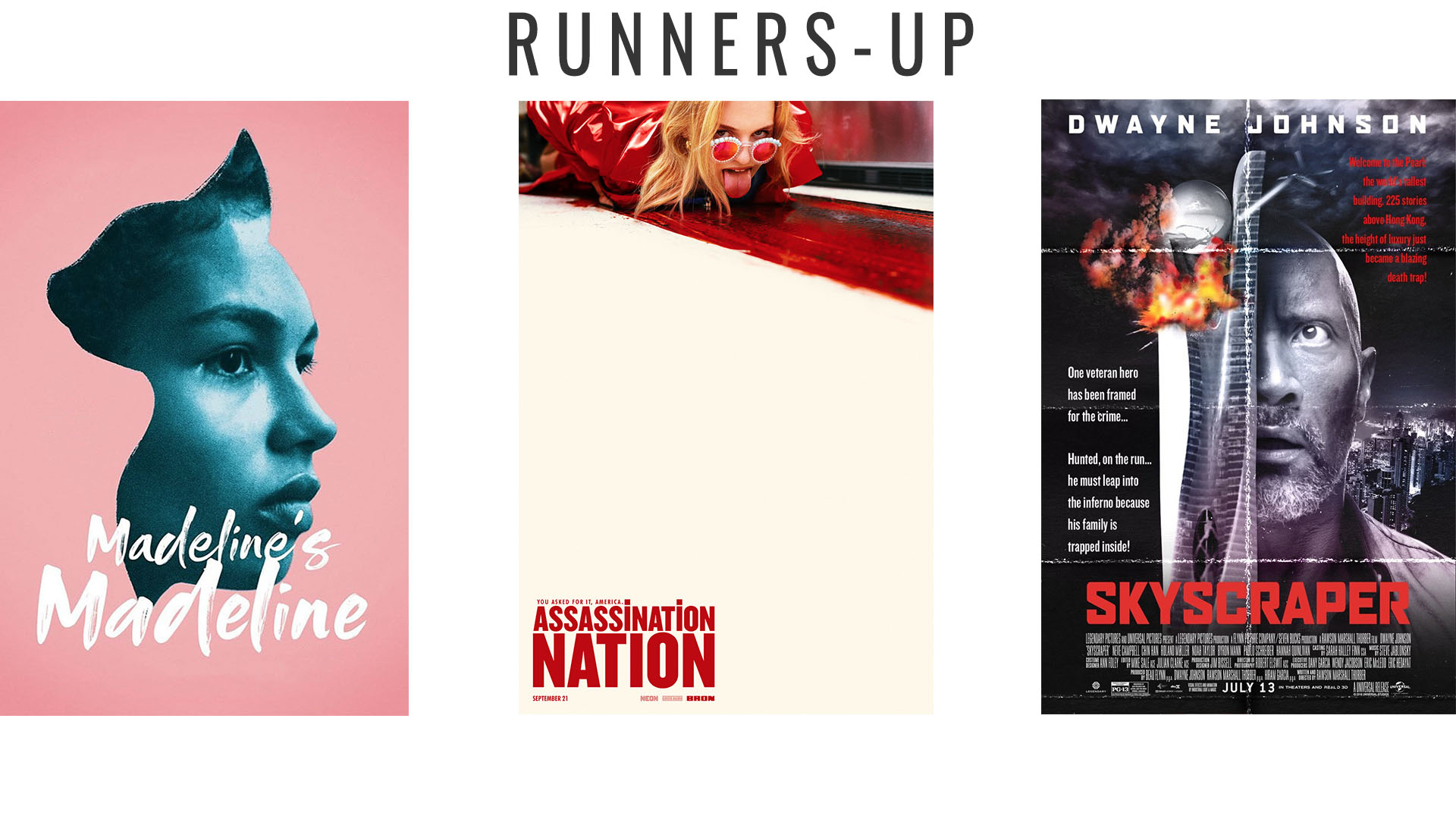 Here at Fandor, we're convinced that we're graphic design experts. See for yourself, with our deeply informed, industry-influencing, not-at-all posturing takes on movie posters from June, May, April, March, and January.