What's that adage about when life gives you lemons? Sarah Jones offers a fresh-squeezed case study.
The playwright, actress and poet launched her career out of the fabled Nuyorican Poets Cafe in the late 1990s and won a Tony Award just a few years later with the Off- (and later On-) Broadway hit "Bridge and Tunnel," creating work that thrives on the cultural crosstalk of the multiple characters she inhabits in any given production. Jones' success marched on with her 2016 one-woman show "Sell/Buy/Date," which featured Jones adroitly maneuvering between a vanload of personas as she explored a variety of often conflicting perspectives on the sex industry. In their "Critics' Pick" review, The New York Times praised Jones for her ability to "slip into the soul of another person with the casual ease that most of us use to slide into a pair of flip-flops," while noting the show's fortuitous relevance in the wake of presidential then-candidate Donald Trump's "grab 'em by the pussy" boorishness.
But then news landed in January 2021 that the show was to become a movie—with the power trio of Meryl Streep, Rashida Jones and Laverne Cox onboard as executive producers—and social media erupted in fury. Sex workers and their allies denounced the project for leaving them out of the creative process, and Jones hovered on the verge of "cancellation." When the Tweetstorm cleared, only Streep remained attached to the production, whose future now appeared wobbly. However, this is where Jones saw an opportunity. Whatever sort of adaptation of the stage production she might have had in mind got scrapped, although a sense of that abides in a backstage sequence that opens the cinematic version Jones has made. She introduces herself with a small crew of intimates (all played by Jones, sometimes onscreen together) that includes everyone from a kvetching grandmother to a white Z-ennial personal assistant, who follow her throughout the film like a Greek chorus, on hand for punchlines and story pivots. The movie they are all now in is what Jones lovingly calls an "unorthodoc."
Sell/Buy/Date, now streaming exclusively on Fandor, revisits and dramatizes the controversy and the challenge of navigating its wake, as Jones takes the criticism to heart and flips her own script. The film is her direct response, an earnest endeavor to make good and a creatively meta "show about the show" (to purloin auto-fiction king Caveh Zahedi's episodic project) in which the playwright meets up with some of her online critics to work things out. Jones brings the audience along on her own journey towards a more complex understanding of the sex industry, which—if impossible for her to resolve—at least engages with a wide array of personalities whose perspectives never align into anything close to an orthodoxy or party line.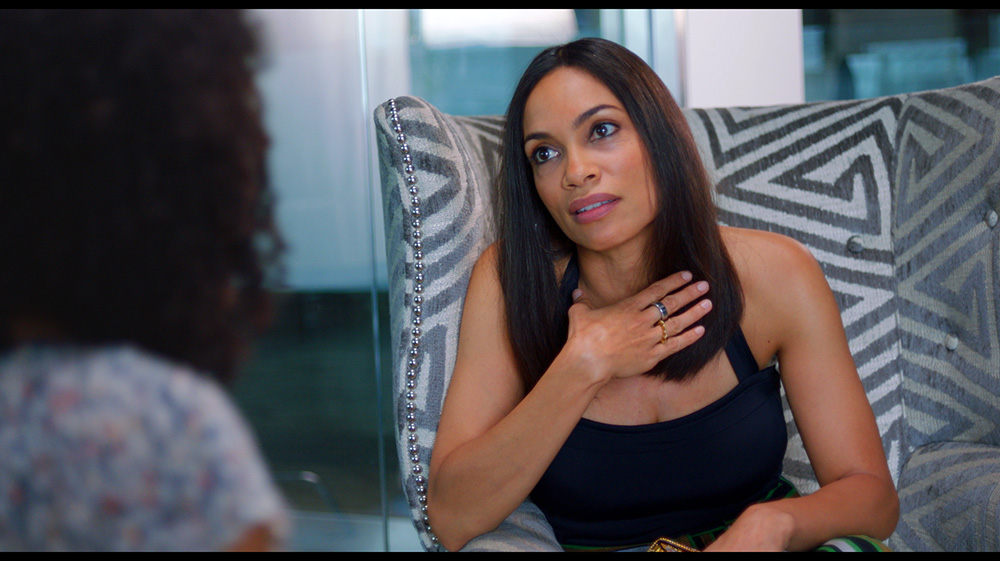 Among others, we meet Amy Bond, an ex-porn star turned pole-dance instructor and pro bono immigration lawyer; the Nevada brothel favorite and sex educator Alice Little (the Silver State's "shortest legal escort"); transgender activist and self-described "survivor of the sex trade" Esperanza Fonseca (also a co-producer of the film); and former Biohazard frontman Evan Seinfeld, whose pornographic second career has expanded into a profitable digital platform. Celebrity pals like Ilana Glazer and Rosario Dawson show up along the way to offer Jones moral support, and even Bryan Cranston appears, with a totally unexpected anecdote of losing his virginity in a European red-light district during a school field trip at age 16. The glue holding everything together is Jones herself, jostling back and forth between advocates for normalizing sex work as empowerment and activists (many of them former or current sex workers) who offer grim accounts of trafficking and class/race exploitation. There are obviously even deeper dives into these topics online—pornographer Holly Randall's congenial and candid podcast is a terrific place to start—but Jones' excursion through the looking glass has its own comic surprises and emotional trapdoors.
Rather than pull together some unified field theory of sex work, Jones turns inward, revealing that her sister had been in what she calls a "transactional" relationship as a teenager, dying at age 18, amid drug-related and other troubles. Throughout the film, Jones circles around immense feelings of loss, which ultimately seem to propel her efforts at understanding—a much richer motivation than simply staying uncanceled by her online critics. For someone who can so smoothly slip into a myriad of guises, it's a risky and vulnerable thing to turn the camera on herself struggling to make sense of it all.