Sundance has two main categories for documentary competition: U.S. and World Cinema. There's also Premieres, which features films "about far-reaching subjects by renowned directors." This year, a number of titles in this third class feature larger-than-life subjects by decorated filmmakers. Many of these films are already generating buzz inside and outside Park City, including a documentary on Ruth Bader Ginsberg by Betsy West (PBS' MAKERS: Women Who Make America); one on Robin Williams by Marina Zenovich (Roman Polanski: Odd Man Out and Richard Pryor: Omit the Logic); another on Martin Luther King by Peter Kunhardt (Lincoln, Nixon by Nixon: In His Own Words); and a portrait of Mr. Rogers by Morgan Neville (Best of Enemies: Buckley vs. Vidal, 20 Feet from Stardom).
Mixed in with these portraits of of heavy-hitting cultural icons, there's a tender 69-minute film that is still seeking distribution. Its subjects? Dr. Kristen Ries and Maggie Snyder, two endearing but comparably unrecognizable women from neighboring Salt Lake. Fittingly titled Quiet Heroes, this documentary by Jenny Mackenzie recollects Ries and Snyder's tremendous response to HIV/AIDS in the early 1980s. Their work is highlighted through interviews with survivors, their grateful progeny, and the state politicians who are determined to prevent the epidemic from recurring.
Quiet Heroes is an excellent addition to a collection of recent documentaries on the AIDS epidemic—We Were Here, How to Survive a Plague, United in Anger—that paint grassroots activist efforts as the major frontline against the epidemic. Quiet Heroes pans back to reveal two medical professionals who took care of those with the disease when other doctors in their state turned them away.
Like Lisa Biagiotti's 2014 documentary Deepsouth, Quiet Heroes speaks to the faith-based stigma that exacerbated the death count of those infected with the disease. In Utah, The Church of Jesus Christ of Latter Day Saints, condemning homosexuality and citing the importance of family in the afterlife, encouraged mothers to disown their afflicted children. Politically, the LDS church debated moving the afflicted en masse to a local island. They also fought to make it illegal for AIDS patients to marry or continue to be married. And it seems as though this early and efficient backlash against legal protections for gay people set the stage for Proposition 8, a 2008 ballot measure against gay marriage that was overwhelmingly funded by the LDS church. Male and female patients alike fought to leave their families humble sums while managing the extreme cost of inefficient early medications like AZT. As one of Dr. Ries' patients observes, poverty became a vicious cycle: he felt better when he worked, but couldn't afford the medications unless he was unemployed and acquiring disability insurance.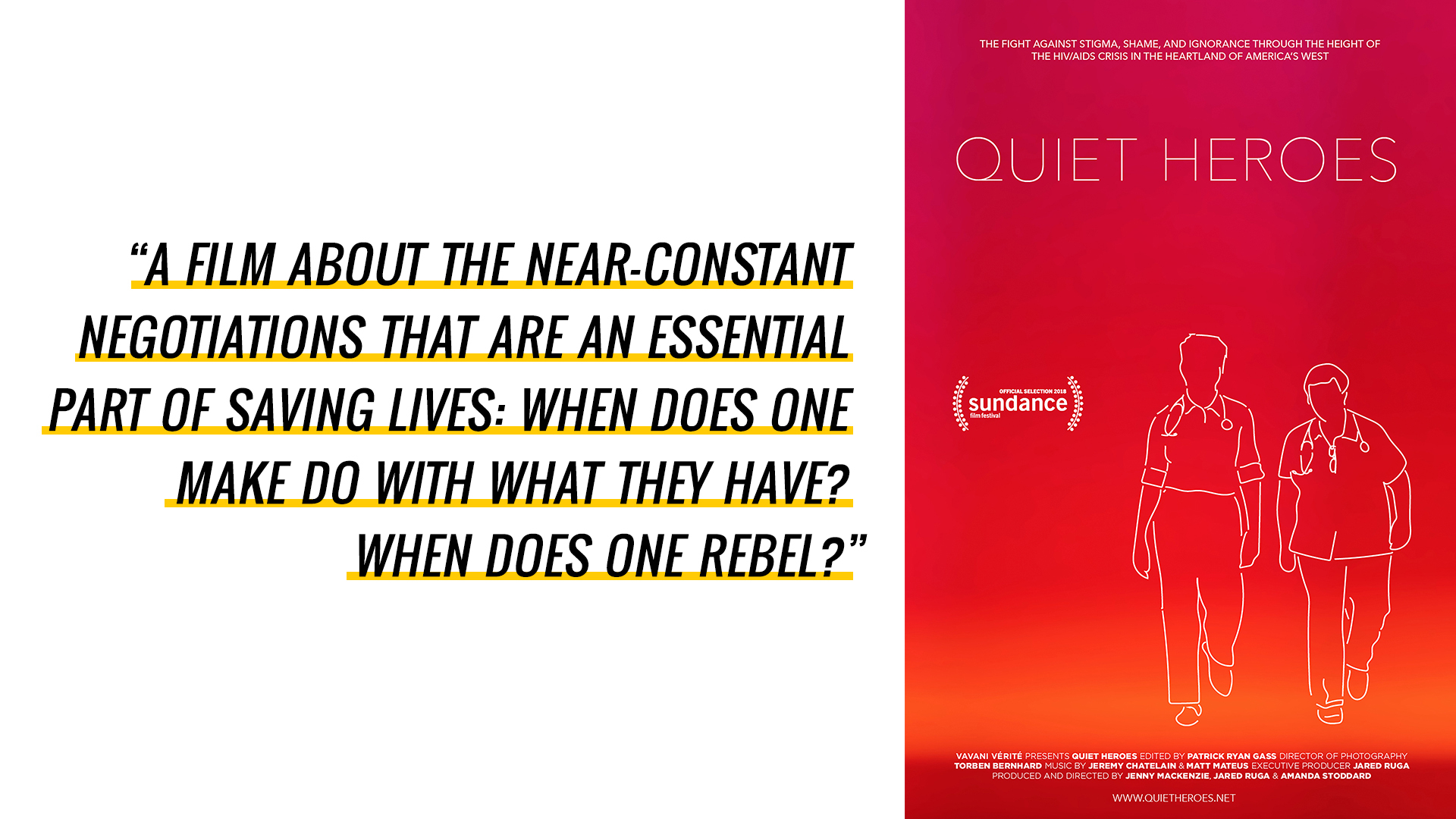 Above all else, Quiet Heroes is a film about the near-constant negotiations that are an essential part of saving lives: When does one make do with what they have? When does one rebel? How does one accept the consequences of a good deed in advance? Expressing detective-like curiosity about early AIDS cases, Dr. Ries quickly learned that the only hospital that would allow her to see patients within its facility was the modestly equipped Holy Cross. Dr. Ries, who inherited her parent's anti-catholic leanings, moved into an office in the hospital, where she would make her rounds with a lump in her throat until she learned that the nuns, who championed patient comfort above all else, were on her side. When Dr. Ries, admittedly disorganized, needed a right-hand woman, she encouraged Maggie Snyder, a meticulous nurse who wasn't afraid to touch those under her care without gloves, to acquire her physician's assistant certification. While Ries and Snyder didn't initially view one another romantically, their time spent together in the trenches of America's greatest public health crisis changed this. In one interview, Ries offers her partner in love and medicine a sweet, off-the-beaten-path compliment: Being with you is like being with nobody. Together, they regularly broke the law, like giving meds prescribed to deceased patients to those who still had a shot at life.
Everyone in Quiet Heroes keenly understands the necessity of solidarity. In one interview, a Mormon woman describes her decision to stay with her late husband despite him transmitting the virus to her; both would see Dr. Ries for treatment. Eventually, Mercy Cross put itself in debt by financing patients' care and was forced to close. By that time, the medical establishment had a better understanding of AIDS and Dr. Ries and Maggie Snyder were able to find a new facility at a university hospital where they continued to serve until they retired.
There were hundreds upon hundreds of deaths in Salt Lake during the epidemic's peak; Jenny Mackenzie doesn't shy away from that harrowing reality, or the complex stories of patients who, eviscerated by the disease and prepared to die, refused the efficient drugs that finally arrived in the mid-1990s—to be a veteran of any war is to know loss. Caring for the dying never felt like useless work to Ries and Snyder. As a result, people across Utah were able to have a bit of time—a week, a year, and sometimes decades—when they had nothing else. Quiet Heroes is worthy of a loud round of applause.
Want to watch more movies from Sundance's past? Check out our Sundance Festival Page for a comprehensive list of every Sundance movie available to stream on Fandor!