Solo, the new movie in the Star Wars franchise, launched Memorial Day weekend. The production was fraught with problems, as directors Phil Lord and Christopher Miller were dismissed deep into the shooting schedule and replaced by Hollywood mainstay Ron Howard. Not to mention the rumors that lead actor Alden Ehrenreich was so bad that an acting coach had to be hired to help him. On the other hand, Disney and Lucasfilm were so confident with the final result that they showed the movie at the Cannes Film Festival ahead of its US premiere. The critical response has been lukewarm-to-positive, with an air of surprise that the movie isn't a complete disaster. In fact, the praise for Donald Glover's portrayal of Lando Calrissian has been so positive that a Lando spinoff appeared to be confirmed by Lucasfilm president Kathleen Kennedy at Cannes. Fandor staffers Levi Hill and Joaquin Lowe sat down to discuss what they thought about the movie. Spoilers ahead.

Joaquin Lowe: Okay, let's jump right in. With the history of this movie's production and the way it feels very uneven, it's hard not to ask yourself when watching, "was this one of Lord and Miller's scenes or one of Howard's?" Also, they really wanted to get them set up over with so they could get to the heist. The first half-hour was so rushed I had whiplash. But we can get back to that in a moment.
Levi Hill: It wasn't until I think we met Chewie that the film got some momentum. It was said seventy percent of the movie ended up being Howard's, so I'm also interested to see what was his.
JL: It really was a tale of two movies. There was the preamble, which felt rushed and where there didn't seem like there was as much "commitment" to the scenes or dialogue…or anything. And then there was the heist—once the crew was put together—where things slowed down and the actors seemed to settle in and embrace their roles a bit better. The writing while they were still on Corellia, felt lazy and "on the nose" even for a Star Wars movie.
LH: It's definitely not a perfect film, not even a great film for that matter. But considering the troubled production and especially the rumors surrounding Alden's lead performance, I found the film to work on all the levels it seemed to be striving to work for. It's probably the weakest film of the new Star Wars batch, but the fact that the characters of Solo, Lando, and Chewbacca were all successfully made the film a pleasant, fun…mostly forgettable summer movie.
JL: I would go so far as to say that I enjoyed it, but it is hard not to compare it to the other "new" Star Wars movies, especially coming on the heels of The Last Jedi.
LH: It's fascinating to ponder how much Ron Howard really had to jury-rig to make even a somewhat competent film, or if Lord and Miller's version would have gone in a more adventurous direction, but regardless, it wasn't nearly as bad as I would have expected. In fact, I don't think there was much "bad" about it, I just felt that it played it safe in most areas, and relied on the charisma of the actors and iconic characters to save the day. Which isn't a bad thing to do with this cast.
JL: But what surprised me was the "woodenness" of some of the performances—again early on—even from a veteran like Harrelson, who didn't seem to know what his character was doing at first. And Clarke and Ehrenreich also seemed "lost" in the film's first half.
LH: The actors, outside of Ehrenreich and Glover, seemed so thinly written that they could only do the best they could with what they were given. Not to mention the potential of dealing with two competing sets of direction. I can only imagine Lord and Miller telling Harrelson to do one thing with the character of Beckett, then Howard coming in and either adding or taking things away from him.
But once again, Han and Chewie's meeting, which harkens back to the original series while still being a fun new part of the canon, along with how Han wins the Millennium Falcon, and just about every scene with Lando: These are all elements that will surely keep most fans interested, if not outright entertained by the film, even as the script's wheels begin to fall off.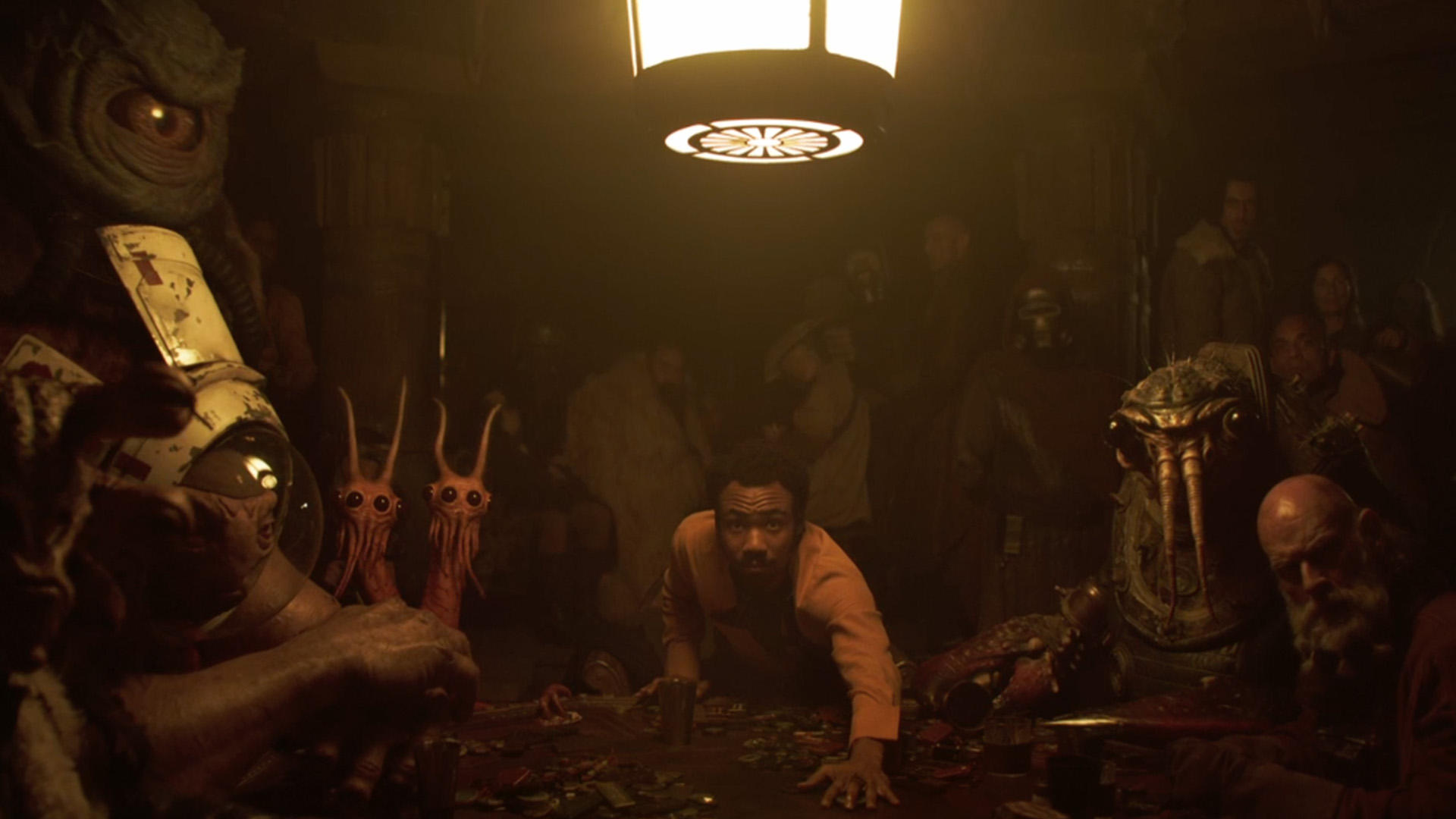 JL: They definitely "stuck the landing" on the meeting between Han and Chewie, I'll give it that. And I only really bring up the "woodenness" of many of the performances because of how they improved over the course of the movie. Clarke, Ehrenreich, and Harrelson all pull it together. And what I especially liked about Harrelson's performance was that, as far as being a part of Solo's backstory goes, it informed who Solo ultimately became and what we already know about him through characterization, but not by trying to touch on references from the original films, which of course this movie is also absolutely guilty of doing.
The other thing that I was quite annoyed with is that it's very possible that Thandie Newton is the best actor in this movie and, of course, she dies at the end of the first act…or the beginning of the second.
LH: Thandie Newton and the four-armed alien, which I sadly do not remember the name of partly because he died after being on screen for ten minutes (Rio Durant), felt short-changed when it came to any real character development. They were both interesting characters until they were killed off and we were left with only a basic connection to either. And, most troubling, those problems didn't seem like they were caused by reshoots, but rather just rushed writing.
Ultimately, as can be expected, this is the first of the new Kathleen Kennedy-led Star Wars movies to show real cracks in the sheen. But it also likely wasn't enough of a crack to view Solo as the nail in the coffin of the franchise. Lucasfilm, much like Marvel Studios, will keep going until there are multiple duds—and Solo is proof of two things to me. One: These films are "too big to fail." It doesn't matter who directs them, because the producers and Lucasfilm will spend enough money to make sure the films "work," at the very least. Two: It goes to show that in regards to current blockbusters, they really need to diversify from the current tropes, or pretty soon the monotony of it all is going to have larger ramifications for the entire industry—and not just these endless Disney properties.
JL: Okay, so top things you liked or were surprised by in Solo and top things that didn't work or you disliked.
LH: Top things I actually truly loved, as I said before, were Ehrenreich as Solo, Glover as Lando, and Chewbacca. Each felt less like impersonations of Harrison Ford or Billy Dee Williams, but rather fresh and perfect takes on the characters—an element that I surely expected from Glover but was concerned for in Ehrenreich, considering the production rumors. I think those rumors can be squashed once people see the film. Also, I did appreciate that this film finally and openly confirmed that the animated TV series is part of the canon.
Things I didn't like: The most unnecessary set-up for future films, along with the haphazard, messy script, which is honestly a good portion of the film. Yet I liked it "enough," and for Star Wars fans, I think there's enough to recommend.
JL: I absolutely agree with Glover and Ehrenreich (once he settled into the role). I also think Bettany was a picture-perfect villain, in the tried and true "this is not the enemy you're looking for" way Star Wars sets up a bad guy only to kill him and reveal the real villain behind the scenes. I'd also add that Newton does a lot with very little and deserved better. And the hype around L3 (Phoebe Waller-Bridge) is well deserved. Her's and Lando's relationship was the most endearing part of the movie outside of Solo and Chewie's "bromance." I also thought that this episode had some of the best costumes (helped greatly by Lando's capes) and aliens—Lady Proxima was very cool.
Of all the "bad" things that could be highlighted, I'd say the script was really the weakest point here. I'm sorry, in some places, it's Suicide Squad levels of terrible and really doesn't do any favors for anyone, especially, as you pointed out the secondary characters. It's interesting to see Ron Howard praise Kasdan's script…because I would have thrown it out.
Need more Star Wars? We feel you. Check out our video on the strange but true story of how David Lynch nearly directed The Return of the Jedi. And follow that up with our video that breaks down the slew of new Hollywood prequels. Are they necessary viewing or redundant cash grabs? And finally, come along with us as we celebrate the incomparable Donald Glover, who is a man who can do just about anything, including nailing the role of Lando Calrissian.