Few things call back the French New Wave like an extended tracking shot of a beautiful young woman walking briskly along a crowded Parisian street, having just exited a café where she's had an argument—perhaps decisive, life-changing—with her lover. This kind of sequence is the arty Euro analogue of, say, Tom Cruise or Harrison Ford clinging to the underbelly of an airborne jet in a different kind of movie, or an epic anecdotal digression amid the referential ruckus of a Tarantino flick. It tells you what you're dealing with, in terms of cinema, and it's also a pleasurable thing in and of itself. It's why you're sitting there.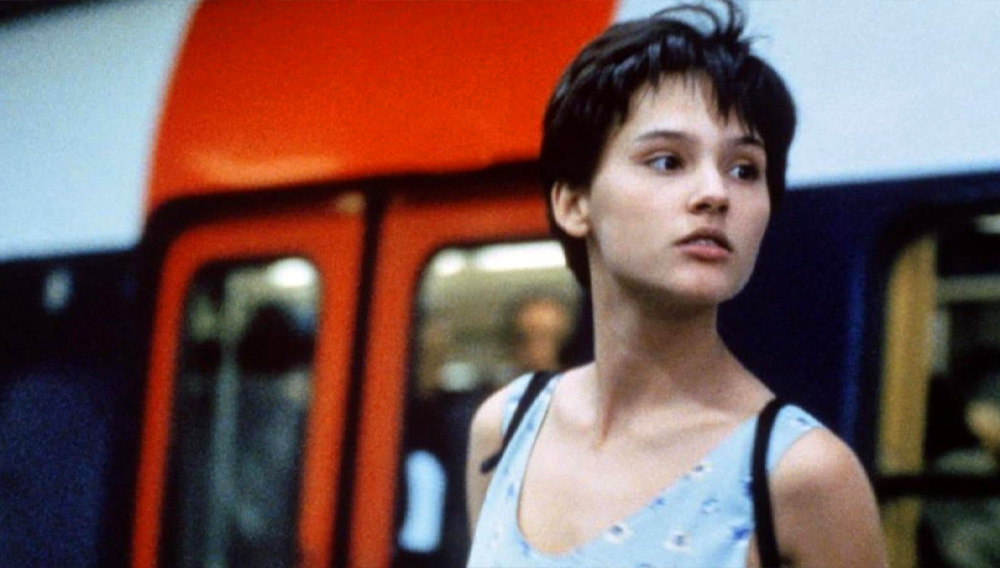 Walking nearly non-stop through the "real-time" 90 minutes of A Single Girl (1995), Virginie Ledoyen was 19 when the movie was released, a year after she appeared as a rebellious, lovestruck teenager in Olivier Assayas' Cold Water—though it was co-starring with Leonardo DiCaprio in Danny Boyle's The Beach (2000) that made her familiar to American audiences. She commands nearly every frame of this crisp, cellular moments-in-the-life character piece from veteran filmmaker Benoît Jacquot (Farewell, My Queen), who has averaged roughly a film a year since his 1975 feature debut.
Streaming this month as a Curator's Pick on Fandor, A Single Girl no longer feels like a gimmick, as it did to some critics at the time. "An initially interesting experiment in real-time storytelling," opined Variety before dropping the hammer, deeming its "80 unbroken and ultimately irritating minutes" "an odd footnote." I'm not sure what irked the reviewer, as the film's runtime is packed with hyper-observant encounters from the perspective of Ledoyen's Valérie, who begins a new job at a plush hotel, delivering room service orders. The hour that we watch her on the job is bracketed by two intense café conversations with her equally young boyfriend (leather-jacketed, jobless), to whom she reveals her pregnancy, and with whom she ultimately decides not to stay.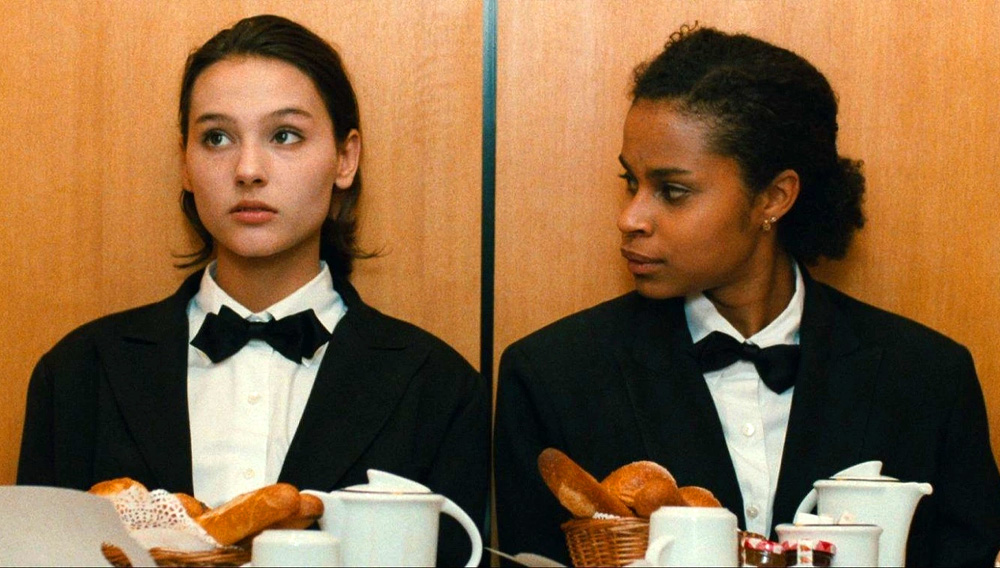 Throughout the hotel scenes, the camera watches the wheels turn behind the character's eyes, weighing desires and consequences while navigating her way through an assortment of co-workers and hotel managers. She fends off harassment (from an older male waiter who threatens her, seeking sexual favors, and from an abrasive, nude female guest whose rather graphic tryst Valérie has unwittingly interrupted); makes friends with an initially cold, potential rival who offers a harsh, firsthand assessment of young motherhood; and suffers through an intrusive and demeaning hiring interview that she exits triumphantly. The camera spends a lot of time gazing closely at Ledoyen gazing, while positioning her as a focal point for anyone she encounters—whether with strangers drawn by her good looks, or co-workers who want to size her up within confined spaces that enclose each scene: guest rooms, the elevator, the corridors, the break room in the kitchen, a supervisor's office. The effect is to frame Valérie's interiority, this hour or so she wrestles with her life's big question, within the interiors she traverses as she's distracted from her tasks. (There's a rare skein of overt humor in Valérie's repeated chastisement for loading too many baguettes onto her service tray).
While it may not be a masterpiece like Cleo from 5 to 7 (Agnès Varda's 1961 drama about a pivotal two hours in a young woman's life), A Single Girl fits into its lineage. Likewise, with its concerns about labor, what we now call the "essential worker," and attachment to multiple busy details within the crowded hotel pantry, the film nods back at Chantal Akerman's Jeanne Dielman and looks ahead to a filmmaker like Steven Soderbergh's thematic focus on the significance and practicalities of his characters' employment (particularly in The Girlfriend Experience, Haywire and Magic Mike—although Soderbergh has displayed a career-long fascination with rethinking narrative forms). Whether A Single Girl is a "footnote" or not, it remains—nearly 30 years after its release—an immensely watchable star vehicle in which life's biggest drama quietly unspools alongside its most quotidian.
 (Watch more riveting French dramas from Benoît Jacquot on Fandor, such as 1990's The Disenchanted and 1999's Keep it Quiet, co-starring Isabelle Huppert.)