Jaws it ain't, nor is it named Wanda. But the dinner-sized carp that plays the title role in Joan Micklin Silver's A Fish in the Bathtub causes plenty of ruckus in the lives of a Queens, NYC family that briefly comes apart at the seams after it takes up splashy residence in a spare bathroom. The observational 1998 comedy is notable both for its stars—the forever married show-biz legends Jerry Stiller and Anne Meara—and a supporting cast featuring a couple of names early in their screen careers (Mark Ruffalo and Jane Adams). The ensemble also includes a few "Law & Order" episodes' worth of well-seasoned New York character actors like Doris Roberts, Louis Zorich, Phyllis Newman and Bob Dishy, a group whose collective vibe is the very definition of milieu.
Selected as a "Curator's Pick" here at Fandor, A Fish in the Bathtub is also an overlooked item in the career of Silver (who died in 2020 at age 85), one of American cinema's most engaging chroniclers of Jewish life and a pioneering indie filmmaker who often tilted at industry indifference to her work. Her best-known films include Hester Street (1975), for which lead Carol Kane scored a Best Actress Oscar nomination. Added to the National Film Registry in 2011, the 1890s period piece (made in subtitled Yiddish) was bankrolled by Silver's commercial real-estate developer hubby Raphael after Hollywood ignored her, and became a stunning indie breakthrough. Later there was Between the Lines (1977, also on Fandor), an alt-weekly newspaper comedy with a cast of soon-to-be-famous actors such as breakthrough Jeff Goldblum; Chilly Scenes of Winter (1979), an anti-romantic comedy adapted from an Anne Beattie bestseller; and Crossing Delancey (1988), a Lower East Side love story starring Amy Irving and Peter Reigert that quadrupled its $4 million budget at the box office.
Restored and re-released along with several other of her films in 2020, Fish is a decidedly minor entry in Silver's body of work, yet it's also an enjoyable throwback to a loose-limbed, kvetchy and ingratiating kind of New York comedy that no one really makes anymore—a generational marker in more ways than one. Stiller (1927-2020) and Meara (1929-2015) came out of what would become Chicago's Second City improv troupe in the late 1950s to become a wildly popular comedy team after the "he said/she said" duo of Mike Nichols and Elaine May had gone separate ways, riffing off their marriage (which produced their son Ben Stiller) and different faiths (him, Jewish; her, Catholic). By the time Silver cast the pair in their first feature film together, they'd been doing their act across all other existing media for five decades, so sensibly the director just lets them do their thing, which plays off the tension between Stiller's bullheaded bluster and Meara's eloquent discombobulation.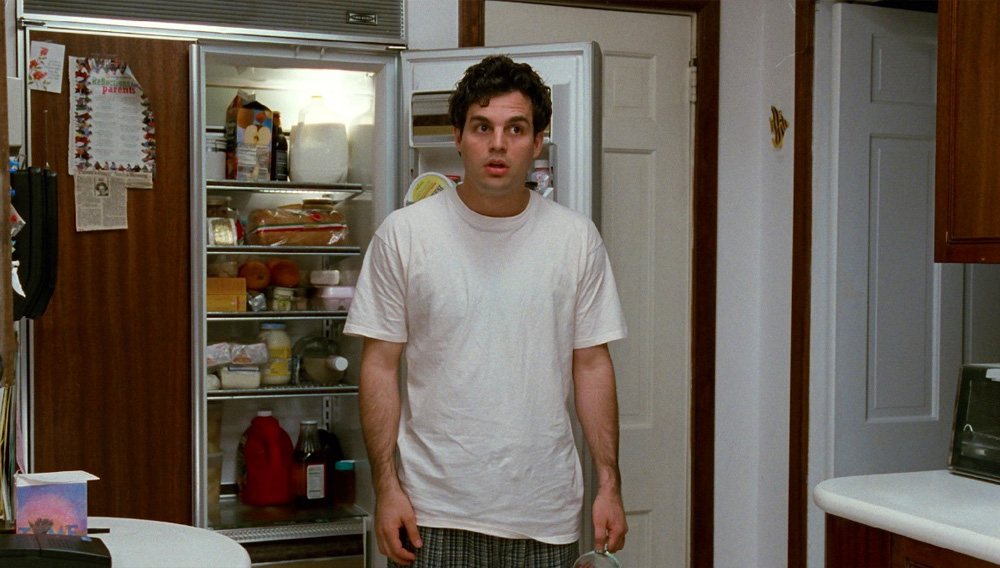 They mastered the ability to suggest everyone's crazy uncle or eternally flustered mom, the actorly incarnation of the "old married couple" whose compulsion to bicker and nit-pick was the glue that held them together. For this round, their onscreen couple experiences a marital blowout when Stiller's Sam refuses to remove a now pet carp from the tub, and Meara's Molly lives up to her threat to move out of the house after their constant feuding hits the breaking point. She lands at the home of her real-estate agent son Joel (Ruffalo) and daughter-in-law (Missy Yager), soon to be further destabilized when Joel flirts with the notion of an affair with a sexually aggressive client (Pamela Gray). The scenario, with Joel's meddlesome sister Ruthie (Adams) thrown into the mix, builds to a hot mess with Sam and Molly getting wooed by horny third parties in their retirees' social circle, a catastrophic family therapy session, a trip to the precinct after a night of drunken mayhem, and plenty of other chaotic yada yada—to borrow a phrase from "Seinfeld," where Stiller had a recurring role as George Costanza's father. Needless to say, love wins over madness. And yes, even the carp gets a happy ending.