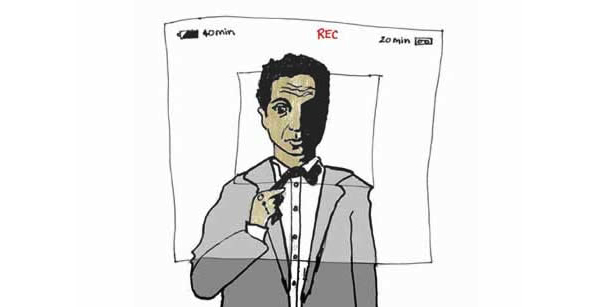 I remember being in LA some years ago when my friend David, a TV writer by profession, handed me a homemade DVD he ripped with the words I Am a Sex Addict on the label. Coming from this particular friend, I wasn't at all phased by the title. So when I returned to NYC some days later and found the DVD among my things, I used some discretion, waited until I was completely alone, then put it on.
I have to admit I expected a more prurient movie but what I encountered was nothing of the kind; it was a low-budge indie film that starred a skinny wide-eyed main character confessing. Part narrative and part documentary, the film centers on its main character, "Caveh" (played by director Caveh Zahedi), who is about to get married for a third time and is trying to kick his habit. It's a highly personal, funny film with tons of personality. I thought for sure this film, which was shot in San Francisco (often posing as Paris), was made years ago by a filmmaker who had long since disappeared. (americachip.com)
Listen to Filmwax Radio: Caveh Zahedi
A few months later I was riding the F train from Brooklyn and I spotted the guy from I Am a Sex Addict (2005). It took me a minute to remember who he was but then I felt that I had to approach. It was made easier by the fact that we both got off at the same stop in the Village. I stopped him and confirmed that he was indeed the guy who made this movie. He was very affable and we chatted for a while. Turns out he had made a half dozen films prior to Sex Addict, including In the Bathtub of the World (2001) and Tripping with Caveh (2004). But it had been a good five years since he made Sex Addict and so when I asked him if he had anything new he was working on, he vaguely alluded to a new piece.
In 2012 when I had been doing the podcast for a while, Alex Karpovsky (Beeswax; Marvin, Seth and Stanley) had to cancel on me but promised to deliver a replacement guest. The person he suggested was his friend Caveh Zahedi. I immediately said yes. It turned out that since I had last run into Caveh—I would run into him on the subway again—he had made a new film, the highly controversial documentary, The Sheik and I. The night of the show (which was also streamed live on Internet radio) Caveh never arrived. I was pretty upset and played a rerun. But later I got a call from an apologetic Caveh explaining that he had fallen asleep and was too late. He promised to make it up to me and, indeed, he ended up recording a segment with me at SxSW where The Sheik premiered. I subsequently found out that for the initial broadcast, he had just learned from a friend specializing in Middle Eastern law that a fatwa had been placed on his and his family's heads as a result of the new film and, stressed out, he lay down. I couldn't blame him for that, could I? We did record the show—which came out great, and I also went to his big premiere, which had a very dramatic Q&A moderated by filmmaker Andrew Bujalski.
I've stayed in touch with Caveh; he came on my show a year or so back when he got into a public controversy with a programmer who thought that The Sheik and I was irresponsible filmmaking. Caveh felt that The Sheik's festival run was being sabotaged by that particular person. Caveh posted a video to put his side on the record. That appearance was quite memorable to say the least. When I heard recently that Caveh had a new web series he was working on called Getting Stoned with Caveh, I asked him to come back on. By now, I consider myself a friend of Caveh's. I've gotten to know him quite well and met his very lovely wife and two kids. Since I've known him Caveh has gone from being a confessed sex addict to a committed family man.