Watch both Amélie and Mood Indigo right here on Fandor!
When Audrey Tautou appears on screen, time stands still. Spellbound—and perhaps paralyzed—by the French actress' timeless charm, one may hear old-timey jazz music, muted conversations, and clinking champagne glasses. Or at least that's how I feel while watching her films Amélie and Mood Indigo, two original productions that immerse viewers into fantastical stories, and in which the characters face off against fate, and choose to have fun with life's challenges. But while Amélie and Mood Indigo share common themes, they follow distinctly separate paths towards their ultimate revelations about living, loving, and learning.
It's the narrative details that enliven both films. In Amélie (2001), directed by Jean-Pierre Jeunet, Tautou's Amélie Poulain searches for romance and resolution in her native Montmarte. Information pops with each frame during the opening sequence, as viewers learn about the Poulain family history, the contents of a long-lost metal box full of nostalgia, and Amélie's commitment to helping others. There's a rat-a-tat rhythm as Jeunet establishes the context and character dynamics. So, when Tautou makes her first appearance and stares directly at the camera with her big, brown eyes, it's a definitive moment; one that asks viewers to follow along for the journey of harmony and chaos.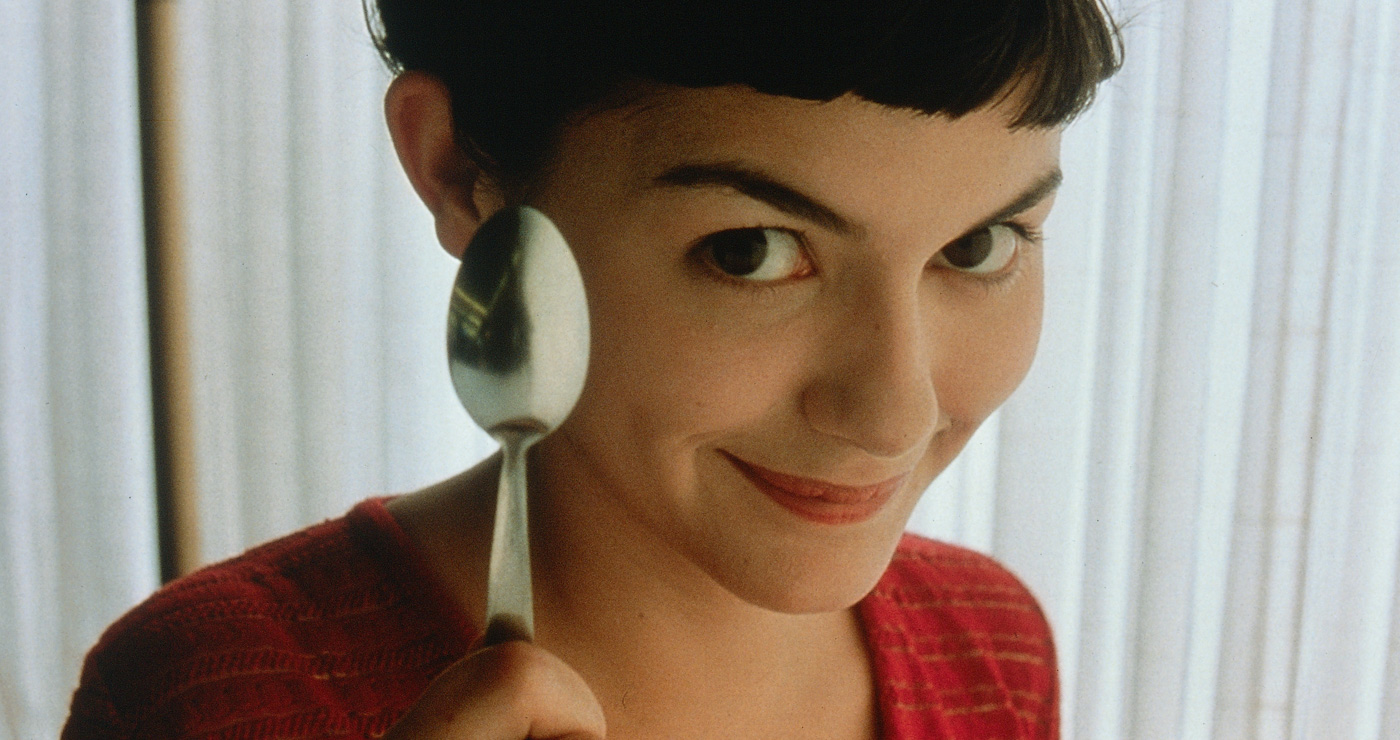 Similarly, director Michel Gondry creates a zany Parisian world in 2013's Mood Indigo, though it leans more heavily towards surrealism than the blue-collar characters that populate Amélie. In fact, there's almost too much information as Roman Duris' wealthy character, Colin, navigates a personal kitchen that would make Anthony Bourdain cry, either from jealousy or pure rage. Then again, the influx of narrative detail is part of the fun, and it's faithful to the source material—Boris Vian's 1947 novel Froth on the Daydream. Whereas Amélie exudes harmony and presents relatable characters, Mood Indigo requires the audience to fully engage with both its surrealism and a narrative that progressively loses its color, both literally and figuratively.
Mood Indigo has an epic, metaphysical quality but lacks Amélie's directorial polish and execution. In the former, when Colin learns of a friend's new romance, he demands to fall in love himself and learns a special dance for Duke Ellington's "Chloe." And then he meets Tautou's character, who just so happens to be named Chloe. For the audience, personal experience now comes into play. Do you sigh from a hopeless romantic's point of view? Or do you sigh because it's all a bit too cute and convenient? As Colin himself notes early on, "It's a question of taste." But if there's one glaring weak spot in Mood Indigo, it's that Gondry fails to develop the characters while explaining their connection to the world around them. It may be unfair to say "things just happen," but that's how it feels at times. I almost get the sense that the film lost its focus in the editing room. While both Duris and Tautou have incredible charm, it's difficult to buy into a relationship that's hardly tested. But if one submits to the fun of Gondry's surrealistic aesthetic, I can imagine Mood Indigo striking a stronger chord for some viewers than Amélie.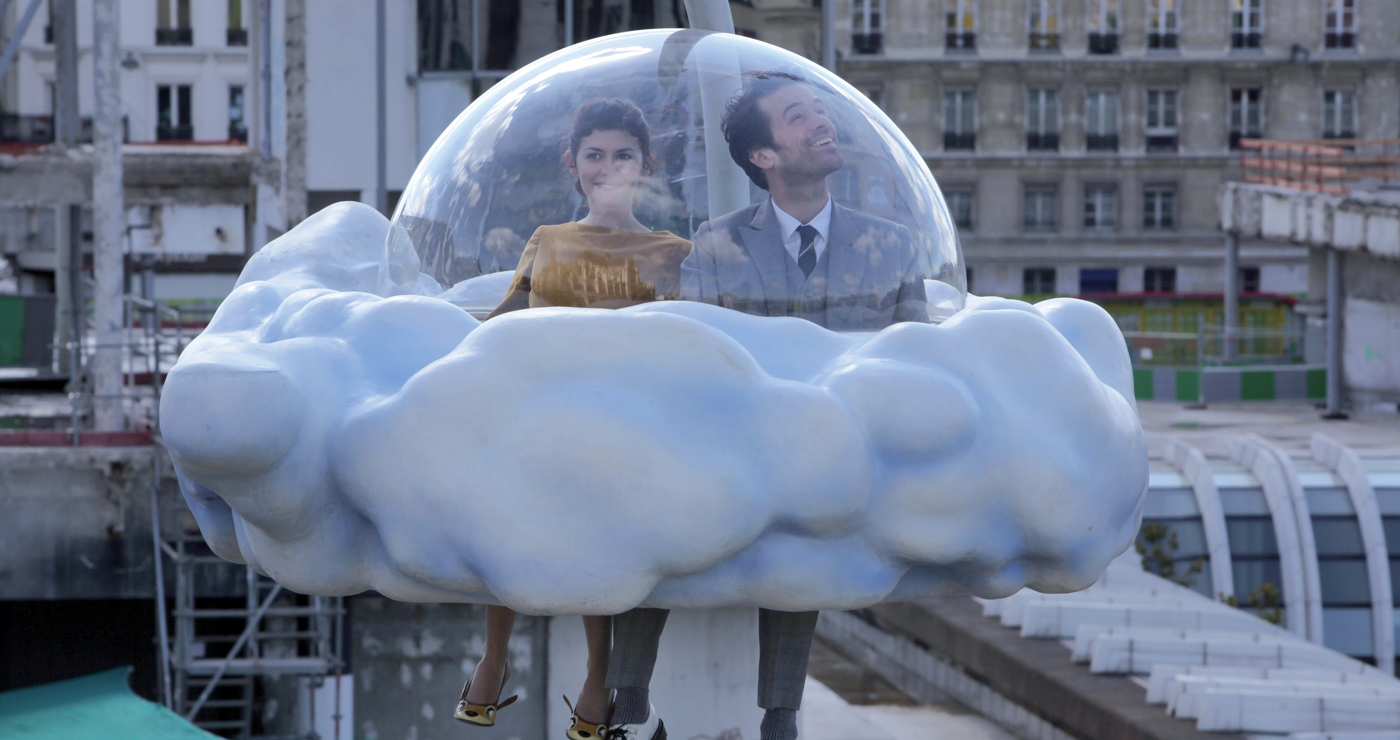 In Amélie, it's fun to root for Tautou as her character overcomes personal insecurities and chases after love—and a complete stranger. The narrative works because of Tautou's charm and character development. By establishing Amélie's likes and dislikes as her protectors and allies, Jeunet accentuates the concepts of trust, vulnerability, and acceptance. And when the opportunity presents itself to Amélie, she takes advantage.
Visually, both Jeunet and Gondry commit to a specific aesthetic in their respective films. Amélie boasts a festive red-green color palette, which effectively complements the various character arcs with its inherent warmth. And though Mood Indigo feels and looks more chaotic and less structured, Gondry implies that a fairytale ending isn't an ending at all, but rather a small part of a larger story. But that's what makes Amélie and Mood Indigo an effective double feature: One film highlights the struggle and the moments that last a lifetime, while the other highlights the surrealism of life itself and the larger picture.
Like many European actresses that never manage to cross over into Hollywood, I am sure that Audrey Tautou will become increasingly popular in time. There's nothing quite like that first viewing of Amélie, watching how Tautou expresses herself, both verbally and nonverbally. At one point, an imaginary character discusses whether Amélie is "cute" or "beautiful." Likewise, a character in Mood Indigo identifies Tautou's Chloe as "adorable." And perhaps these adjectives can be applied when interpreting these films as a whole. One may find these movies, and Tatou's performances in them, cute and adorable, or one may find it all absolutely beautiful. Behold.
Q.V. Hough (@qvhough) is a freelance writer and Vague Visages' founding editor. From 2014 to 2017, he wrote over six hundred video scripts for WatchMojo, and he's the author of their first e-book, WatchMojo's 100 Decade-Defining Movie Moments of the 1990s. From 2006 to 2012, Q.V. lived in Hollywood, California, and worked closely with ABC On-Air Promotions as the production manager for LUSSIER. He now resides in sunny Fargo, North Dakota, and has written for Fandor, Crooked Marquee, and RogerEbert.com.