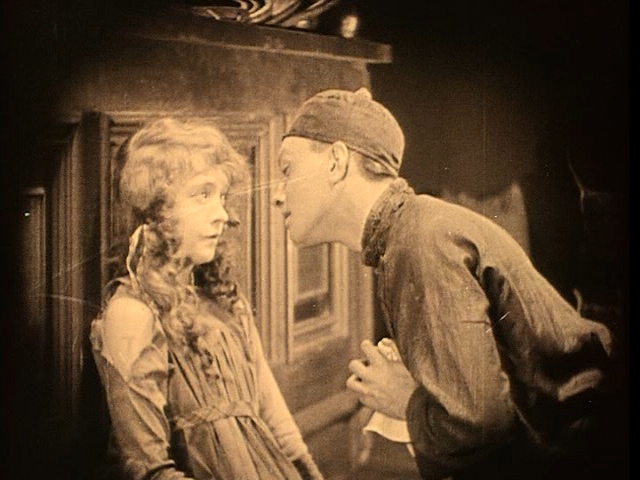 If 1915's The Birth of a Nation was, in US President Woodrow Wilson's notorious words, "history written in lightning," then director D.W. Griffith's subsequent feature Broken Blossoms (1919) is melancholy written in moonlight.  One detects throughout Blossoms an attempt to both sustain and to further sentimentalize the human compassion that undergirds Griffith's Intolerance (1916), as though both films are outright apologias for the blistering racism of Birth.  While forsaking the monumental pageantries and the extravagant, trans-historical montage of Intolerance, Blossoms offers some vivid social portraiture of the Limehouse district of London as well as some subtly complex editing.  It braids flashback, fantasy, and poetic abstraction into looping, diaphanous cycles of downcast moods and spiritual lamentation.
A reminder of the tender, rustic poignancy of early Griffith shorts like A Corner in Wheat (1909) and a city mouse sibling of Griffith's other 1919 feature, True Heart Susie, Blossoms offers – moreso than Intolerance – an intimate and emotionally insinuating framework in which to ask ourselves, in the words of one title card, "Do we not ourselves use the whip of unkind words and deeds?"  Then again, the film is simultaneously capable of such pseudo-endearments as "What makes you so good to me, Chinky?"—and of moments where the ardent approach of this "good" Asian man toward this sweetly indebted English waif is nonetheless treated as an occasion for visual distortion and horrified recoil.
Broken Blossoms is overtly antiracist as well as deeply reactionary, but there is nothing antique or simple about how these opposed attitudes hold fast to each other.  The reciprocal, indissoluble, co-dependent clasp between piety and prejudice is the deepest, most disturbing romance in a film that is full of tortured, ambivalent bonds: between father and daughter, East and West, belief and practice, myth and modernity.  Ninety years later, we are not past these problems, and are rarely all that successful at appealing to progressive sentiments without stumbling into various gutters of ideological backwash.  Witness the obstinate links between what is thrilling and what is cringe-inducing about The Help.
As in the recent film, it falls to the cast of Broken Blossoms—in concert, of course, with both the blunt and the gossamer aspects of Griffith's technique—to signal what is fierce, nuanced, and unnervingly au courant in the film's individual and social psychologies.  Such charming parables of the silent-to-talkie transition like The Artist love to imply that after 1927 the public had tired of hokeyness and wanted urbane sophistication, or that non-speaking actors could have thrived in the post-Jazz Singer industry if only they'd had the right voice, or if only they weren't so disgusted with these faddish novelties.
Broken Blossoms, both in the quality of its performances and the uses to which Griffith puts them, tells a different story. The film showcases how the difference between a silent and a spoken performance spreads far beyond the simple provision of a (hopefully pleasing) voice.  Silent acting could achieve unique effects that were not fundamentally hokey as well as sophisticated complexities that in many cases eluded the talkies.
Granted, Richard Barthelmess's yellowface rendering of a Chinese immigrant is grating in several of the respects you might imagine, and fellow leads Lillian Gish and Donald Crisp do not deny themselves the florid gesticulations many people still believe was the baseline of all silent acting.  Despite those caveats, though, all three performers, given Griffith's editing tactics, are called upon to strike simple, subtly articulate poses that function not as boldface semaphores but as impressionist brushstrokes, or translucent holographs.  Your reaction changes the longer you look.
As they repeat through the film in sharply dissimilar juxtapositions, touchstone shots of Barthelmess against a wall, Gish at portside, or Crisp in the boxing ring must telegraph deep longing as well as spiritual corrosion, affective defeat as well as deceptive resiliency, wounded pride as well as incipient violence.  Meanwhile, unspoken backstories of sexual abuse, addictive tendencies, or erotic neurosis that become de rigueur in the midcentury theater of Williams and Kazan already attain some tacit but pungent premonitions within these performances.
Gish, especially, achieves things in her work that a synch-sound rendering of the character would struggle to achieve — as witness the strains in Dolly Haas's performance as Lucy in the little-known British remake of Broken Blossoms in 1936.  That film is creditable in many respects as a lurid tenement drama, redolent of its director's mid-40s creepfests with Laird Cregar, and as a corrosive critique of prevailing social attitudes. But only amid the cameo-portrait idioms of a silent film can you get away with Gish and Griffith's bizarre conceit by which Lucy keeps using her fingers to prod her slackened frown into a smile.  Gish's indolence in Barthelmess's bed seems much more arousing and inscrutably suggestive than Haas is able to be.
Watch an example of silent-era erotic cinema at its most masterful: a romantic moment in Broken Blossoms:
Gish is not "better" in Griffith's Broken Blossoms than Barthelmess or Crisp is, but hers is the role that was hardest to adapt into the idiom of the talkies, and not for the reasons that recent silent-film initiates might expect.  She is in many ways subtler than Haas, and her work if anything comes across as more modern, despite the tent-sized skirts and mossy wigs that Griffith, quite typically, keeps loading onto her.  Underneath all that flaxy "hair" and burlap couture, amidst all of Broken Blossoms' interwoven beatitudes and indignities is—could we ever forget this?—an artist for the ages.
Nick Davis writes essay-length film reviews at his website www.NicksFlickPicks.com, which includes a performance-by-performance history of the Best Actress Oscar. He is also a professor of film, English, and gender studies at Northwestern University.