Scarface turns 35 this year and, in celebration of this anniversary, the 2018 Tribeca Film Festival held a screening of the film on April 19 at New York City's Beacon Theatre, followed by a Q&A with cast members, Al Pacino, Michelle Pfeiffer, Steven Bauer, and director Brian De Palma. Equal parts comic and insightful, the screening and Q&A presented a unique opportunity to revisit an older, well-known film through the prism of 2018. Thirty-five years and countless dorm room posters later, Scarface stands as both a cherished cultural icon and an inadvertently rich source of cultural analysis.
Based on the 1932 film directed by Howard Hawkes, Scarface chronicles the rise and fall of Tony Montana, an ambitious, violent Cuban immigrant who transforms from a small-time political refugee into a larger-than-life drug lord, whose greed ultimately leads to his bloody downfall. After initially mixed reviews, the film has since become a classic, filled with some of the most memorable scenes and quotes that 20th Century cinema has to offer.
The most notable aspect of the screening was not the film itself, whose story is practically common knowledge, but rather the audience's responses to it. Whatever seriousness permeated the original experience of the movie has since been replaced by a measure of affectionate distance, an attitude that treats Scarface more as a fun spectacle than a truly serious drama. Giorgio Moroder's booming score generated a wave of applause, and every iconic line ("Say good night to the bad guy;" "I always tell the truth, even when I lie;" "The only thing in this world that gives orders…is balls;" and, of course, "Say hello to my little friend!") led to resounding cheers and whistles. Moments that were perhaps intended to convey earnest (if exaggerated) drama, like when Tony buries his face in a mound of cocaine, were now met with overwhelming laughter.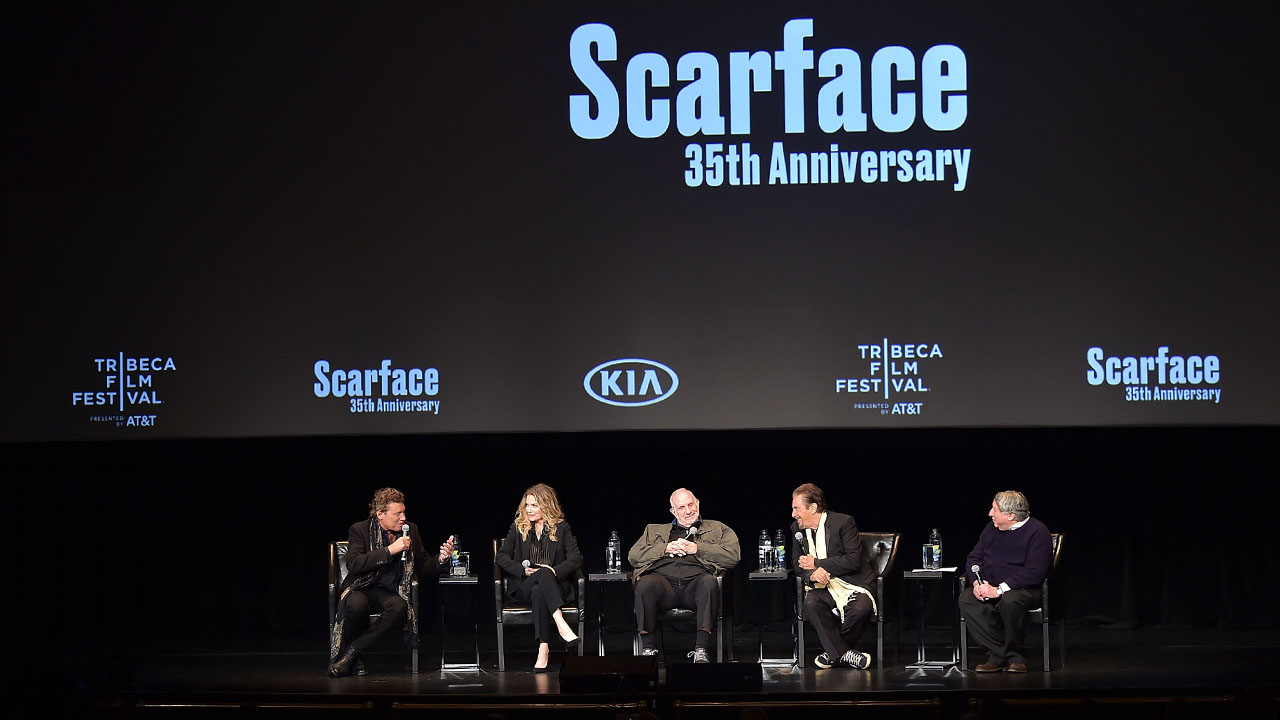 The post-screening Q&A offered a trove of standard trivia-worthy anecdotes. For example, the filmmakers struggled mightily with the rating board, which initially dealt the movie an X-rating. After numerous recuts and placating to the board, the furious and stubborn De Palma (along with producer Martin Bregman) resolved to return to the original cut and adamantly demanded the R-rating that it eventually earned.
While filming the ultimate shootout scene, Al Pacino burned his hand badly on his prop machine gun. At the hospital, Pacino said during the Q&A, the nurse treating him looked at his tattered, filthy clothes (bullet-riddled and bloody) and initially mistook him for "some scumbag." During the two-week hiatus, while Pacino's hand healed, De Palma shot every portion of that scene that didn't include the actor. Evidently, Steven Spielberg visited the set one day and operated one of the many cameras covering the scene.
There were a lot of broad and simple questions (mostly directed at Pacino), but the more nuanced and unintentionally topical inquiries generated the real litmus test for the place Scarface inhabits in the cultural world of 2018. When the moderator asked Pfeiffer how much she weighed during the shoot, his question was met with instantaneous boos and shouts. Though he quickly backpedaled and clarified that he wanted to address her character's (Elvira) cocaine addiction, subsequent similar questions were met with equally strong gasps and jeers, to the extent that he at one point turned to the crowd and asked, "Is that question okay?"
The moderator also brought up the idea of a hypothetical 2018 remake of Scarface. He asked Pfeiffer if she could imagine a contemporary adaptation in which the Tony Montana character is female. She responded with a definitive "No," and the crowd cheered. She went on to describe Elvira as Tony Montana's "arm piece," but reflected that she sought to own her performance as such, observing that the subtle statements behind the struggles and sacrifices that Elvira makes say more than someone who gets up on the soapbox the way Tony Montana does so relentlessly, which prompted even more applause.
It's difficult to ascertain whether these sorts of reactions would be universally shared among a wider audience, or if they're simply reflective of the New York City audience that night. Still, it's an undeniable sign of the times that even a film like Scarface, one that people now seem to approach rather lightheartedly, can be used as a springboard into the impassioned sociopolitical commentary. After all, when asked what the film is ultimately about, De Palma said that it's a narrative about the kind of people who start humbly and then, after acquiring immense power, isolate themselves in their own worlds, often to the detriment of themselves and those around them. He smiled at the crowd and said, "Like what we're experiencing now."
Can't get enough Tribeca? Stream dozens of movies that have played (and slain) there over the years, available right here on Fandor. And stay tuned for more coverage of the NYC-based film festival as it runs through April 29, 2018.